FILM & TV
"I got the results of the test back. I definitely have breast cancer."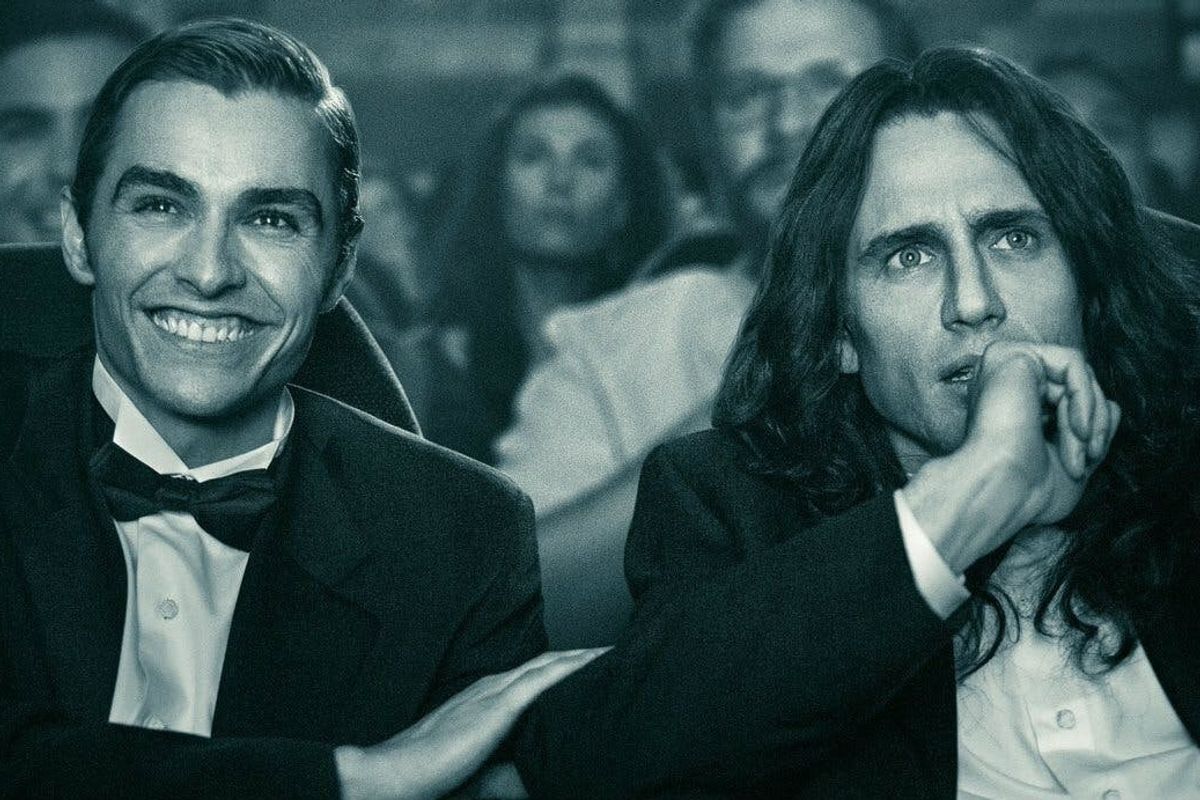 A24/ Warner Bros. Pictures
Could we count the ways James Franco and Tommy Wiseau are similar?
Whether he's actually sedated by Pineapple Express or just really happy all the time, James Franco appears to be eternally stoned. Browsing through Franco's filmography on IMBD, a true fan could detail when Franco's pothead aesthetic went from novice smoker to the guy who does bong rips and dabs for breakfast. His wide, jubilant grin is a telling sign, contorting his face into layers of wrinkles as his eyes open just enough, indicating his earthly cognition.
James Franco has done it all or has at least tried to. He has an M.F.A. from Columbia, a master's in filmmaking from NYU, and was even a professor at NYU, UCLA, and Colombia just for kicks. Outside of his scholastic endeavors, most people know Franco as Spidey's best friend (and frenemy in the inexcusably bad Spider-Man 3), or as the other half of the Hollywood bromance with Seth Rogen. Seth Rogen is the peanut butter to Franco's jam and TheDisaster Artist, inspired by a memoir of the same name, is the bread to their midafternoon lunch. This buddy comedy interprets how its source material, the cult sensation The Room, came to be: Given the Franco and Rogen treatment, one of the worst movies ever made now stars Franco as Tommy Wiseau and, to no one's surprise, Franco lands the woozy, slurred performance by acting like a knockoff brand of himself.
Could we count the ways James Franco and Tommy Wiseau are similar? Yes and no (in fact, James Franco has probably written a term paper psychoanalyzing the parallels of Wiseau's imago with his own). Would Franco have been a Wiseau had he not found his comedy niche or a Rogen to counter his wild antics? Yes and no. The Disaster Artist conveys how someone can make a piece of art so bad that it's lauded by everyone for its badness. How can something so tacky, so cheap, and so weird still find itself in arthouse theaters around the States? And how can a movie that has the aesthetic of a back-alley porno get Hollywood recognition from one of the finest bromances to grace the silver screen?
Well, for every Tommy Wiseau desperate for fame and fortune, there's a friend who's willing to back up his bad ideas because of…friendship. Yep, The Disaster Artist is about friendship and the early stages of creation, what it feels like to have an idea you believe in enough to become a pariah. Franco is joined by his little brother, Dave Franco (who plays Greg Sestero), an aspiring actor who, unlike Wiseau, has a shot at acting. The Disaster Artist is a hilarious enactment of some of the best worst acting you've ever seen; the Franco brothers share a weirdly poetic exchange onscreen as friends trying to make it big, and Seth Rogen (as Sandy Schklair) sits in a chair winking at the audience like: "Look, we get the joke and then some."
Watching The Room is similar to watching any movie in the Twilight franchise: it's a cringeworthy experience, yes, but it's also your favorite comedy of all time, a noteworthy addition to the films your friends come over to hate-watch with you on Friday nights. The fun is there because Tommy Wiseau was somehow able to convince a cast of actors and a production crew to film the type of movie you'd believe in after five bowls of Pineapple Express, one filmmaking tutorial on YouTube, and a pep talk from a hobo wearing Chanel slippers. It doesn't matter if the actors you've convinced to star in your romantic melodrama are all doing laxative commercials to pay rent, or that your voice slightly sounds like you're from a faraway land where a Yiddish and New Orleans accent intertwine. You too can dream big and make a wonderfully bad movie.
Classroom Takeaways
Here's a fun drinking game. Take a shot every time Tommy Wiseau seems confused by the cameras in front of him. Have a paramedic on standby.
POP⚡ DUST Oscar-worthy Score: ⚡
---
Shaun Harris is a poet, freelance writer, and editor published in avant-garde, feminist journals. Lover of warm-toned makeup palettes, psych-rock, and Hilton Als. Her work has allowed her to copyedit and curate content for various poetry organizations in the NYC area.
---
POP⚡ DUST | Read More About Film/TV...
BOX OFFICE BREAKDOWN | Top Films of 2017
"Call Me By Your Name" ...and I'll Call You By Mine
THE REAL REEL | Catt Sadler Says Bye to E!
SATURDAY FILM SCHOOL | Every athlete has a story and 'I, Tonya's' is anything but picture perfect
---