MUSIC
The Pennsylvania indie crew comes by and performs "Fat Kiddo"
S. Bollmann/Andrew Karpan illustation
"The main ones are all owned by the all same companies...which is interesting, I guess," Grote observes.
Fresh-faced from the release of their second record on Fat Possum, the rock stars from Litz, Pennsylvania didn't quite look like the reckless teenagers passing around hand-drawn album covers around high school anymore. Popular Manipulations was the third album in an eclectic discography, one of the more elegantly mature statement about modern life to come out of the indie scene this year. To flex those mature songwriting muscles, we invited frontman Rob Grote to the Popdust offices to bang out "Fat Kiddo," one of Popular Manipulations' more reflective tracks.
Watch "Fat Kiddo" below:
There are few things more reliving than a band moving past the hype. Grote and his bandmates had attracted the attention of John Congleton, the studio wonk behind turning names like Angel Olson and St. Vincent into household concerns, shortly after they begun passing around their self-released debut among their fellow high school sophomores and on the wider world of the internet. The record that came out of that: 2015's A Flourish and a Spoil was a curious cat in the indie scene: released on Fat Possum, the label that begun by releasing obscure blues records for hipsters and these days focused on developing the brands of low-fi indie (American Wrestlers, Yuck, Smith Westerns), it sounded like a strange throwback to a simpler time of rock and roll, a tightly-held encapsulation of what wasn't being played on the radio in 2006. It got them opening slots at festivals like Gov Ball, where I saw them for the first time, but then what?

Popular Manipulations was an urgent step forward. It had songs, like "Fat Kiddo," that bawled in the observational vein of folk: anecdotes about the kinds of strange people you find in the middle of Pennsylvania, in between the chocolate factories and the Amish romance novels. With a new guitarist, Pat Cassidy, and an eye for exactly the kind of sound they wanted (Grote and his band produced most of the new record themselves), Popular Manipulations comes out of left field for any fans with limp memories of humming along to "Suburban Smell" on Sirius.
Bombastic, elegant and leaving you hitting that replay button, Popular Manipulations is as near a fucking masterpiece as you're going to find in guitarland. Grote's voice, guzzy post-punk already, turns mournful and anthemic at the same time, bursting through guitars that sound like they were recorded in the middle of a misty field. His penchant for storytelling, which felt somewhat underdeveloped on A Flourish and a Spoil, turns into a self-propelled engine capable of leaving the station, his bawdy Pennsylvanian tales feel like the minute Joycean epics on Protomartyr's The Agent Intellect, rewritten by William Kennedy and set in small town, USA. It's good shit, my man.

Catch the Districts' thoughts on music festivals, guitar solos and authenticity: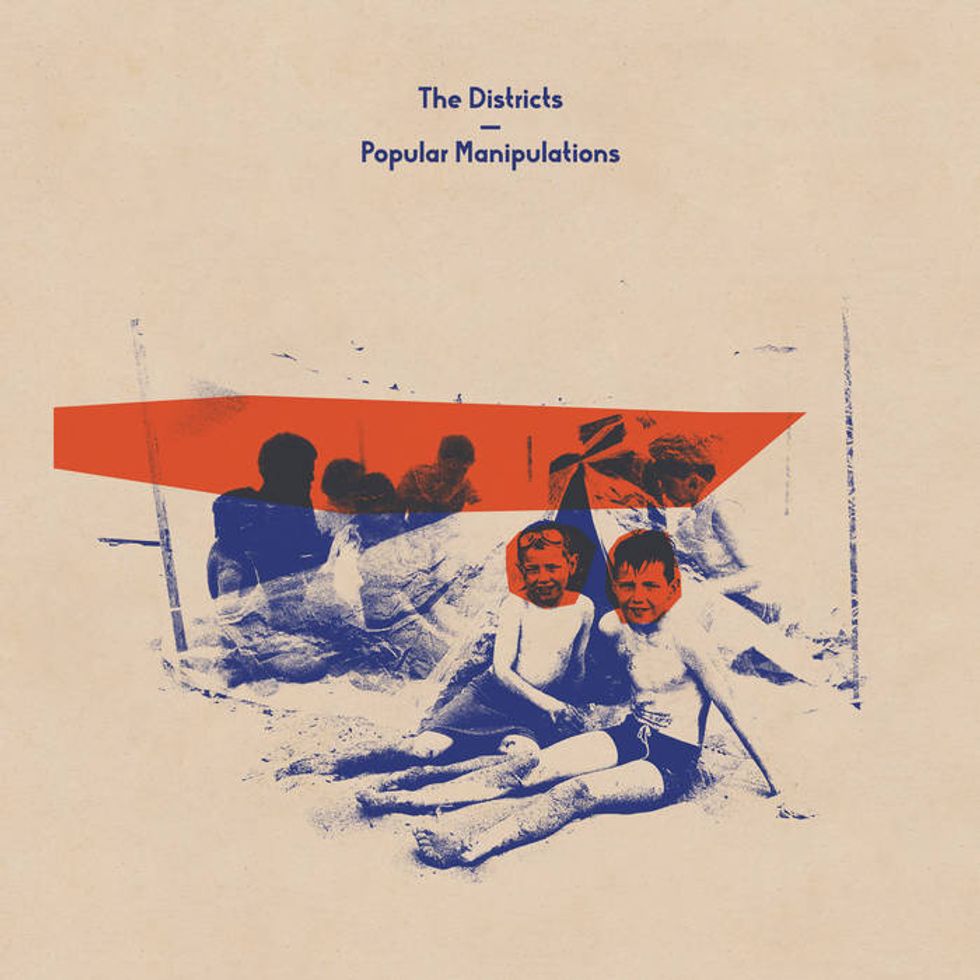 ---
Andrew Karpan is the greatest producer who ever produced. You come on his programing, you come correct. Do you think your hot band has what it takes to impress him with your social media following or hipster cred? Sounds like you should be following him on Twitter.
---
More Live Fun:

Popdust Presents | LAWRENCE take on Sean Paul
Popdust Presents | Is Carrie Lane still our Brooklyn Baby?
Praise the LORDE! We hear some of 'Melodrama'
---