"You know about death—that it's just a change, not an end," our beloved Margaret says in her final lines. "There's some fear in letting go."
At the very core of these lines there is the world of Twin Peaks, a story that has always been about Laura Palmer and her suffering, no matter what additional narratives we have been introduced to. Naturally, it makes sense that in it's final chapter, we see Dale Cooper (or at least, some variation of himself) cross dimensional lines in order to save Laura, to prevent her death in any way possible. The sad truth lies in the fact that, even if we did possess some power to trick time into letting us do so, you can't go home again. The Laura we find, hidden in another wold and going by the name Carrie Page, may not even be Laura at all, nor does she recognize Cooper or the names he mentions. As Cooper takes her to see her mother, he is confronted by a strange woman who tells him there is no Sarah Palmer, there never was, and suddenly he finds himself questioning just what he has done - "what year is this?" - as Laura screams and the screen fades to black.
Twin Peaks: the Return, now in it's whole eighteen piece entirety, feels like a commentary on time, the impossibility of outdoing it, and the souls who leave us just a little too soon. Some of the series most beloved actors left our world before having a chance to see David Lynch's masterpiece in full form. The aforementioned Margaret, played by Catherine Coulson, filmed her scenes in September of 2015, only weeks before she passed away due to cancer on September 28. This is deeply felt during her onscreen appearances, which were surely a way for Lynch to honor his long-time friend. Other characters - such as Frank Silva's BOB; David Bowie as Phillip Jeffries ("Phillip Jeffries, who doesn't really exist anymore, at least not in the normal sense," Lynch as Gordon Cole faithfully remarks in the show's 17th part); Miguel Ferrer as Albert Rosenfield; Don S. Davis as Major Garland Briggs; Jack Nance as Pete Martell; Warren Frost as Doc Hayward - passed away before the show's airtime as well.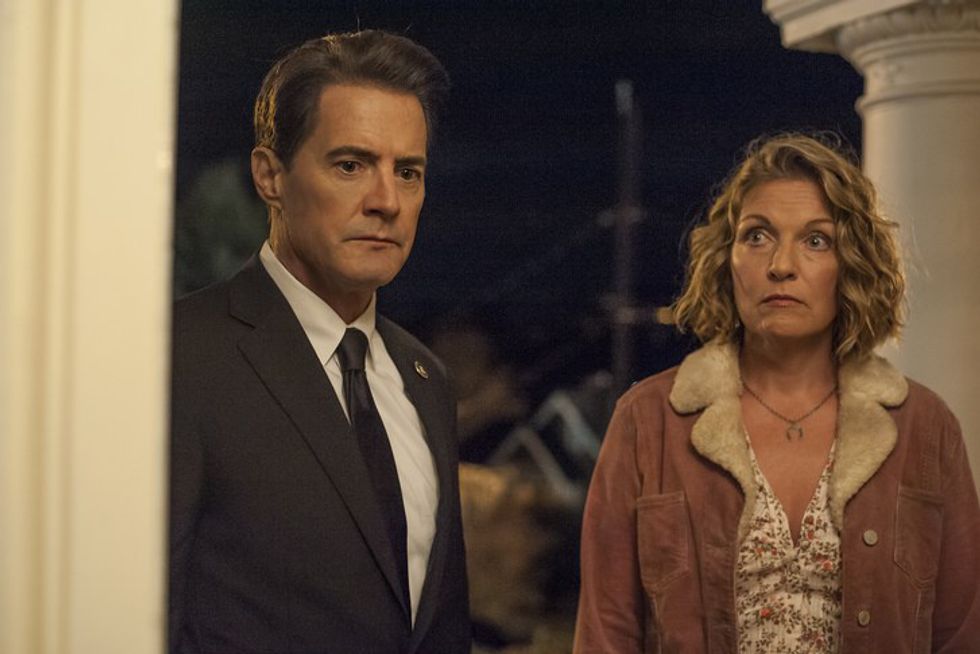 Courtesy of Showtime
The finale's most heartbreaking sentiment lies in the time loop Cooper finds himself in - he reaches out to Laura, and as she grabs his hand, he pulls her out of her fated-to-end universe and into his, only for her to subsequently disappear into screams and darkness every time he attempts to do so. It is said that the Experiment - otherwise known as Mother - might have something to do with this, as her life might mean the Experiment's ultimate destruction. Instead, we are forced to watch Cooper fail time and time again, and as he shakily raises his FBI badge to the woman who lives in the Palmer household, we get the feeling he is not so sure of himself at all.
Of course, as with any piece of art, Twin Peaks: the Return has it's criticism. Many are struggling to understand the point of the several plotlines we were introduced to (such as Audrey's strange fate, stuck in some sort of alternate reality, doomed to argue with a weird and condescending husband until time's end) that were left with little to no resolution. Even so, people are quick to forget that we were lucky to even see through the final pieces of this story at all, which was 25 years in the making. It is strange to criticize Lynch for the way he chooses to see through his art, which is ultimately a universe with evil at it's core since the very first episode. It makes sense that the series would end the way it did - sometimes there are no happy endings. Sometimes you can't go home again. As Monica Belluci asks in what would be the show's most meta commentary, "We are like the dreamer who dreams and lives inside the dream, but who is the dreamer?"
Maybe we are the dreamers, and Twin Peaks, now all-encompassing and eternally capturing the spirits of those beyond, will never reach it's end, for as long as we are able to dream of it.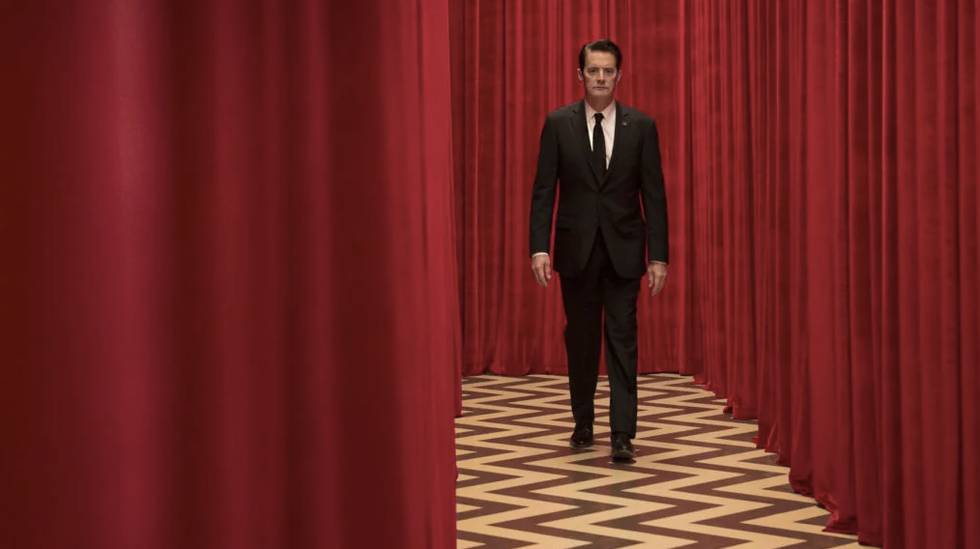 Courtesy of Showtime
---
Listen to the world of Twin Peaks below:
---
Vanessa is a music and culture writer. Follow her on twitter.
READ MORE ABOUT MUSIC...

INTERVIEW | a Q&A with Rooney's Robert Schwartzman
REVIEW | Nick Hakim's "Green Twins" is a soulful trip through the future