Frontpage Popular News
MUSIC | A new side of the Creator or same old antics?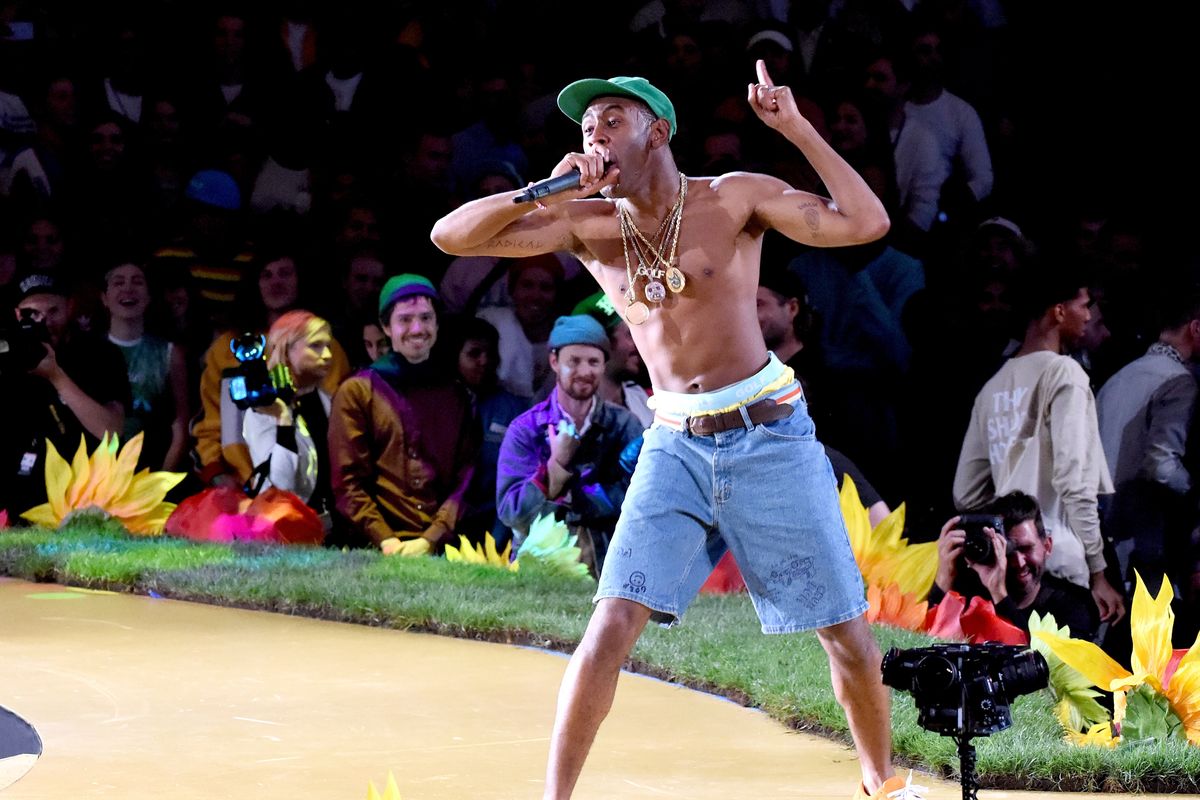 The video for "Who Dat Boy" is just as oddly creepy as the dark synth intro to the track.
It's been a while since we've heard anything from Tyler. Since releasing Cherry Bomb two years back in 2015, he hasn't been around the scene too much. Sure, he hasn't totally disappeared but like most of the Odd Future gang, he doesn't hang around the spotlight too much. He'll pop and do something characteristically weird here and there but music wise he's been quite. Since making it big, he never really has been one to hop on someone else's track anyway. So while other artists try to stay relevant by getting some features in the interim between their projects, Tyler just sticks to focuses on his own.
On the other hand, a lot of artists recently have seemed eager to jump on the Creator's tracks. On Cherry Bomb, he got features for Kanye West, Lil Wayne, and Pharrell Williams, among others. Over the past week or so, Tyler had been teasing at some new content in typical Tyler fashion. His countdown culminated in a video for his new song "Who Dat Boy" with none other than A$AP Rocky. This song and video, along with other teasers, have been released to hype up his soon-to-be-released album Scum Fuck Flower Boy (which has all the charm of an album you would hear and say "yeah, that's definitely a Tyler album"). The album will feature other collaborations such as Wolfgang brother Frank Ocean, former collaborator Lil Wayne, and singer Estelle.
The video accompanying the song "Who Dat Boy" is just as oddly creepy as the opening dark synth strings of the track would suggest. It opens on Tyler, back facing us, as we move through a dark hallway that frames him working on something. The kind of strange experimentation you would expect. Next thing you know, Tyler emerges outside and walks down the street with a severe gash across his face.

Then A$AP Rocky shows up, evidently to save the day by giving Tyler some facial reconstructive surgery. While performing the operation, a few cops bust in on them and they are forced to flee. Then it's revealed to us that A$AP has sewed some sort of white-face surgical mask on to Tyler and damn, it is creepy as hell. The pair continue to rap around outside until all of a sudden Tyler is driving down the highway, cops in pursuit, with a random teenage dude that seems to come out of nowhere. This is all before the song and video abruptly transition into another song on the album "911". This part of the video features multiple Tylers in a Cherry Blossom field or park.
All components of this video are pretty disconcerting but at the same time not at all something to be unexpected from an artist like Tyler. So much of his career has been based on a particular brand of strange antics and shock value. There could some potential race and/or police commentary going on in this video but like anything out The Creator, it's distinctly difficult to pick out the pieces between absurd and direct.
[rebelmouse-proxy-image https://media.rbl.ms/image?u=%2FHqQaX9Bhlha1O.gif&ho=https%3A%2F%2Fi.giphy.com&s=580&h=a7269bfce0f00c032406fa8b6de4740d3fe5a097ea813f9f39302e99c6778526&size=980x&c=1759889985 crop_info="%7B%22image%22%3A%20%22https%3A//media.rbl.ms/image%3Fu%3D%252FHqQaX9Bhlha1O.gif%26ho%3Dhttps%253A%252F%252Fi.giphy.com%26s%3D580%26h%3Da7269bfce0f00c032406fa8b6de4740d3fe5a097ea813f9f39302e99c6778526%26size%3D980x%26c%3D1759889985%22%7D" caption="" pin_description="" image-library="0" expand=1 photo_credit=""]
A few other tracks from Scum Fuck Flower Boy have either been released or made their way out on to the Internet, including a song with Frank Ocean and the song "Boredom". "Boredom", the eighth track on the upcoming album, features Rex Orange County and Anna of the North. Some of this track rings back to the ending parts of Cherry Bomb, such as "Too Fucking Young/Perfect" and "Keep Da O's", with cuts of smoothness and Tyler swooning you don't often get to hear. Unlike "Who Dat Boy" that very much sticks to the sonic canon of Tyler's work, "Boredom" moves in a less abrasive direction.
The lyrical contemplation on "Boredom" hits with the same earnestness that likely has endeared Tyler to fans over the years. It's a simple subject, generally just waiting for something to happen and trying to find the peace of mind to accept that nothing is going to happen. It's the classic battle of trying to turn boredom into being simply content. This is evident in how the verses contrast the hooks sung by the features.
In a similar vein, the track "Mr. Lonely" (part of the "9/11/Mr. Lonely"), which has made its way online as well, deals with the theme of Tyler waiting on something or someone. The track, which features Frank Ocean, is another honest deluge of thoughts and emotions from Tyler who clearly has no trouble baring it all for fans. Although, I did mention earlier that discerning the meaningful from the prank-like wildness of Tyler can often be hard, many of his tracks are very cut and dry about his real feelings. Even though he often time goes extremely overboard, especially in his earlier work, it's pretty easy to tell the difference between raunchy tangents from his more poignant moments.
[rebelmouse-proxy-image https://media.rbl.ms/image?u=%2F600x315%2Ff0%2Fb0%2F75%2Ff0b07531256da8640d5ccae31c02d6ef.jpg&ho=https%3A%2F%2Fs-media-cache-ak0.pinimg.com&s=942&h=2bd91531f70c6c1d8fbd562de9557b44f59c0d63d2ca571c7da982856469becb&size=980x&c=1954204995 image-library="0" caption="Pinterest" pin_description="" crop_info="%7B%22image%22%3A%20%22https%3A//media.rbl.ms/image%3Fu%3D%252F600x315%252Ff0%252Fb0%252F75%252Ff0b07531256da8640d5ccae31c02d6ef.jpg%26ho%3Dhttps%253A%252F%252Fs-media-cache-ak0.pinimg.com%26s%3D942%26h%3D2bd91531f70c6c1d8fbd562de9557b44f59c0d63d2ca571c7da982856469becb%26size%3D980x%26c%3D1954204995%22%7D" expand=1 photo_credit=""]Pinterest
Tyler+The+Creator+Debuts+Fall/Winter+'16+Golf+Wang+Lookbook+
On top of that, apparently the whole album has already leaked online. This have given hardcore fans a chance to devour the content and flood the internet with speculation about even deeper moments on the album. Evidently Tyler gets even more personal on the album and on at least one track may or may not come out of the closet? While, this is all operating on the lyrics of the album and not on statements from The Creator, given that this album seems to be a departure for him, it would stand to reason that his lyrics reflect reality this time.
As other have pointed out, Tyler no longer seems to be making jokes and messing around. While he has retained much of the style of his antics, the earnestness level seems to have been bumped way up. Perhaps it has lended itself to making him a better artist and rapper as he is ready to get real with his fans.
It may have been a long time coming to some but I'm sure there will be those who miss his old ways. Although, once the album drops officially, we will be able to listen and see if there is enough for both camps of fans to be satisfied.
---