MUSIC
Josh Homme returns with an album-length collaboration with pep impresario Mark Ronson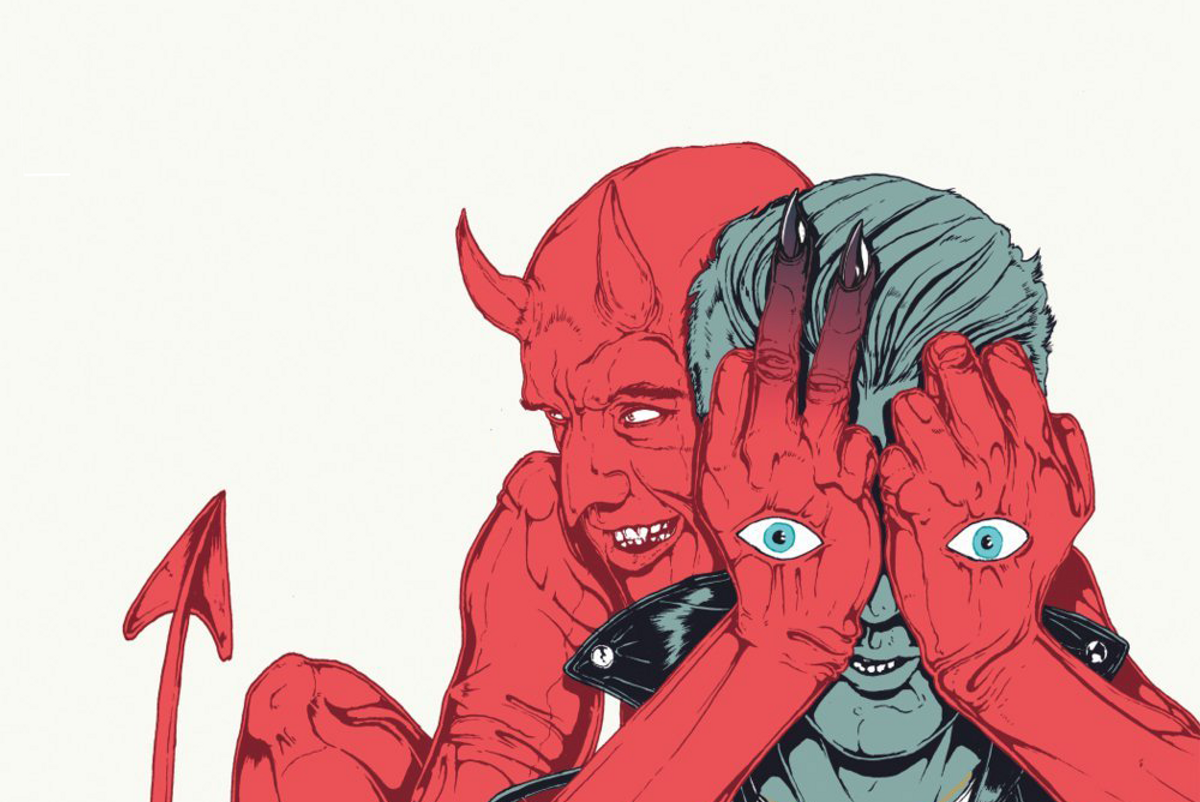 Matador Records
Josh Homme creates a polished sound somewhere between Glam-Rock Marilyn Manson and whatever the Foo Fighters sound like these days. It's not great.
It is fashionable to not only decry that rock and roll is not dead but to insult the questioner. Its current hero-savant is an Australian fellow in his early thirties by the name of Kevin Parker, who recently headlined a music festival with his two year old major label debut, a record of bass, syths and steel that still resoundingly fucks. Earlier this year Parker, defying the ironclad rule about signing your soul to only one of the two live music conglomerates, played a lower billing at another music festival, LiveNation's Gov Ball, spinning records alongside Mark Ronson, a walking suede jacket, DJ and producer with an eye for making pop singers sound authentic and in-your-face (Amy Winehouse's Back to Black in 2006 and Lady Gaga's Joanne in 2016; in between, he convincingly made Bruno Mars sound like Michael Jackson). Ronson and Pakrer's extended pairing—they've made a number of songs together under Ronson's name and cowrote "Perfect Illusion" for Gaga—makes sense: Parker got bored of being hyped as the next coming of David Gilmour two cycles ago and Ronson could never really make hits the way the Swedes do; "Uptown Funk" was a viral anomaly, even his work with Gaga failed to crack the top ten.
Over a decade older than Parker, Josh Homme is the latest ax-welding titan to partner with Ronson and Villains, the latest record from Homme's flagship operation, Queens of the Stone Age, is forty minutes and change inside Ronson's Hollywood confines. No "radio formulas" are imposed on the QOTSA crew, claims Jon Pareles in the Times, which is true enough: the songs are universally north of the four minute mark, three of them are over six; classic territory from the man sold as the godfather of slow-burning stoner rock. But the result is also noting like anything Homme has ever been involved in before; a curveball pitch for Homme as the lone, dancing, biker of the apocalypse, notice the cartoonish reappearance of the Dark Prince on the cover art, the appearance of words like "evil," "haunted" and "reborn" in the song titles. Gloom and doom, thy name is Homme.
In order to do this, Homme and Ronson turns to another one-hit wonder of sorts: the stylings of one Marylyn Manson. Manson, who absconded the equipment, baggage and sound he borrowed from Trent Reznor the same year Homme first launched his prehistoric crew into being; that would be '98 and a bargain bin classic called Mechanical Animals. On the cover Manson wore lithe, prosthetic breasts, a nod to the glam era of Bowie, returning to vogue at the time (Placebo, Velvet Goldmine). Backed by a flurry of Mick Ronson riffs, Manson rejected his position as spokesman or hero for a generation of similarly disaffected or pale people, people he now considered very boring (i.e. the mechanical animals): "I am never gonna be the one for you/ I am never gonna save the world from you," which ends up being, in that post-Columbine/pre- Bowling for Columbine moment, elegic, pompous and boring. Twenty years later, Homme, not really a spokesman or hero, more a perpetually crabby outsider, turns less withholding: "You've got heart, I'll have it for lunch," he belts, after comparing street protesters to swing dancers. He calls them "Domesticated Animals."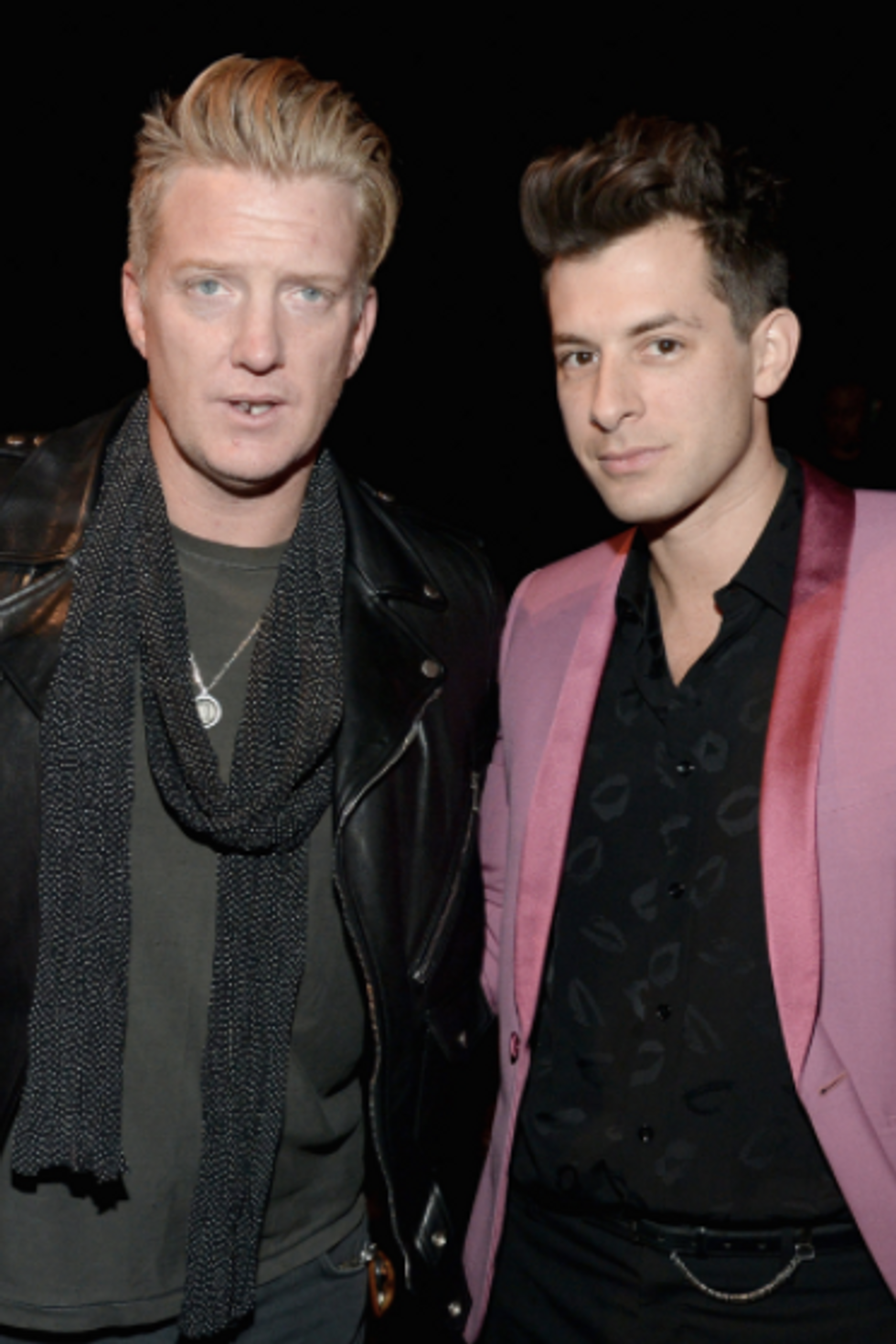 QOTSA's latest is a partnership with the jacket-wearing British producer Mark Ronson. "I like to dance," claims frontman Josh Homme.(Kevin Mazur/Getty)
Homme has done this kind of generation commentary before, from both the hedonistically callous center ("Feel Good Hit of the Summer") and the Dylan-esque outside ("Mr. Designer") but he has never sounded so bored, so out of touch with what the kids whose parents are buying the hundred dollar tickets to see him at MSG really are feeling, protesting in those streets. Which is to say that it's coming out this week and none of it has aged very well already; a good phrase to sum up the seven (!!!) albums Manson has made since Animals; the only remarkable thing is that Homme had lasted so long with making one of his own. The doomed-to-be-underrated Era Vulgaris was their Yankee Hotel Foxtrot without the ten-point score and even the hideously titled ...Like Clockwork was kept together by moments of indie rock Wagernian beauty, like that rising swarm of locusts in Days of Heaven.
But on the far more functionally titled Villians, Homme just struts and you can smell the bad motorcycle leather. His era of Bowie is more fashionable than Manson was going for (Berlin, with an ear to the particularly hidden guitar hero work of Robert Fripp) but none of it is very listenable. Songs begin or end with pretty, overwhelming skill but go on, with unbearable choruses and codas that sound like well-oiled machines churning, churning along. Midway between the poppy sludge anthems that Homme perfected around the turn of the millennium and bag wig music, think bands like Sweet or T. Rex when Marc Bolan couldn't bring himself to care anymore about his own half-ass epics. A song like "Evil Has Landed," which feels like it should be some pertinent how-about-that-Trump music, only becomes salvageable when Homme stops singing and a rush of Kinks power chords ooze gorgeously next to a line a synths, a rare moment where whatever kind of "dance music" Homme is trying to accomplish is perfect articulated.

A while ago, I caught another of Homme's bands, Eagles of Death Metal, opening for Mastodon. The band is a collaboration with an absurd mustache named Jesse Hughes and Homme never actually can bring himself to tours with him and for good reason; they are most well-known for playing the Le Bataclan in Paris while it was being attached by masked gunmen and later being all racist about it. But the sound is not all that different from Homme's main operation, circa '17, a pompous display of bad boys, shooting surgery power chords, lifted from Nuggets compilations instead of the Bowie line that Homme likes to ride. It was like those gay bars in midtown where strapping half-naked men wear cowboy hats and play bad country music: it's neither really a gay bar nor are the men really cowboys. It's an articulation of something else, something which is only not terrible when you don't look at it, when you sway in the crowd, when you respond to the fake catcalls with fake enthusiasm.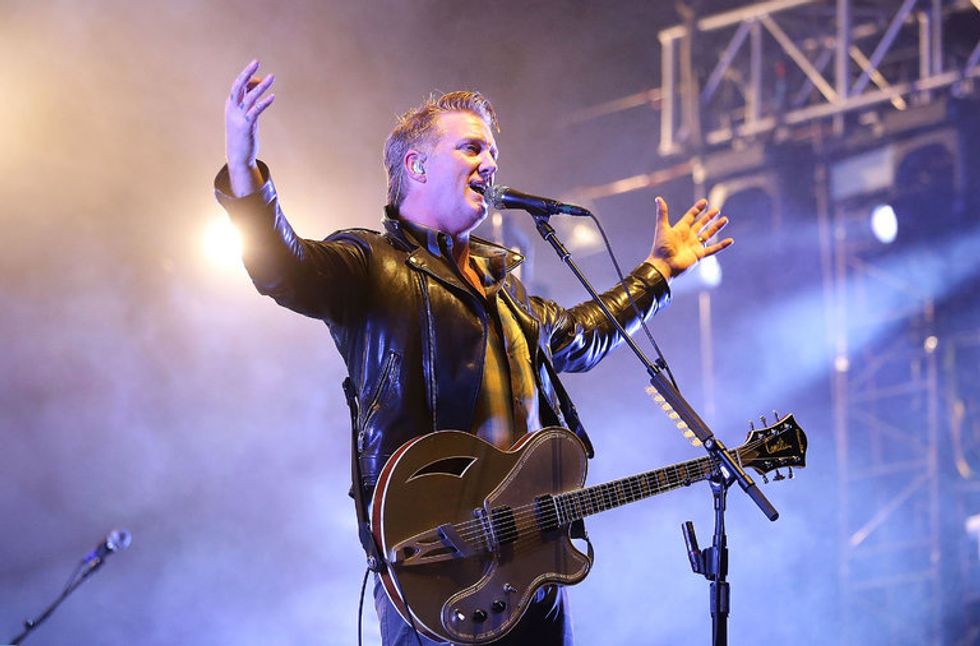 Another photo of Josh Homme. Why not?(Mark Metcalfe/Getty Images)
It's a kind of nowhere rock, wanting to whip up that evil devil stuff but is wearing a halloween costume from the corner convenience store. Which is to say that Villians wants, very desperately, to be that kind of holistic sonic transformation that younger metalheads go for all the time: New Bermuda, The Ark Work. The effect, instead, is like that one Foo Fighters record where David Grohl pretended to ride the highway like a wandering bluesman for HBO money. It won't save your soul, baby.
Villains is out 8/25 via Matador. Listen to "The Evil Has Landed" here
[rebelmouse-proxy-image https://media.rbl.ms/image?u=%2Fcdn.beggars.com%2Fstore_images%2Fstandard-white.gif&ho=https%3A%2F%2Fs3-eu-west-1.amazonaws.com&s=29&h=4ce121a5729e36c6d72ad1adf15d30b0e6abbdec2fb306339953951e35223382&size=980x&c=1180025637 image-library="0" caption="purchase\u00a0villains on vinyl" pin_description="" crop_info="%7B%22image%22%3A%20%22https%3A//media.rbl.ms/image%3Fu%3D%252Fcdn.beggars.com%252Fstore_images%252Fstandard-white.gif%26ho%3Dhttps%253A%252F%252Fs3-eu-west-1.amazonaws.com%26s%3D29%26h%3D4ce121a5729e36c6d72ad1adf15d30b0e6abbdec2fb306339953951e35223382%26size%3D980x%26c%3D1180025637%22%7D" alt="Villains on vinyl" expand=1 photo_credit=""]purchase villains on vinyl
---
Andrew Karpan, what a guy. He reviews music and wears quirky t-shirts and holds grudges. You can follow him on Twitter to find out more!
---
---