MUSIC
MUSIC | The second album by the California rapper parties with style and shakes with bass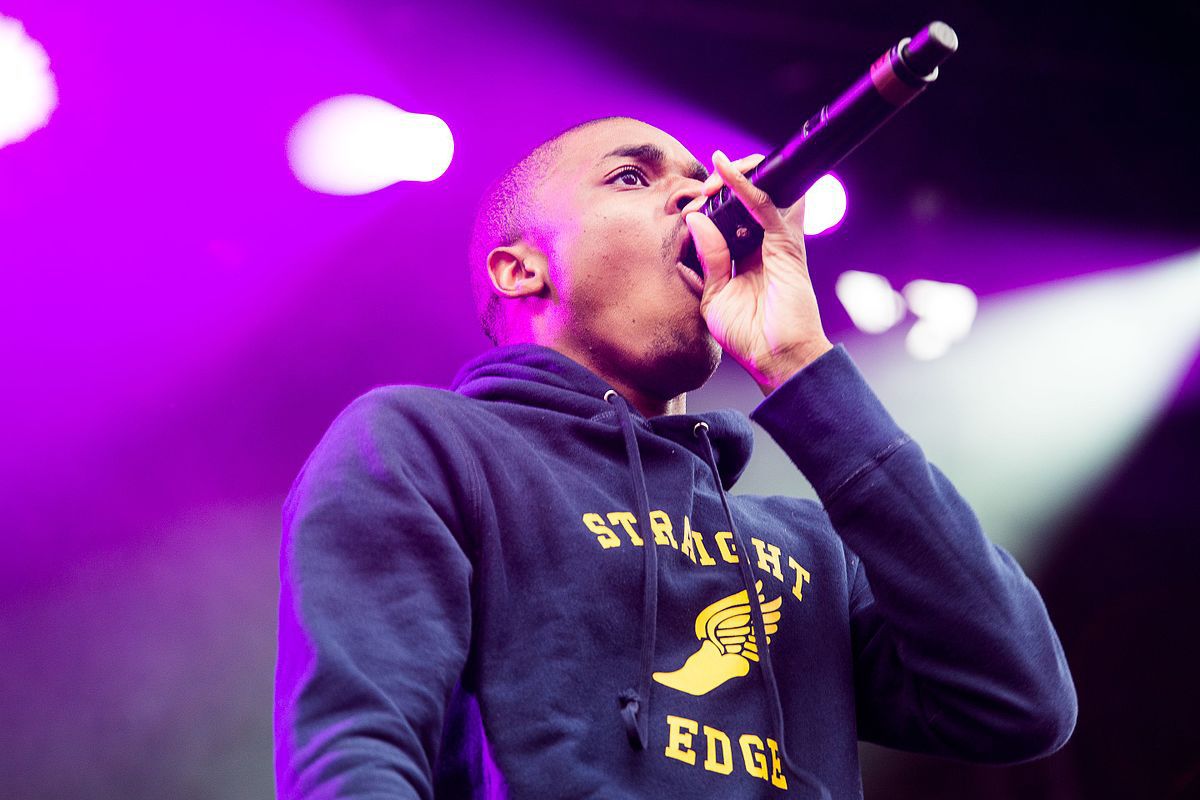 When Vince Staples' newest album, Big Fish Theory, starts playing, you dance.
It's easy. Let the percussion take over—it's impossible to fight it. The rhythms on Big Fish Theory are like evil, mind-controlling frequencies. Staples' second album follows the Prima Donna EP and a string of features, like Gorillaz' "Ascension." With guests including Kendrick Lamar, Damon Albarn and A$AP Rocky, the album is packed with energy and party tracks without sacrificing Staples' lyrics.
The drums rattle over bass that either lurks behind his lyrics like Jaws or jumps into an unstoppable dance beat. Bottom line: Vince Staples cares about the rhythm, the percussion, the low end. It shows in his verses, too, where he's staying far away from the easy rhythms that everybody's copying from Migos and Future.
The opener, "Crabs In a Bucket," swirls and chirps before Staples' first verse introduces the frantic lyrics that make the album so dense and still so danceable. His voice on the almost-title track rolls words over the round bass that bounces through the song like a car over bumps on the road. He wears his hometown like a heritage: "I was up late night balling / So far from my past misfortune / No sleepin', late nights no eatin' / Gun squeezing, / I'm a real Artesian / Ramona, I was round that corner."

The "Alyssa Interlude" is as weird as a Kid Cudi track with vocal effects off of Kid A. That's as close to the Chance/Kanye/Khaled gospel trend as Staples goes and it just sneaks in on an interlude track. Vince Staples turns around and walks the other way.
The bass and drums rhythms on "Homage" and "BagBak" are some of the best on the album. "Homage" could've come from a King of Limbstrack with the same aggressive lyrics that tie the album together.
It all leads up to "Yeah Right," the album highlight featuring Kendrick Lamar and the most sinister bass on Big Fish Theory. The subs reach for the lowest frequencies beneath Staples' verses: "Is your house big? Is your car nice? / Is your girl fine? / Is you well paid? Are your shows packed? / If your song played, would they know that?" Taking a page from Kendrick's classic verse on "Control," Staples calls out the hip hop world for its obsession with sex, money and cars. Kendrick's verse epitomizes the rhythm that's possible in words and lines in a hip hop song, riding the current of bass and building off of Staples' theme.
Like Danny Brown, Vince Staples isn't satisfied with whatever the current hip hop hits might sound like. He has a vision on Big Fish Theory and goes for it without concern for how it's different from the top 40 chart. Its differences are what make it so exciting. You don't hear this kind of energy in an alumni jam by DJ Khaled.
---
WATCH the video for "Rain Come Down":
---
READ MORE ABOUT MUSIC:
REVIEW | Portugal. The Man serve shining alt-rock for your summer playlist
Review: Hundred Waters make machines cry on their new EP, 'Currency'
Watch the video for MUSE's epic new single "Dig Down"
---