What does it mean to be a one-hit wonder in the age of Spotify?
I had arrived an hour or two before set time, but a line had burrowed itself in deep within neighboring scaffolding. Well-dressed people, smiling and often four-eyed, their Monday night entertainment of choice was this Nashville-by-way-of-lots-of-other-cities band called Wild Cub. Their excitement in the air was charmingly passive, maybe a little curious, like a crowd of people walking some guy playing a piano in a park. Maybe they hadn't collectively confused the evening for a Wild Flag, Wild Beasts or Wild Things event. Wild Cub, unlike most of those bands, hadn't released an album since 2014's Youth but their facebook page had been full of proclamations of something great to come. A single called "Speak" had been released last month and was described by the band's publicist as "anthemic" and "sing-along." It was given a heavy push on Sirius AltNation, the station where the band's singular hit, "Thunder Clatter" topped their for list three weeks in a row, four years ago. "Speak," on the other hand, had less luck displacing the likes of "Feel It Still," that tedious doo-wop rip-off that will ensure Portugal. The Man will continue harassing the punctuation of festival posters for years to come. But did something like radio airplay even matter anymore?
Keegan DeWitt didn't seem to care. When I asked him about he popularity of "Thunder Clatter," he told me: "If you're going to play a song a million times, it's nice for it to be a song you really like." He was pink, chiseled, middle-aged, an approximation of the paper towel industry's brawny man, married and in the middle of a decade as career musician. Leaning back in the Mercury Lounge's cramped green room, where Julian Casablancas was once so young, he dominated the conversation, which was ostensibly also with bandmates Jeremy Bullock and Harry West. But no matter. "Thunder Clatter" was about the time DeWitt met some woman that he later married, so I supposed he was the expert. He spoke of the song as f it were their only child. Other producers, engineers, unnamed shadows of evil in the music industry were like those crooked teachers who would not them kids alone. "We had to fight to keep in the crazy," he told me and I imagined the song was a rebellious child being chased by evil principals in a John Hughes movie. Keenly, he 'splained me, the track employs an instrumental hook as its chorus, something that's "the exact opposite of the Hollywood pop songwriter thing," emphasis his and gesticulating.

Live, DeWitt performs like Samuel Herring approximating Pete Townshend; he turns left and right and makes his own minute windmills on a glittering Fender, a gesture that feels very '80s. There is a whiff to their new sound, speaking of John Hughes movies, of The Psychedelic Furs, though Keegan, having put on the kind of Falling Down-button-up that many in the crowd probably wore on their first day of work, strikes a pose closer to Huey Lewis. Mr. Bullock was the only band member who hadn't changed for the show, keeping to his post-Hawaiian shirt floral that made him look one of those guys in Django Django, an Amazon Recommends for Wild Cub if there ever was on. Back in the green room, when he was wearing an unidentifiable band t-shirt and telling me about authenticity, I remarked that the new record sounds a bit like Bruce Springsteen. There is a track called "Somewhere" that includes a sax solo. Critics, right?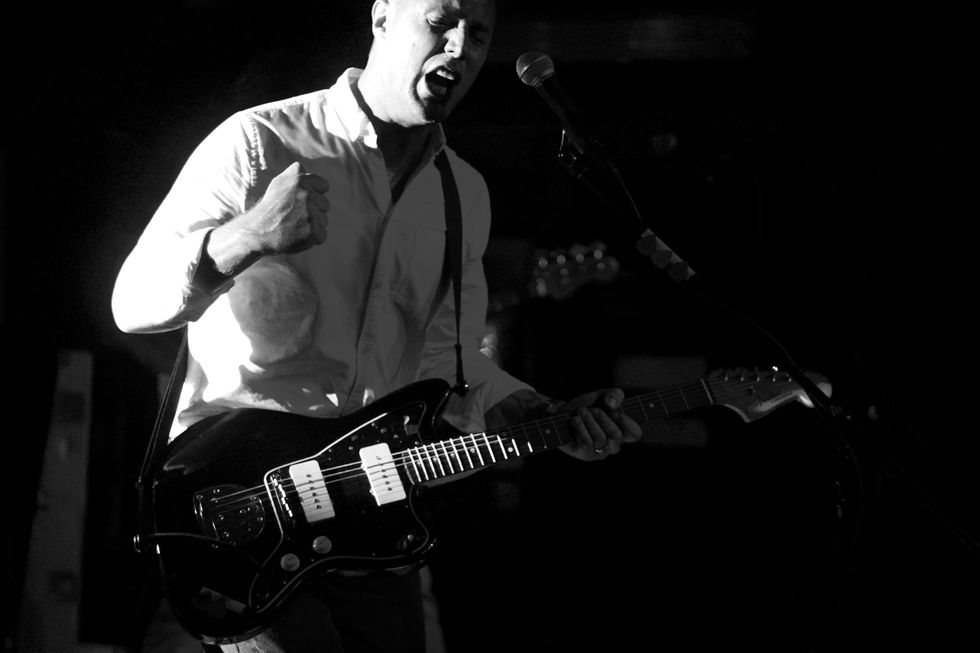 (Andrew Karpan)
He shrugs at the comparison, telling me he doesn't think of himself as a topical songwriter, whatever that means. He begins telling me, instead, about his newfound love for The Blue Nile, an occasionally forgotten Scottish new wave band that was in the press cycle a few years ago when their first two albums were rereleased. Like Paul Buchanan, The Blue Nile's earnest, singing, studio wonk, DeWitt is a creature who lives behind the boards, a Phillip Spector of cutting up keyboard riffs into little pieces. On the side, he has a profitable career scoring post-mumblecore indie fare (Alex Ross Perry's last two movies, HBO's Divorce), so it's easy to understand why he doesn't share the anxiety of many of an indie pop scenester, scared of being financially forgotten.

Authenticity is very important to DeWitt. Throughout our conversation, he says it a number of times. The label, they had tried to record the band's second album in a studio with an unnamed "big producer." That would not do. DeWitt decamped his band and, after some soul-searching, they built a studio of their own. In an interview with PopMatters, DeWitt told Corey Beasley that they were happy to be signed to a mildly independent label like Mom + Pop because they "want us to have, you know, three great records, not just a song that's successful." The albums they recorded on their own-ish, DeWitt told me, languished in the label's hands for over year, like some kind of Brian Wilson masterpiece that it didn't think the plebs would be able to handle. I wondered what he saw as the next step, recording more scores in his newly minted studio, making small pop anthems for candy advertisements? "I just got to do something authentic," he told me, again. He was plain-spoken; he sounded like a dad telling you about the workshop he built in the garage over the weekend.
Another promotional single, "I Fall Over," is out now.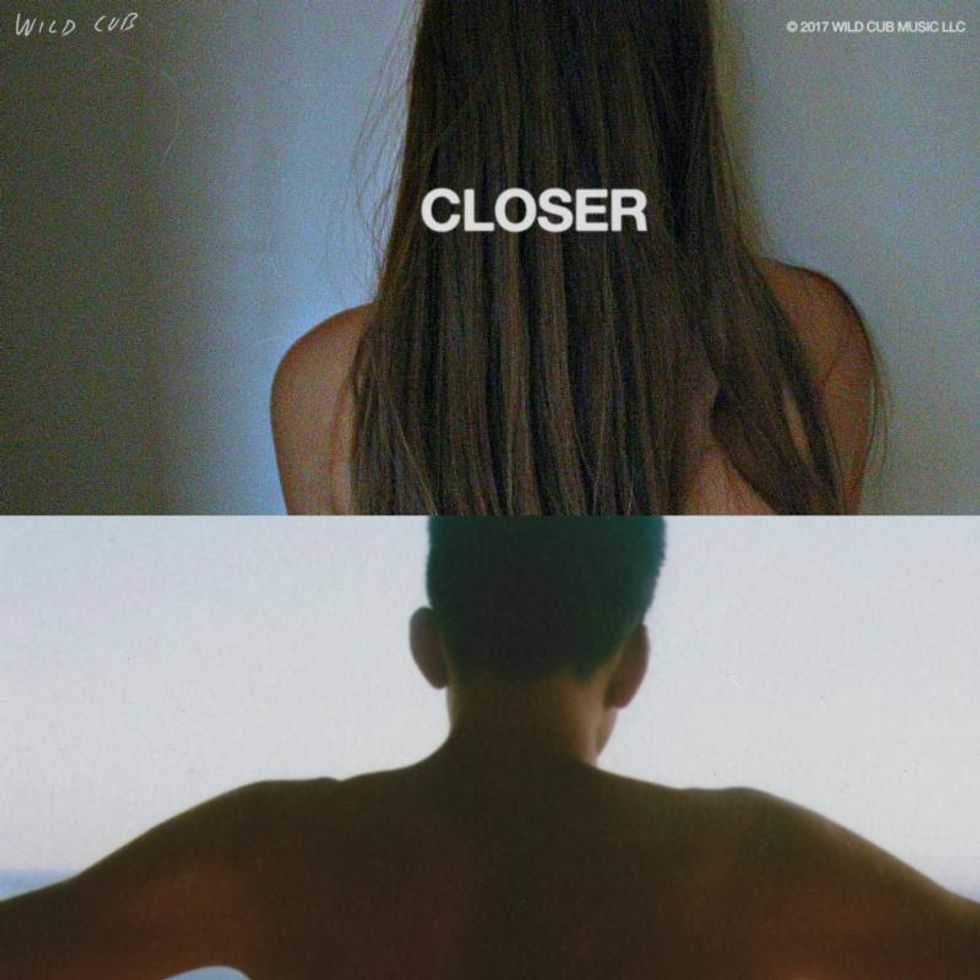 Closer comes out 9/8 (Mom + Pop).
1. Magic
2. I Fall Over
3. Speak
4. Clicks
5. Wait
6. Somewhere
7. Mirror
8. Not With You
9. Fire
10. Rain
11. Go
---
Andrew Karpan is the interviewer-in-chief of Popdust , Concert Reviews Czar and all about great guy. He is probably the guy wearing the t-shirt you threw away last week with the stain on it that looks like the cover of Slanted and Enchanted. He likes the smell. Please follow him, someone.
Killer Content, Bro:

LIVE | The Summer Festival Nostalgia Report
LIVE | An evening with Nas, Young M.A. and Dave East
LIVE | Pitchfork Music Festival was all about loving the femme