PSA: Miley Rae Cyrus just released her next single and title song from her up and coming new album Younger Now and it is everything.
To make it even more exciting, she released a music video in conjunction with the single release and if the song wasn't already everything, the two together is far beyond what we could hope for from the artist and also far beyond anything we could have predicted. In Miley's most recent singles Malibu and Inspired, she has proven to fans and naysayers alike that she's an artistic chameleon. After receiving a ton of negativity from the public, namely the parents of her younger fans who grew invested in her from her Miley Cyrus days, for breaking out of the sweet, country Disney kid image she upheld for so long, people assumed Miley was having a "phase" or going crazy. On the contrary, I think Miley did a beautiful job of using her experiences and turning them into exquisite art. One fan on Twitter illustrated this using a lyric from the new song, "change is something you can count on," to celebrate Miley's evolution and progression.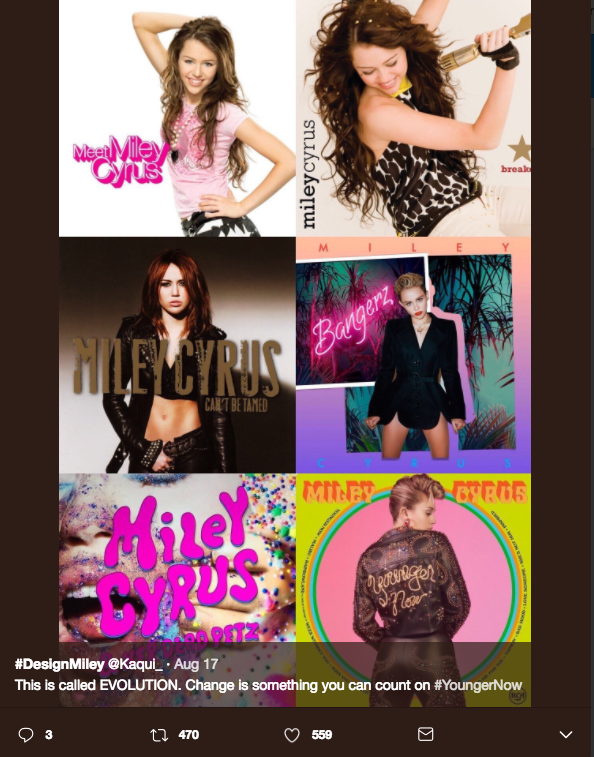 @Kaqui
The new music video kind of feels like a love child between older Miley music and her eccentric Bangerz era, but in reality, it's a shedding of skin, a mature representation of how Miley's past has shaped the amazing artist she continues to blossom into and always was. The song alludes to that too, especially in this powerful lyric, "even though it's not who I am, I'm not afraid of who I used to be." The music video is a giant nod to Elvis who Miley has always claimed as a major inspiration. From panning over a bookshelf with a noticeable Elvis book, to Miley's Elvis-inspired jumpsuits and pompadour, to her hip swivels and guitar-ography. In general the video gives us some major rockabilly vibes, one of my favorite parts being Miley flawlessly rocking a modern take on sock-hop inspired choreography at the end of the video.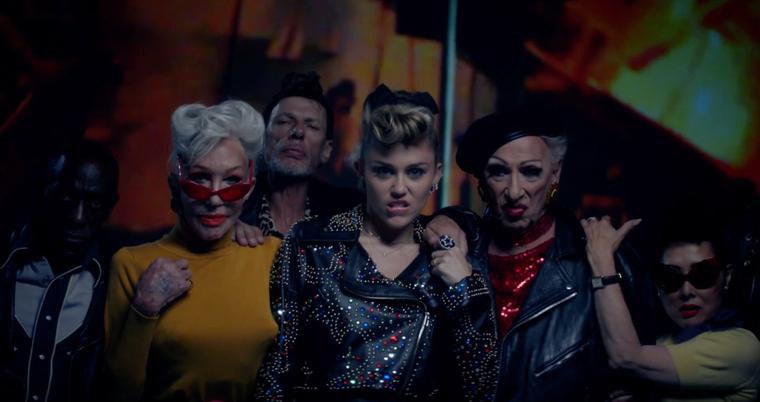 Still shot from Younger NowMTV
The song discusses age a lot referring to the past, but also proclaiming that she's "younger now." To me it means that though you might experience a lot in life, there is always more to learn. I also think that the song perfectly captures that feeling of being at peace with who you are but knowing where you can grow that you feel so often in your twenties, and probably forever I'm assuming. The video itself is pretty age-defying. It features older people dressed in their rockabilly best. Older women work ruby red lips and cat eyed glasses giving the camera their meanest mug next to Miley. A part of the video features an older woman doing acrobatics which is a really amazing moment defying age stereotypes. Another powerful, moment is when children dressed as mimes surround Miley on a colorful backdrop.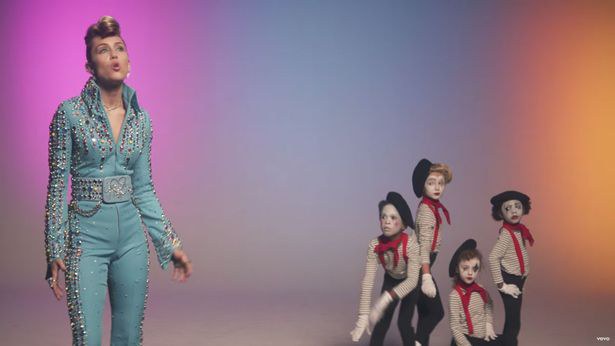 Still shot from Younger NowMirror
I think that these two moments and all of the moments where age is presented as a juxtaposition is Miley's way of evening out the playing field and erasing age stereotypes from this fantasy world she's built in the video. I think the beauty of this single and this video is that everyone who sees it will have a totally different perspective and idea of what exactly it's about. Even though it's whimsical and eccentric Miley beautifully captures the human experience and it's definitely a song and video anyone could relate to. Did I forget to mention Miley sings to a puppet?
Watch Younger Now and check out her new album on September 29th.
Pre-order new album 'Younger Now' (out 9/29) to get it instantly plus 2 more tracks.
Available on iTunes, Amazon, and Google Play
---
Anie Delgado is a contributor to Popdust and is an actress and musician based in NYC. Follow her on Instagram and Twitter @anie_delgado and on Facebook. Check out her music on Spotify.