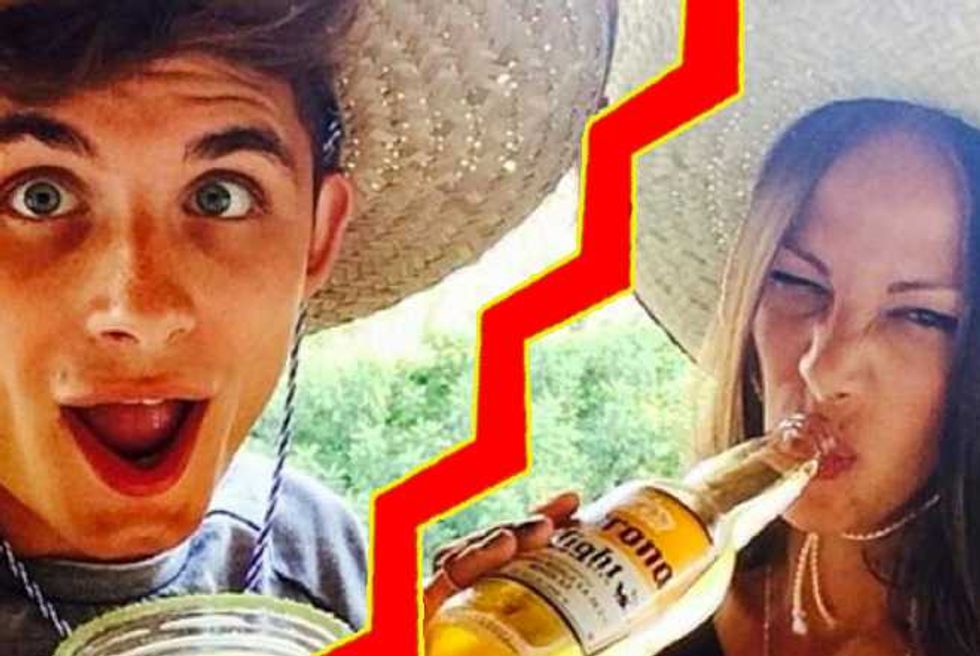 Vanderpump Rules stars Kristen Doute and James Kennedy have officially called it quits.
As Popdust previously reported, the bat shit crazy reality TV twosome began dating last season—immediately after Kristen broke up with Tom Sandoval, her PumpRules cast mate.
As you may recall, Tom kicked off the love-insanity fueled drama after he started dating Doute's co-worker Ariana Madix shortly after their split—true to form, Kristen shot straight right back at him, setting her sights on, and subsequently landing, hook, line and sinker, Sandoval's friend, James Kennedy.
Touche, home girl. Touche.
Jax Taylor Caught On Camera Stealing Sunglasses
Kennedy and Doute's relationship turned heads right off the bat—James, the resident SUR busboy, (and, have we mentioned, friend of Tom's?!!!) is just, well, a lunatic…. and, Kristen, well, she's, well, just, a lunatic..
However, despite the multitude of naysayers and doubters—the lovebirds appeared to be the picture of rebounded bliss throughout the majority of the Bravo hit show's season 3.
Cracks first started to surface in love's young dream though, at Scheana Marie's blowout Miami wedding—after the couple got into a knock-down drag-out fisticuffs-and-all, full blown fight.
Yeah Stassi Schroeder Has A Sex Tape—Deal With It Bitches
It all kicked off—and then some—after James lost his shit as he decided enough is just a Goddamn enough, when it came to his girlfriend's unhealthy obsession with her ex-boyfriend (Tom Sandoval, for those not managing to keep up).
An alcohol-fueled James decided to confront Kristen there and then over her ex-infatuation, however that led to her fleeing from him, and into the arms of some random dude in the parking lot.
After discovering his girlfriend with aforementioned random dude, James let her have it—verbally—telling her he now knew why absolutely everybody hates her, and branding her a "slut" for sleeping with every dude under the SUR sun.
Jax Taylor Is Bi-Sexual Y'All!
For her part, Kristen punched James in the face, twice, and then dumped him.
But, love knows no bounds and makes no sense—especially when it comes with the added factors of insanity, egotism, fame mongering and reality TV desperation—and so, sure enough, Kristen and James appeared to kiss and make-up—and, for one moment at least, the world appeared to be right again once more.
Lisa Vanderpump's Dog Giggi Is Biggest And Best Star Pooch Out There
Until now… And well… if these two crazy kids can't make it work, then what hope is there for the rest of us?!!!
COME BACK SOON Vanderpump Rules, WE MISS YOU SOOOO MUCH!!