Top Stories
Pretty damn fly for a little raccoon guy....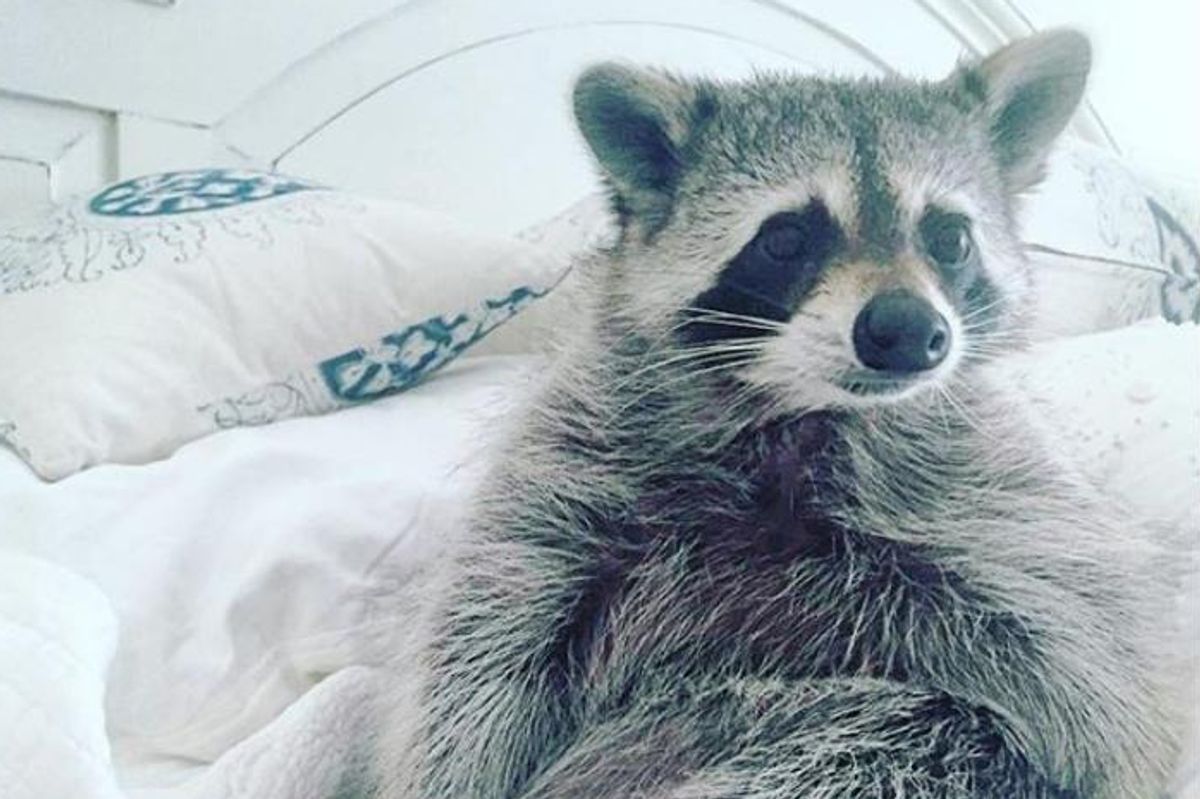 pumpkin the raccoon cool photos—Pumpkin fell from the skies—well, out of a tree actually—into the backyard of Rosie Kemp, two years ago

Pumpkin The Raccoon is pretty damn fly for a hairy little raccoon guy (well, hairy little raccoon girl, strictly speaking).

But then, this ain't no regular run-of-the-mill raccoon.

Pumpkin is more of a real-life Rocket the Raccoon.

Oh, and she thinks he's a dog.

As you do.

The story goes, two years ago, Pumpkin fell from the skies—well, out of a tree actually—into the backyard of her human mom, Rosie Kemp.

Pumpkin wasn't in the best of health at the time—the cute little one-month-old critter had been in the raccoon wars and had a broken back leg and very weak constitution to show for it.

Kemp waited for Pumpkin's mom to make an appearance, but when she didn't materialize, she decided to adopt her and nurse her back to health.

Kemp lives in Nassau, the Bahamas, where it's legal to keep the furry mammals as pets, unlike the U.S. where they are only allowed to be domesticated in 21 of the 50 states, and even then are subjected to a slew of legal requirements.

Kemp, husband William and daughter Laura raised the injured little cub as if she was one of their own—they nursed her around the clock, kept her warm and fed her every few hours, just like her mom would have done.

Not surprisingly, given that they are wild animals, raccoons take a lot of specialist tender loving care and a shed ton of work.

Raising her was (and still is) a full-time job.

(Raccoons) are so unbelievably intelligent, very aware, and I would say they are even able to express emotions.

She instantly bonded with us and our two rescue dogs and follows me and our two dogs everywhere we go.

She now thinks she is a dog … she is able to play and be rough with them and she respects them when they have had enough.
Good job too, as Pumpkin lives alongside Kemp's two rescue dogs, both of which she terrorizes on a daily basis (but in a cute little raccoon little sister kind of way, if you will.)

Kemp elaborates more on the subject:

Raccoons are NOT pets.

They are wild animals, so they are quite moody.

Unlike dogs and cats, they are not domesticated.

Like a spoiled child if she doesn't get her way, she will let you know.
Sounds more like raising a Kardashian than a raccoon.

According to Kemp, Pumpkin has actually managed to learn to teach herself to use the toilet—which brings to mind the cat scene in that Fockers movie, Meet the Parents.

She's also adjusted very very nicely to domesticated life.
Apparently Pumpkin loves air conditioning… well, wouldn't you if you were permanently wearing a hot old fur coat?

Pumpkin also loves sunny side up eggs and watermelon…certainly beats the usual old raccoon fare of worms, frogs and rats….

Although Pumpkin is clearly living the raccoon high life, Kemp tells the Dodo that she's the one who feels blessed to have the hairy little critter as part of the household.

And, she vows to always make sure she acts in the best interests of Pumpkin:

We are very lucky with her and always want and will do what is best for Pumpkin.

But for now she is very happy with us and the dogs!
Well, just one glance at her hugely popular Instagram page will confirm that, yep, this is one hella happy little raccoon.

You can follow Pumpkin's exploits via Instagram, Facebook and Twitter.

In the meantime, check out Popdust's pick of pumpkin the raccoon cool photos.

---
READ MORE...
Pudge The Cat's Grumpiest Photos
Meet Aspen The Mountain Pup—The New It Hound Of Instagram
21 Times Hamilton The Hipster Cat Was Too Cool For School
Watch Out Grumpy Cat! Earl The Grump Is Stealing Your Spotlight
Esther The Wonder Pig May Just Make You Rethink Bacon

---