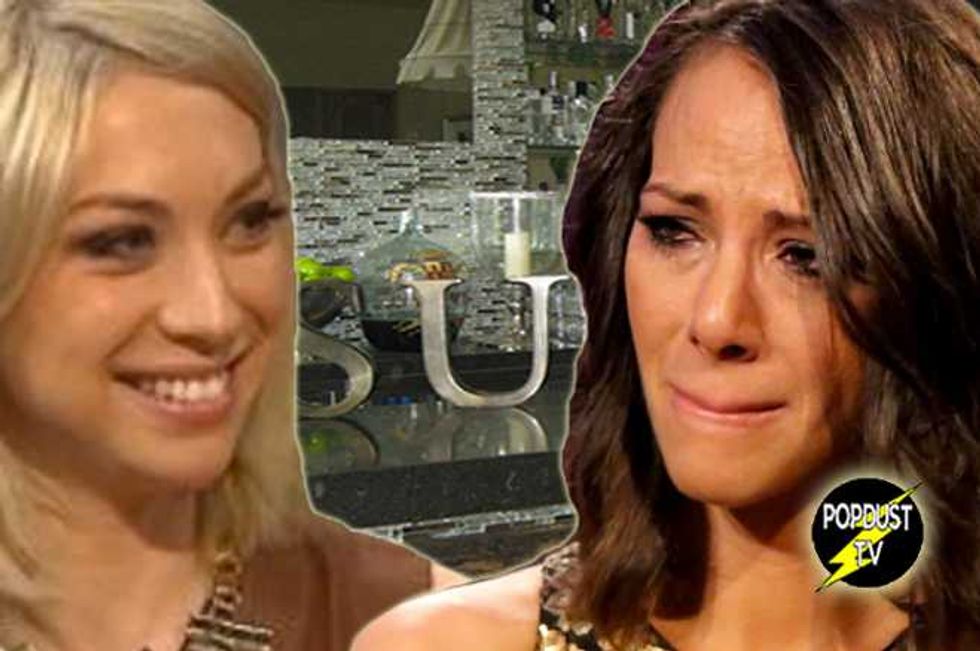 vanderpump rules jax liar
This week's Vanderpump Rules picked up a little bit from last week's snooze fest.
A cheating scandal rocks Tom Schwartz and Katie Maloney's relationship, Stassi Schroeder met with Kristen Doute, and Jax Taylor lied yet again. Just another day in the life at SUR, ya'll.
Stassi went over to Tom and Katie's house to hang out. Upon her arrival, she found Katie straightening Tom's hair. Normal. They sat around shooting the shit until Stassi received a text message from her ex-bestie, Kristen.
PumpRules—Sex And Drugs And Getting Jax'd—Oh My!
Kristen infamously slept with Jax, Stassi's ex-boyfriend at the time. Stassi claimed that she hasn't heard anything from Kristen in over a year, so she was quite surprised to hear that she wanted to meet. Stassi agreed because she thought Kristen may finally find some balls to apologize. It's been a year, baby cakes. Ain't happening.
But in a totally unrelated matter, Lisa Vanderpump asked Tom to bartend again. This is after he walked out of his shift because he was having a panic attack. Too many people, not enough Fireball—I get it, dude. Tom took the invitation to come back to Pump as a compliment, but Lisa later assured him that she was just desperate as hell for some extra hands.
Stassi and Kristen met up to talk. Kristen had a very large bottle of wine, waiting for Stassi to grace her with her presence. She welcomed Stassi back to Los Angeles and Stassi wasn't being that big of a bitch, surprisingly. Kristen made an attempt at a half ass apology by telling her that she had no malicious intent by sleeping with Jax. She admitted that she had planned to take that secret to the grave, but nonetheless she said sorry and Stassi thanked her.
PumpRules' Jax Taylor Caught On Camera Stealing Sunglasses
To be honest, Stassi didn't really seem the least bit phased about being there for Kristen's apology. She wanted to confront Kristen about the Tom and Katie cheating rumors swirling around the LA social circle. Stassi felt that Kristen was actively trying to take them down. Kristen claimed that she knows for a fact that Schwartz cheated on Katie with two different people. Mind you, this is coming from the chick that lied for three months about fucking Jax.
Kristen said she wasn't out to ruin their lives or take them down, but she felt that because she was basically "exiled" for doing what she did, then they should have to experience that too. Jax and Kristen said that Schwartz slept with his friend in Las Vegas and made out with a friend of Scheana Marie's. Granted, I wouldn't put it past most people in this crowd, but Schwartz seems like a genuinely good guy. Oh, not to mention the fact that Jax and Kristen are pathological liars.
Jax met his therapist for yet another session that viewers watch and ultimately feel dumber for having done so. He's a really hot guy, but dumb as fucking rocks. He told the doctor that he cried watching The Green Mile because one of the characters was tough on the outside but weak on the inside. Can someone tell me how much this chick gets paid to listen to this bullshit? After he wiped his tears and realized he has a penis, he told her that he saw Katie cheat on Tom and felt obligated to tell him.
PumpRules—Ubergate Scandal Shows Kristen's Level Of Desperation
Stassi and Katie discussed the cheating rumors a little more in depth. Stassi told Katie what Kristen revealed to her at lunch, but Katie firmly believed that Tom would never do that.  Stassi wholeheartedly agreed with her that Tom wouldn't cheat. They both decided that Katie needed to confront Jax and Kristen about the rumors they've been spreading.
Kristen approached Jax at SUR to discuss that Katie thinks they are both out to get her. Kristen thought that Jax needed to own the fact that he said Tom cheated on Katie in Vegas, but he back pedalled and claimed he didn't say that. Classic Jax Taylor. Jax said he would love nothing more than for Tom to "rail a girl right in front of her." You, my friend, are a standup guy.
Katie took Jax aside to ask him about the rumor he's been spreading. In classic Jax fashion, he swore he had nothing to do with it. He told her deal with the issue with Kristen. It is definitely possible that Kristen fabricated the story because she is hurt that she isn't friends with Katie anymore, who remains close with Stassi. Katie flat out asked Jax if Tom cheated on her and he point blank said "no". Katie went back to Kristen. Kristen told her that she thinks Tom is a really great guy, but believes that he definitely fooled around in Vegas.
Tom Sandoval Dishes On 'Revamped, Reborn' PumpRules—Season 4 Is Best Yet!
Schwartz came strutting on the scene ready to enter the ring of fire. He sat down with Katie to ask what was going on. She told him everything that the SUR lunatics had been saying about them. Without hesitation, Tom admitted that he did, in fact, make out with someone. He said it was over a year ago after they had a massive fight. Katie immediately started crying and looked completely devastated. He kept reiterating to Katie that he is not a cheater and she shot him down by telling him that he certainly is. Sure enough, Jax walked out as they were talking. Katie ripped into him about what he said to Kristen at the bar. She told him she hates him more than life and he told her to go cry some more.
I feel like my IQ dropped drastically after watching that.
PumpRules Kristen Doute and James Kennedy Have Split—Is Anybody Shocked?!!
Tom met up with Jax to see what the hell is going on with the rumors. Jax admitted that he made it up. Whether Jax hates Katie or not, Tom made it clear that he cannot disrespect his relationship like that. After all this nonsense, Jax takes the cake for biggest douchebag in the world—with Schwartz at a very close second.
Katie, Stassi, and Kristina ordered pizza and drank wine as they talked about Katie's current situation. She revealed that Tom told her that there have been times in their relationship that he was extremely unhappy and questioning any future marriage all together. She seemed genuinely heartbroken, but she assured the girls that Tom is the man she wants to marry. Stassi told her that she never wants to see them break up, but standing up for herself is imperative.
Vanderpump Rules airs Mondays at 9pm on Bravo!