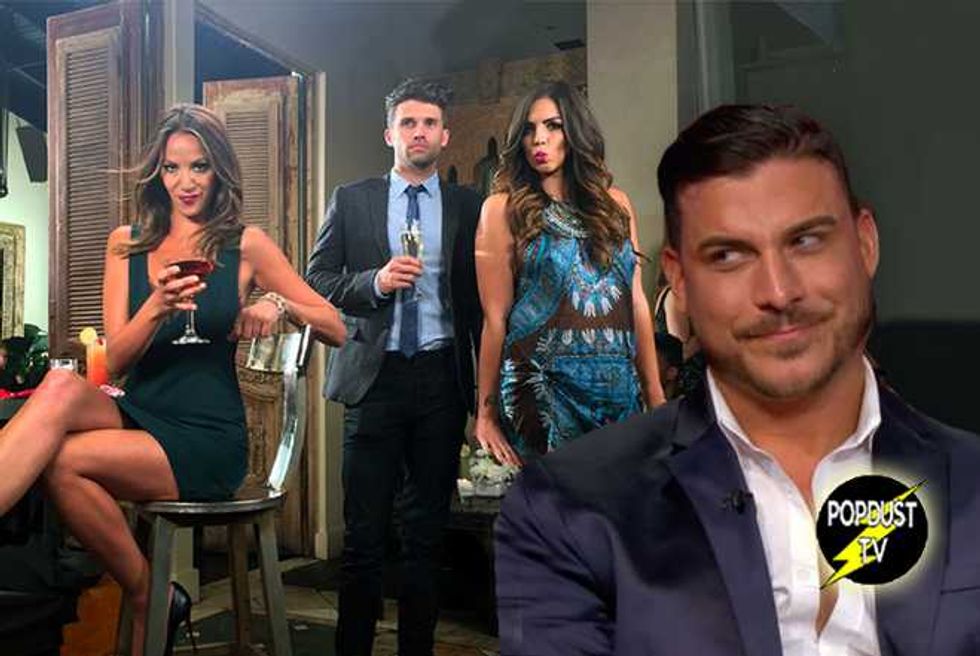 pump rules sex drugs jax
This week's episode of Vanderpump Rules begins with SUR's leading lady, Lisa Vanderpump, shopping for new uniforms for her employees. Katie Maloney and Scheana Marie join their employer in the quest to find a slightly less hideous dress than the purple ones they're rocking now.
Vanderpump Rules Cast Make HOW MUCH An Episode???
Ever resourceful, Lisa takes the opportunity to confront Katie and Scheana about their attitude towards the new girl, Lala Kent. As Popdust previously reported, last week we saw Lala skip work to frolic around Italy as an old dude's arm candy. She told Lisa it was for a modeling gig, but Katie and Scheana saw right through her bullshit.
Lisa thinks they are threatening Lala and making her feel uncomfortable—they basically sold her out for whoring it up—but Lisa tells them to mind their business and to stick it where the sun don't shine.
Tom Sandoval Dishes On 'Revamped, Reborn' PumpRules—Season 4 Is Best Yet!
Now that Queen Vanderpump's other West Hollywood hotspot, PUMP, is up and running, she is able to shift her focus back to the train wreck known as SUR.
She brings in a bartender to show some of the current staff new drinks to make. Jax Taylor, who believes he is the second coming of Christ, was completely bothered by someone teaching him how to do something. I guess Jax doesn't understand the importance of perfecting the Pump-tini. It's some serious shit.
Back at SUR, Lala returns to work and Lisa asks how her modeling trip well. Lala says it's a "long story". Lisa quizzes her about the specifics of the modeling job. Lala says she was actually supposed to be in Venice to "take pictures and be eye candy." However, she reveals she didn't end up going because of a mental breakdown. Her reason? Katie and Scheana. LOL.
Vanderpump Rules—Love Is All Around As Fists Fly, Tears And Beers Flow
For whatever insane reason, Lisa buys Lala's shit. It's becoming clear that being borderline psychotic and slightly delusional are the only true requirements for working at SUR.
Meanwhile, Scheana is crying in the bathroom to Katie about the status of her marriage. She reveals that Shay has left their home because he isn't happy. She goes on to claim that the root of his problem stems from drug and alcohol abuse.
Tom Schwartz reveals that he is finally ready to propose to Katie. In order to do so, he's been doing a ton of modeling gigs to get her the perfect ring.
Vanderpump Rules Star Stassi Schroeder—Yes, I Have A Sex Tape!
As we saw last season, Schwartz and Katie have had a very up and down relationship, after she discovered that he had cheated on her. Katie finally gives Schwartz an ultimatum— get engaged or the relationship is over.
The most dysfunctional couple in the history of the world, Kristen Doute and James Kennedy, have lunch and discuss the status of their relationship.
James says in his confessional that he does feel bad about lying to Kristen, but at the same time he had good sex with Jenna. To top it off, he says he doesn't regret banging Jenna. This kid is a real Prince Charming.
Vanderpump Rules—Jax Drops Bisexual Bombshell And Tom Cries, A Lot
James tries to claim that he is super insecure in their relationship. Kristen believes that the insecurity may have come from the fact that he has been unfaithful. James, being the fucking moron that he is, lies through his teeth yet again and insists that he did not have sex with anyone else. Kristen, being equally as dumb, says she believes that asinine statement.
James then tries to turn the table by saying he doesn't trust Kristen. Why? Because she went to dinner with Jax. Sorry, buddy, but Jax is looking like Mother Theresa compared to you right now.
Schwartz enlists the help of Scheana and Tom Sandoval to help pick out an engagement ring for Katie.
Vanderpump Rules—Miami Mischief, Mayhem And Mind Games
Scheana knows exactly the type of ring that Katie wants, so she was perfect to bring along. Schwartz originally wants to pay $4,000 - $5,000 for the ring, but Scheana looks at him like he has 12 heads and tells him he needs to double the budget.
While looking at different options, Schwartz asks Scheana when the last time she talked to Shay was, and she says it's been four days. HELLO RED FLAG.
Sandoval reveals in his interview that he is totally shocked by the news because he always believed they had an amazing relationship. Sandoval hints that maybe Scheana has been too overbearing about Shay's drinking and that has ultimately driven him away.
Vanderpump Rules—18 Tulips And A Face Full Of Shame
Back at SUR, Jax asks Lala how the girls have been treating her. She says she thinks its like high school. Jax reminds her that the restaurant is very cliquey and difficult to work at sometimes. Lala says the girls are bullying her, which is bullshit. This chick lied about going to Italy for a job, but really it was a free trip simply for looking pretty on some guy's arm. They called you out and that's bullying? No. Pipe down, girlfriend.
Lala asks Jax about his girlfriend and he tells her to pump the breaks on the word girlfriend. "Are we dating? Absolutely? Would I call her my girlfriend? No," he says.
Mind you, last week he asked Brittany to be "exclusive". Jax is truly so stupid. Regardless, Lala continues to flirt with him and says that "getting Jax'd" sounds fun. This chick seems  like a real class act.
Vanderpump Rules' Jax Taylor Caught On Camera Stealing Sunglasses
Scheana talks to Ariana Madix about Lala and Shay. They discuss Scheana's marriage woes—Scheana says that everyone looks at her and Shay as the perfect couple, but there are major issues that she never expected. She even reveals that she understands Schwartz's original reservations about marriage.
She basically admits her husband is not happy and that it breaks her heart. Ariana and Scheana have been spending far less time together, mainly due to Kristen, so Ariana had no idea about the issues going on in her marriage. Scheana questions if their marriage was too good to be true and if she is to blame for Shay's unhappiness.
Vanderpump Rules—Kiss And Tell
Lisa then sits down with Scheana to see what's been bothering her. Scheana admits that her relationship problems have been affecting her at work because everyone is always asking her about her marriage.
She says she just puts on a happy face despite the fact that her marriage is falling apart. Scheana discloses that she noticed Shay's drinking was getting worse about two months after they got married. She shares that Shay would tell her simply that his knee hurt, and would then take pills and drink wine, which ultimately got worse over time. One pill a day soon turned into five.
Vanderpump Rules—Jax Nose Best
Tearful and upset, Scheana admits that her world has completely been rocked and that she feels like she got cheated on because of the lie that Shay's been living. Long story short, Scheana knows that things aren't looking so good.
Vanderpump Rules airs Mondays at 9pm on Bravo.