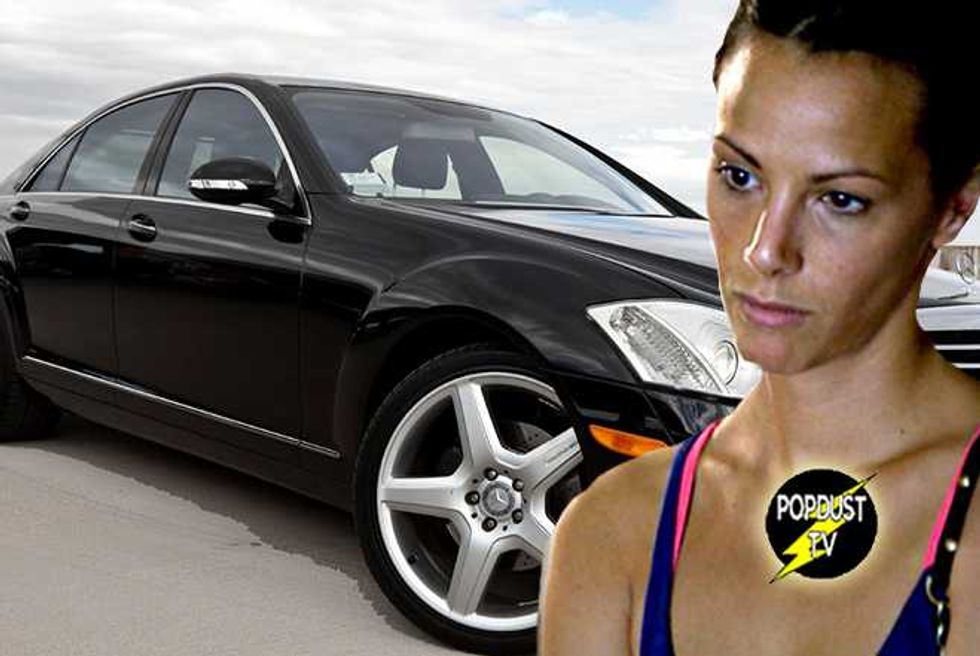 vanderpump rules uber Kristen desperate
This week's episode picks up exactly where these psychopaths left us—the aftermath of Scheana Marie's birthday party.
Katie Maloney and Scheana discussed the drama of the party while at SUR. Scheana said she had a good time, but James Kennedy shook things up a bit too much.
PumpRules—Sex And Drugs And Getting Jax'd—Oh My!
The DJ, and boyfriend of resident nut job Kristen Doute, basically got shit faced and hooked up with Scheana's friend, Jenna.
He claims that after the party he had an Uber pick them up, but James said it dropped him off first, then took Jenna home. Kristen hacked into James' email and found an Uber receipt for a ride to Jenna's house at 6am.
Tom Sandoval Dishes On 'Revamped, Reborn' PumpRules—Season 4 Is Best Yet!
He's a dumbass and she's a raging lunatic. It's a match made in heaven.
SUR hired a new hostess to come in and shake things up. The blonde beauty, Lala Kent, joined the staff and the overall reaction is less than enthused.
She immediately told Lisa Vanderpump that she won't be able to make her upcoming shifts because she booked a "modeling gig" in Italy. Katie called bullshit right away.
Tom Sandoval, Ariana Madix Talk Cray Cray Kristen, Miami Mayhem And More!
Meanwhile, Jax Taylor has yet another new girlfriend. Brittany Cartwright, a 20-something-year-old beauty from Kentucky, who came into SUR to apply for a job.
Lisa was apprehensive to speak to her because Jax has a new girl in his life every 2-3 days. She strolled into her interview without a resume and wore a romper that was fit for a stripper along Sunset Blvd. She definitely has this job in the bag, right?
TOM's TAKE—Sandoval Talks Grooming: How To Look Your Best In Winter
Kristen and James met up to discuss the cheating rumors. Kristen, who was throwing back Pinot like it was H20, came ready to fire shots. To her credit, the proof was in the pudding. She told James that she was embarrassed by his behavior at the party and asked him about the Uber receipt she found in his email. He claimed they were just "hanging out", but Kristen knew that he was lying through his teeth. She stormed out of the bar and told him they were done. Kristen has such a knack for being in stable, healthy relationships.
Tom Sandoval and Ariana Madix went furniture shopping, or as they call it, "adulting".
They have been living together for a little over a year now and they wanted to revamp their apartment. While couch hunting, they discussed the drama with Kristen and Scheana.
Scheana claims that Ariana is her best friend, but refuses to cut Kristen out of her life, much to Ariana's dismay. Ariana said that it seems Scheana's only requirement for being her friend is that they haven't fucked her over in the last two months. Touché.
TOM's TAKE—Sandoval Talks Style: Finding The Perfect Wedding Tux
Sandoval thinks there is no excuse for Scheana to still be friends with Kristen and Ariana said Scheana will start to see a lot less of her if Kristen remains in her life.
James and Kristen met up to talk again. Haven't you learned that breakups in Vanderpump Rules land mean absolutely nothing? James basically said he got really drunk, made a mistake, and lied to Kristen. Spot on, Captain Obvious.
She asked him what exactly happened. He said he's "100% sure they made out", but that they did not have sex. She asked him why he did it and he said that he wanted to. LOL.
PumpRules Tom And Ariana Talk Miami, Stassi Sex Tape, 'Delusional' Kristen
Kristen asked what else happened and James said he "might have tried undressing her". LOL. What a phenomenal response. However, in his confession he said he lied to Kristen because she would be devastated if she knew the truth, because he happily proclaimed, that they were "definitely boning". This kid is a dork. Anyways, Kristen bought his bullshit and they started making out. These two are the poster children for healthy relationships.
Scheana invited Kristen over to discuss the drama from her birthday party. Kristen whined about how upset she is. Scheana said she tried to let Kristen back into her life, but it blew up in her face. She can't seem to figure out why Kristen is pointing the finger at her about James' hooking up with her friend.
Vanderpump Rules—Jax Drops Bisexual Bombshell And Tom Cries, A Lot
Meanwhile, Kristen wants to give James a fucking medal because he admitted to cheating on her. Scheana asked Kristen how she doesn't see that she is usually always the problem. Anyone with two functioning brain cells can see that Kristen is the common denominator is every issue surrounding this pack of lunatics.
Scheana basically told her she can't be friends with her, mostly because of Ariana. Kristen's response? "It's hard because her friends keep fucking her boyfriends". Gold.
Vanderpump Rules Cast Makes HOW MUCH An Episode???
This show is a brilliant train wreck that we just can't get enough of.
Vanderpump Rules airs Mondays at 9pm on Bravo.