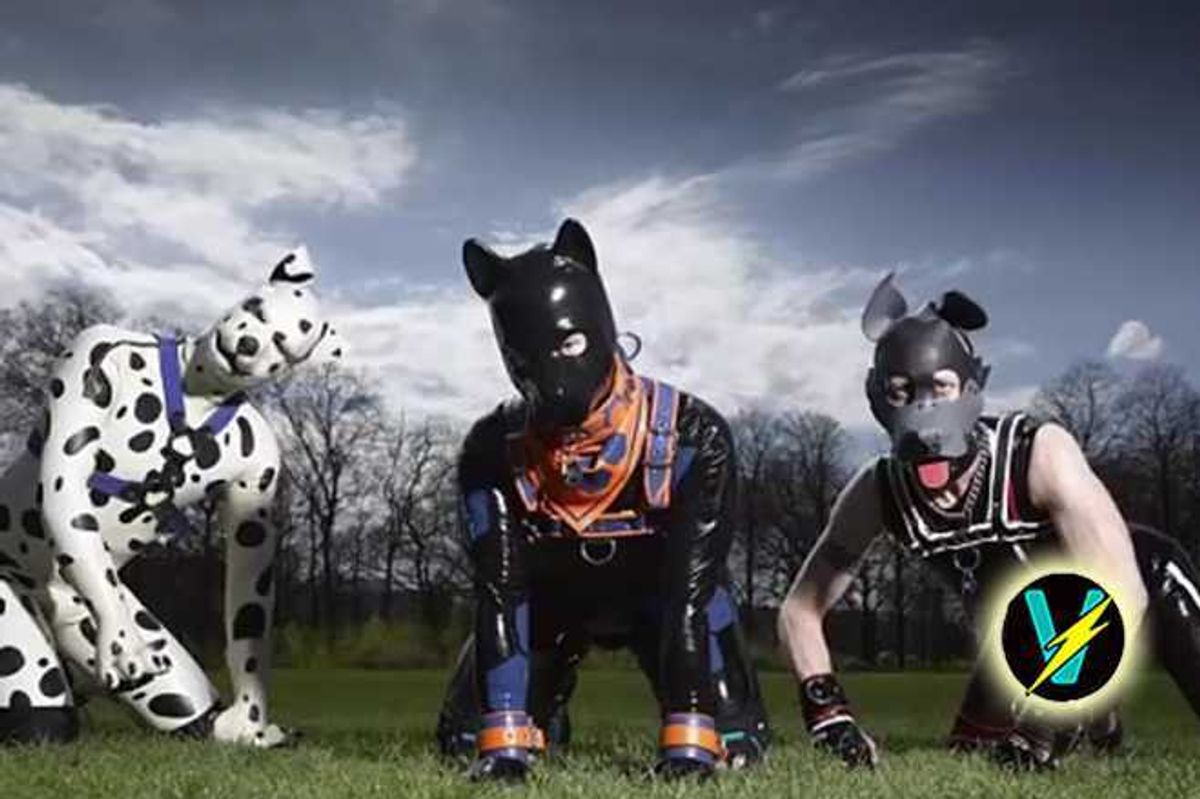 The pup play fetish BDSM subculture is well.... it's a little different.

Basically, it's where grown men dress up and behave like dogs.
But, not just any old dogs—these aren't your run-of-the-mill old Rover kinda dogs.
Pup play is all about the latex, the rubber, the leather, and the bondage.
Think 50 shades of Dalmation.
A new documentary that airs tonight on Britain's Channel 4 takes us deep into the secret subculture—scroll down to watch the trailer.
Secret Life of the Human Pups is a sympathetic look at the world of pup play, a movement that grew out of the BDSM community and has exploded in the last 15 years as the internet made it easier to reach out to likeminded people. While the pup community is a broad church, human pups tend to be male, gay, have an interest in dressing in leather, wear dog-like hoods, enjoy tactile interactions like stomach rubbing or ear tickling, play with toys, eat out of bowls and are often in a relationship with their human "handlers."
Awww! Who DOESN'T love a good old belly rub?
We'll pass on the butt sniffing though.
Although the subculture is born out of the BDSM scene, it isn't always all about sex.
Sometimes, it is used purely as a way to "release the animal part" in people.
And no, no real dogs take part in the festivities—because, that would be weird, right?!!
Here's Puppy Play 101 as per NePups.org:
Puppy play is when one person takes on the role of a pup or dog and another takes that of the handler or trainer. The pup acts like their canine counterpart and the trainer, for the most part, handles the pup like he would a biological pup.
It's not necessarily a sexual play, though it can be.
For many it serves as a release of the animal part of them.
It is not is best*ality: real animals are not involved.
So, who are the people behind the pup masks?
According to one enthusiast:
I just love being a dog, and chatting to all my friends who are dogs. All of the pups I know are just regular, normal people, people you walk past in the street every day.
Another—a leather clad doberman it would appear, explains:
It's really about finding a simpler part of oneself.
A cuddly black and pink leather studded pup, with jaunty ears shares how he changes when he pup plays:
I become more animalistic, more growly.
While, a red latex clad minx admits:
I can only speculate what my wife thinks about it.
Indeed.
A rubber suited Dalmatian—who is named Tom in the non-pup play world and works as a theater engineer—found out the hard way what his partner thought of his canine cravings.
After his fiancee Rachel discovered her partner's secret pup life, she broke off their engagement.
However, it had a happy ending for Tom, who is now out of the pup closet, and living with his human "trainer" Colin.
And, although he admits he doesn't really feel the unconditional love that a dog has for its human master, he's happy to have a home and the occasional bone here and there.
Tom says:
I wouldn't say [pup play] was the catalyst [of our breakup], but it was the straw that broke the camel's back. Then I had this moment of panic because a puppy without a collar is a stray; they don't have anyone to look after them.
I started chatting to Colin online and he offered to look after me.
It's a sad thing to say, but there's not love from the heart in me for Colin–but what I have got is someone who is there for me and I'm happy with that.
Tom goes on to explain that pup play—like much of the BDSM community—is all about finding solace in like minded people, who are often not completely accepted in "regular society."
And, all he wants is to be accepted.
He says:
It feels like you can be gay, straight, bisexual, trans and be accepted. All I want is for the pup community to be accepted in the same way.
We're not trying to cause grief to the public, or cause grief to relationships.
We're just the same as any other person on the high street.
Exactly.... just ones that want to pee on a fire hydrant.
Just like their 100% canine counterparts, pup play enthusiasts are often pack animals too.
One pup, named Kaz, lives with eight other human pups, and their human trainer—in a kind of bizarre, bondage inspired Waltons utopia.
Kaz explains:
Members of my pack, we spend a lot of time together at home just being dogs. There's nine of us and my partner is our handler.
A big part of it is a feeling of family and belonging; we're there to look after each other.
So, if you have a hankering for the dog life, how do you go about embracing your inner canine?
According to NePups.org:
Get on all fours and start barking! It is not always easy for a pup to get started with his puppy headspace.
All pups are different, so what works for one may not work for others.
The most useful thing may be to try and think like a dog thinks.
Read puppy training guides, especially if you've not owned a dog, or haven't in a long time, it will help give you some insight into how a dog would react to a situation.
When you see a ball, you want to chase it.
When someone gives you a treat you wag your tail (wagging your butt is acceptable :-) ).
Human speech doesn't mean much to you, except maybe "good boy/girl."
There are very little worries when you are a puppy. You crave attention and will seek it however you can get it!
Remember though that pups don't always have to chase balls!
There is a special bond that can be found between Handler & pup just by putting your head in his lap while he gives you ear scritchies.
You do not necessarily have to be on all fours to be in pup headspace.
Many pups maintain a sort of pup headspace even when they are at work, in the car, or at the store.
It is about keeping a carefree, joyful mentality.
And growling at the occasional squirrel. ;-)
And well, no matter what you think about pup play, you gotta admit the carefree, joyful mentality part sounds sublime.
Down boy!
Secret Life of the Human Pups airs tonight in the U.K. on Channel 4 at 10pm.
For more entertainment, music and pop culture updates and news, follow Max Page on Twitter.
Nanna Love—Meet The 30-Year-Old Men Who Love To Bang Grannies, Age 68-92
Crush Fetishes—411 On The Sickest Sex Kink EVER—A.K.A. Where Have All The Puppies Gone?
Florida Dolphin 'Lover' Says Dolly The Dolphin Seduced Him—Yep Really
31 Year-Old Man Hot and Heavy With 91 Year-Old Great Grandmother
The Ultimate Sex Toy For Foot Worshippers—NSFW
Watch the trailer to find out more about the pup play fetish BDSM subculture: