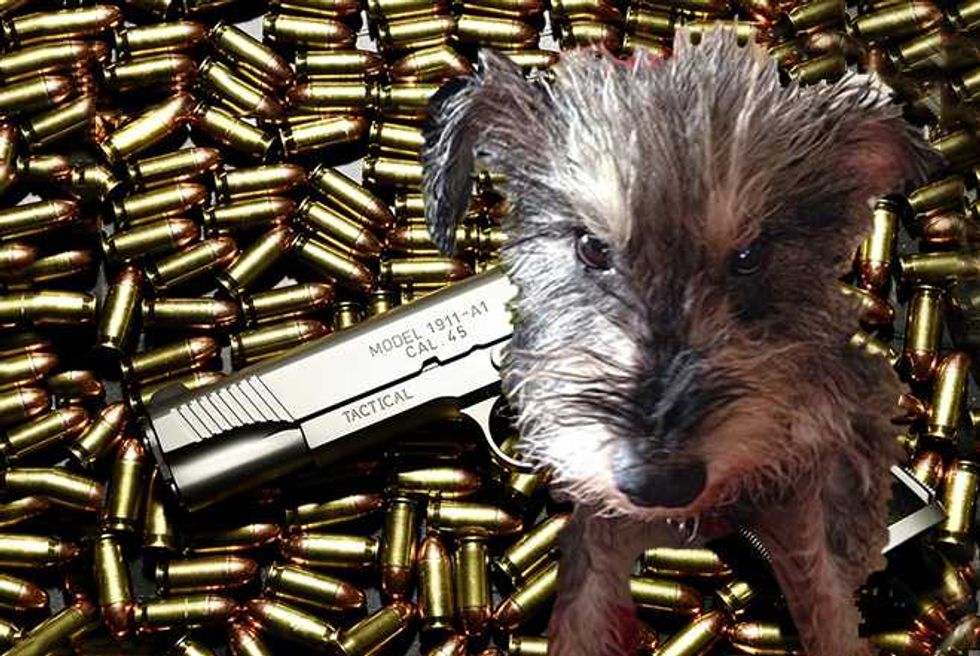 A doggie Dirty Harry really made our day on Monday, after he blasted back at some asshole punk who was trying to kill him.
The asshole punk in question was 37-year-old Jerry Allen Bradford, from Florida (of course) who decided to shoot the 3-month-old shepherd-mix in the head, along with six of his siblings, because he "couldn't find them a home."
Florida Man Has Revenge Sex With Alligator
The asshole punk was stopped in his tracks however, after the vigilante canine, shot him in the wrist.
Hell yes!
The asshole punk had already done away with three of the puppies—and dumped them in a shallow grave—but as he held two of the others, one in his arms, and the other in his left hand, the one in his hand wiggled, put his paw on the trigger of the .38 caliber revolver, and….. BOOM!
Florida Teen Took Selfies While Having Ruff Sex With Her Pit Bull
The four surviving puppies are said to be in good health and are now up for adoption—Bradford was taken to hospital with a gun shot wound to the wrist.
According to NBC News investigators have applied for an arrest warrant for Bradford, so they can charge him with animal cruelty—the request is currently under judicial review.