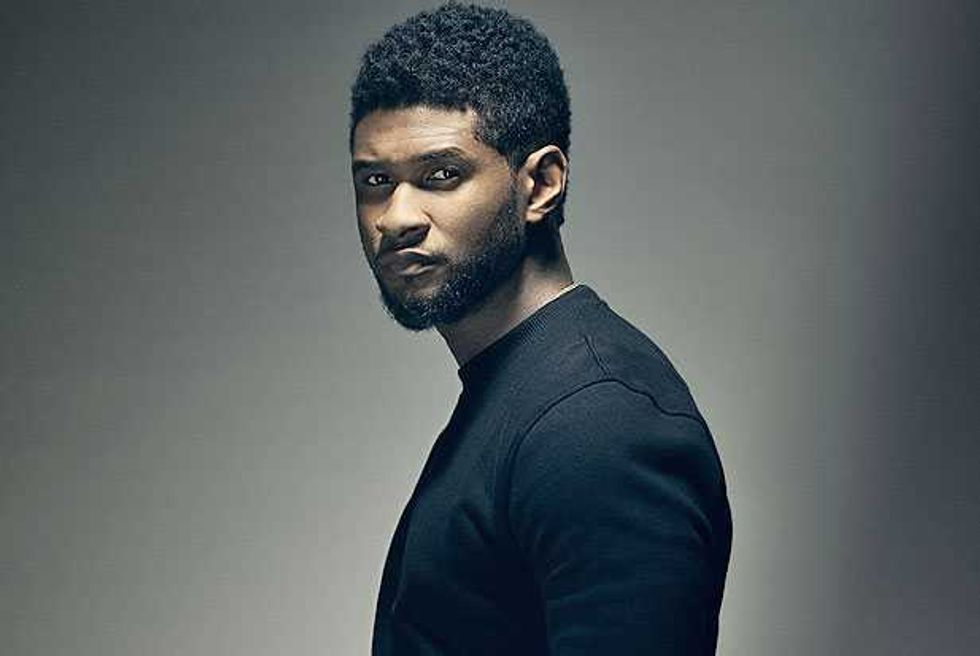 "You can't toe-dip in life," Usher Raymond counsels us during the course of an interview. "You gotta go for it or you don't."
With that piece of advise ringing in our ears, we grilled the 33-year-old R&B star about his upcoming LP Looking 4 Myself, his ninth in a surprisingly sturdy 18-year career. Reflecting on the aftermath of a messy divorce and child-custody battle with ex Tameka Foster, and landing a week before his protege Justin Bieber releases his sophomore LP Believe, Looking has already proved, through its advance singles, to further Usher's maturity as an artist and songwriter—the chart-topping, show-stopping breakup ballad "Climax" has been hailed by many (including us) as one of the best songs of 2012.
Usher spoke with Popdust about everything from wanting to work with M.I.A. and Azealia Banks, pulling out his little-used falsetto on "Climax," and having some mildly unrealistic predictions for the Cleveland Cavaliers, the NBA team he co-owns. We'll let Mr. Raymond explain...
Did any celebrities stop by the studio while you were recording the album?
Yeah, of course man! My studio is like...an urban house of flavor, of fun.
So give me some names!
Aw man, anybody from Bette Midler...
Bette Midler?
I'm joking, man! You want me to be literal? It could be anybody from Ben Vereen to Swizz Beats. I leave an open environment for people to come in and chill out.
PHOTOS: An Usher career timeline
Did you have any titles you were considering for the album that you ended up not going with?
There was one title that I entertained, which was called Euphoria.
Why Euphoria?
Well, if you're looking for something, if you find something of excellence, then it would obviously be euphor-ic. Not to mention that's a song [on the album]. What a like to do normally is select a song from the album, throughout all the titles, and find that one song, out of all the titles, that represents the album the best.
Do you have a representative lyric from the album that you think kinda sums it all up?
I don't think there's one lyric. I think there's something meaningful in every song...this process of making this album was like, "I'm going for it. I'm gonna do what I feel. I'm gonna go for what I dreamed about and what I believe in. I'm not gonna pay attention or become overly consumed with what I think people need to hear. I'm really just gonna go for it." And I think that's a metaphor that works in life. You can't really toe-dip in life. You gotta go for it or you don't.
PHOTOS: Ten really close-up pictures of Usher's abs
Was that different from your thought process when you recorded your other albums?
Well, I'd say in other albums before, I was a little more calculated, yeah...but in Looking 4 Myself, as I look back over all of my albums, the one thing that I didn't do is just evolve, and live in the moment. So every place that I went, I found inspiration. I went to Ibiza, I went to Asia, I went to South America, I went to Africa, I went to festivals and heard different styles of music, and I allowed myself to make music based off of that.
Are you inspired by what's going on in dance music at the moment? Do you find yourself comfortable in that niche?
Yeah, I think so. I've been introducing that facet of my brand in Raymond vs. Raymond. "DJ Got Us Falling in Love," "More" and "OMG." That was more or less kinda my electronic sound. So then after that, being able to work with [David] Guetta gave me this place to be creative...normally you listen to electronic music, it's not about a song, it's more or less about a feeling. Because there's this music and then there's this big hook. But that gave me an opportunity to put incredible lyrics over verses that gave people something to sing along to.
You don't have that many guests on the album. Was there anybody you were thinking of working with that didn't come through?
I really wanted to work with Little Dragon on this album. I felt like it would be really cool if I could work with M.I.A. on this album...Azealia Banks is somebody who I talked about working with, we haven't done it yet. It's those type of experiences that people don't expect, that I was going for. So to do a record with somebody like Luke Steele from Empire of the Sun...do you know who that is? Many of the readers may not know. So that was my point: This is the music that I like, and these are the artists I think are dope, that I think are kind of revolutionizing music.
Did you take any drastic measures to prevent the album from leaking?
We've been entertaining a few different things. I really liked what Jay-Z and Kanye West did for Watch the Throne. I thought it was cool that they let the fans get it first...that's part of the philosophy of how I introduced this album. I gave [lead single] "Climax" away because I wanted the fans to be engaged. I'm trying to find a way to introduce the music to the fans first.
Did you know "Climax" was going to be a special song? A moment during the recording when you were like "Yeah, this song's gonna be awesome"?
From the moment I hummed those melodies, I knew it was gonna be special. From the moment that we began to talk about the title of the song, I knew it was gonna be a hit.
What about the title speaks to you?
I always felt like there were so many ways to take "Climax." Some people would think sexual, some people would say "OK, well, listen to the music, what's the music saying?" The music was kind of like a new age, electronic-meets-R&B, soulful thing. And when I pulled my falsetto out, I was like "Yeah, I'ma get 'em on this one." 'Coz I don't use my falsetto that often. And as the words began to come together, the track starts to make form...I couldn't ask for a better connection.
What do you think critics are going to say about the album?
I don't know. I think that the word on the album thus far has been very positive. All the critics that's been able to experience it, they've spoken pretty positively about it. Some have even said that it's my best work to date. I think that's the case. I think it's definitely depicted as an album that represents somewhat of a new birth, a rebirth as an artist, and after being in this industry damn near half of my life, to be able to create something new, relevant...that's one hell of a task.
Off the topic of the album, did you have any memories of the Beastie Boys growing up, or professionally, as an artist?
Yeah man, [the death of Beastie Boy Adam Yauch] was a really sad thing. Did you know that he had a personal audience with the Dalai Lama? That's cool, man! I don't know if people understand that, that side.
You have a favorite Beastie Boys song?
Last question: Who you got in the finals in the NBA playoffs?
I dunno, man. The Cavs!