From torn ACLs in practice to broken collarbones from missed blocking assignments, 2017 was a particularly tough year for elite quarterbacks.
Sure, it's the NFL and injuries do happen, but even so, last year can be thought of as something of an anomaly. By the end of the year, the NFL was without Andrew Luck, Carson Wentz, Aaron Rodgers, Deshaun Watson, and Carson Palmer. While the 38-year-old Palmer elected to retire after breaking his arm, the rest of these players are still active members of the NFL community, and while they've all been publicly optimistic about their progress, press releases and reality aren't really known to be in sync. Here's a look at the most prominent play callers currently on the league's IR list and the timetables for their returns.
Carson Wentz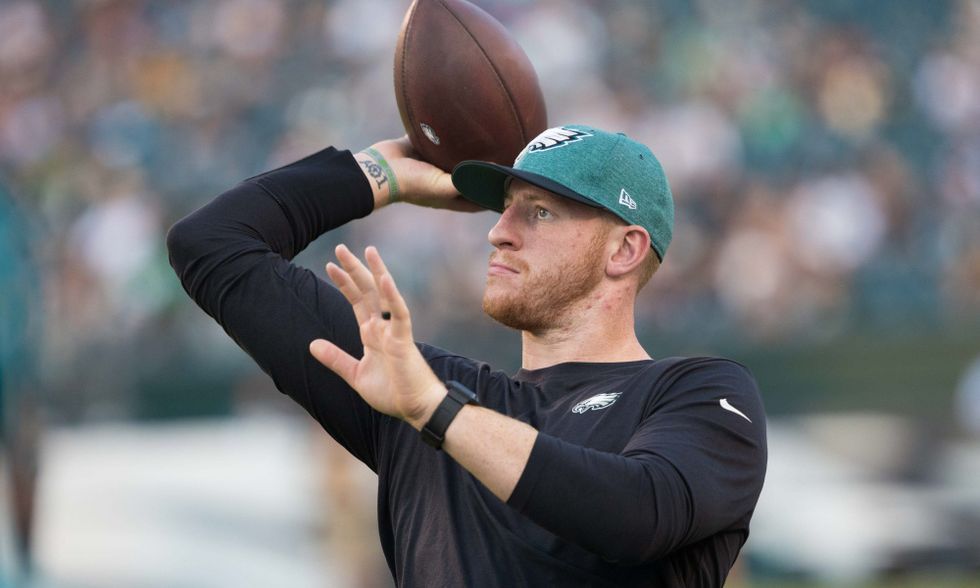 Wentz
Of all the players on this list, Wentz is under the least amount of pressure to get healthy. After leading the Eagles to a 10-2 record, he went down with a torn ACL in week 14 against the Rams. He scored on the play, but the touchdown was removed after a holding call on Lane Johnson. Instead of getting off the field, Wentz limped into the huddle and called four more plays, eventually going for it on 4th down and scoring. It was after this play, Wentz knew his season was over. That said, Eagles backup Nick Foles was able to step up after Wentz went down and not finish the game against L.A. but ultimately lead Philadelphia to their first ever Super Bowl victory. Having such a gifted understudy has given Wentz plenty of extra time to get healthy and take his rehabilitation slowly.
Considering he was just cleared for non-contact, 11-on-11 drills, the chances of Wentz starting in the Eagles opener against the Falcons on September 6th seems unlikely. Coach Doug Pederson hasn't ruled out the possibility of Wentz getting the nod, but has said that he wants Wentz to have a full week of practice before he goes back into the starting lineup. He hasn't been cleared for contact drills yet though, making late September a more reasonable expectation for Wentz's 2018 debut.

Andrew Luck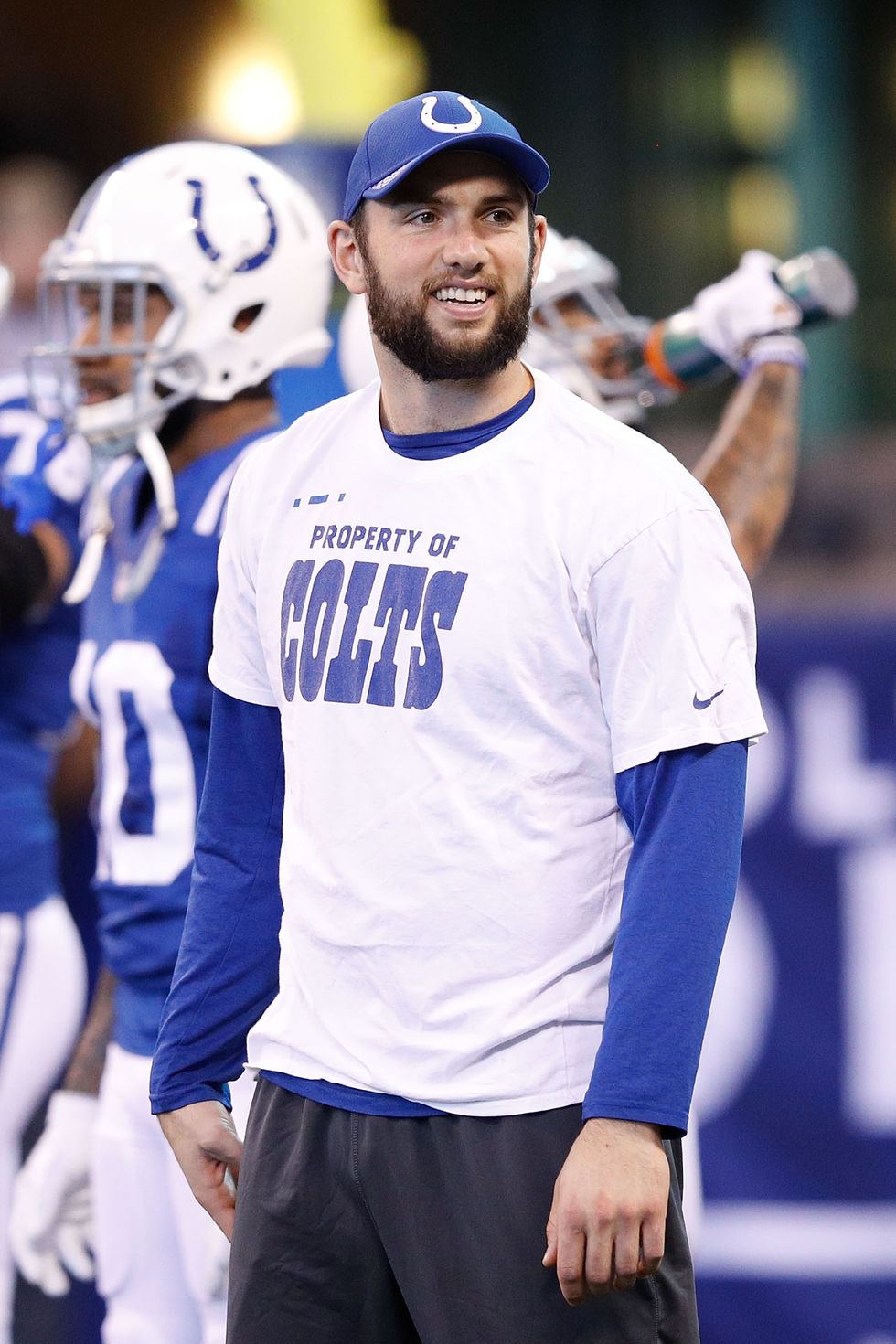 Luck
Andrew Luck hasn't played a game of football since he tore his labrum in 2016 and underwent surgery. Most of last year felt like a waiting game for the Indianapolis Colts, who were 4-12 without Luck. For much of the past 18 months, he hasn't even been able to throw a ball properly. All that said, there's a lot of hope in the Indianapolis locker room right now, as Luck hasn't just shown up to training camp but participated in a preseason game. This was the first time in 585 days that he played in a real NFL contest. His throws were erratic, many of them hanging dead in the air, but considering the amount of time he's been gone, a certain amount of rust was to be expected. Luck should be ready to go come week one, whether or not he'll be the same player however remains to be seen.
Aaron Rodgers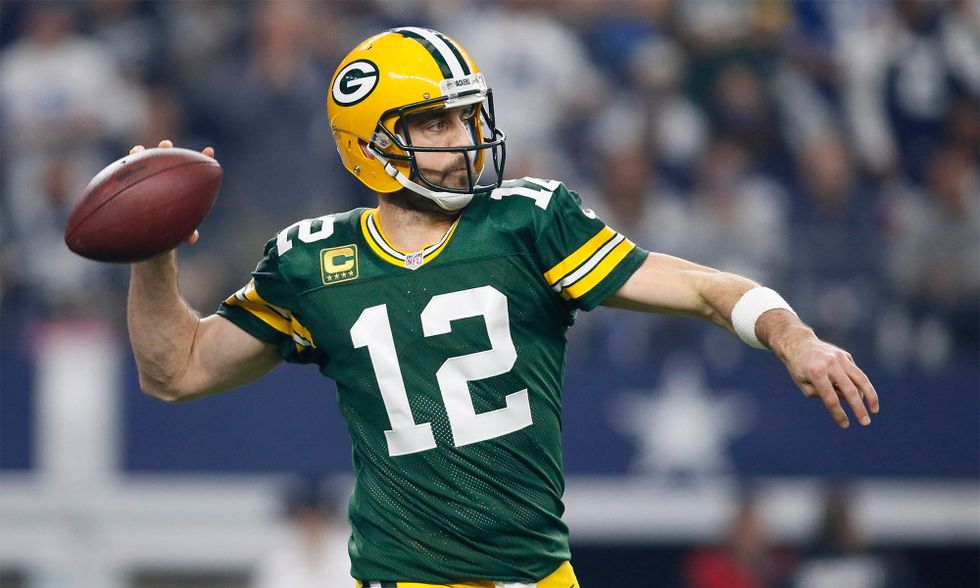 Rodgers
In week six last year, Aaron Rodgers was slammed to the ground by Anthony Barr and broke his collarbone. He came back to play one game later in the season in a last second bid for the playoffs by Green Bay's front office. He looked okay at points, but ended up throwing three interceptions. The Packers were mathematically eliminated from the playoffs and Green Bay decided to place Rodgers on injury reserve rather than risk his getting injured again. He has looked dominant this preseason, and is poised to retake his position as best quarterback in the league, shaking up a top heavy NFC and putting fear into the heart of his Minnesota rivals.
Deshaun Watson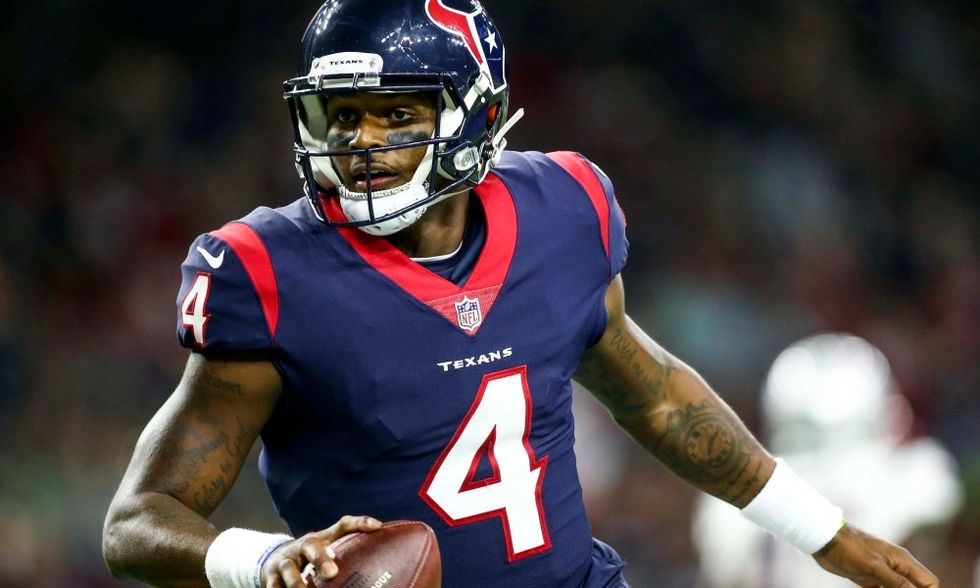 Watson
Deshaun Watson was electric last year. In seven games, only six of them starts, he managed to throw for 1700 yards and 19 touchdowns. He also managed another 270 yards on the ground and two rushing TDs. Tragedy struck however when he tore his ACL during practice and his ridiculous rookie season was cut short. Now, he's back, playing in the preseason, and the few passes he has tossed so far have looked sharp and incisive.
At just 22-years-old, Watson's poise continues to surprise NFL analysts and coaches alike. He should be good to come week one and looks ready to pick up right where he left off last year. Even if Andrew Luck is ready to go week one, he should beware. The AFC South belongs to Deshaun Watson's Texans and Jalen Ramsey's Jaguars now. Colts need not apply. Watson is a testament to how far ACL surgeries have advanced.
---
All four players on this list have had seasons in which they could arguably be considered the best quarterback in the league. They're so good in fact, it almost makes last year seem like a fluke–how is it can you have an NFL season without Aaron Rodgers? Whether or not they're on your team, these players epitomize football excellence and fans are glad to have them back, though their opponents were probably wishing they (the quarterbacks) would stay on IR. Hopefully 2018 won't be another year plagued with injuries. With Aaron Rodgers going up against a newly retooled Vikings in two divisional matchups and Deshaun Watson going head-to-head with Carson Wentz in week 16, NFL fans are in for some of the best football Sundays in recent memory.
---
Matt Clibanoff is a writer and editor based in New York City who covers music, politics, sports and pop culture. His editorial work can be found in Inked Magazine, Pop Dust, The Liberty Project, and All Things Go. His fiction has been published in Forth Magazine. -- Find Matt at his website and on Twitter: @mattclibanoff

---
POP⚡DUST | Read More…
THE OPTION | The Stafford Effect
THE OPTION | Catalan Independence and What It Means for Barcelona Soccer