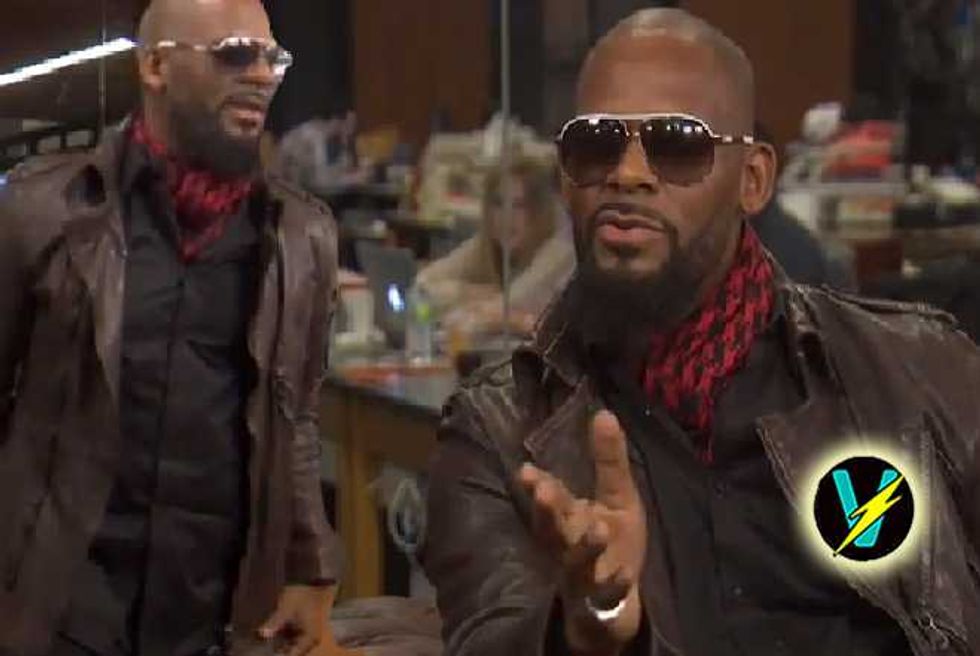 r kelly huffpo interview
R. Kelly clearly does NOT want to talk about that whole icky sex scandal thing.
In fact, if you go dare go there, the 48-year-old is going to storm the fuck out of your interview—as evidenced today during a super uncomfortable sit down with the Huffpo—Popdust has video.
Archbishop Arrested On Pedophilia Charges, A First in Vatican History
The interview starts off fine enough, as reporter, Caroline Modarressy-Tehrani and the singer discuss his latest album, The Buffet.
But, an icy chill soon descends after Modarressy-Tehrani asks Kelly if he believes the sex abuse allegations that have been leveled against him have contributed to the album's poor sales—The Buffet is currently projected to sell 100,000 fewer copies than his 2013 album, Black Panties.
The Top Celebrity Chef Controversies, Fuck Ups And Fiascos
"Some people say they are conflicted and that they want to support the music … but they can't support you," Modarressy-Tehrani says.
"I think people find it difficult to not think about … the lawsuits [about having] sexual relations with minors."
Proving that denial ain't just a river in Egypt, Kelly insists that's most definitely not the case, and goes on to claim that he's more successful these days than he's ever been.
Jared Fogle Child Sex Abuse Scandal Is Even More Disgusting Than You Imagined
"I don't know where you're getting your information from," he retaliates. "I'm a very successful and talented man. I love those that even come against me."
However, he definitely wasn't showing much love towards his interviewer, and, it quickly turns from icy to heated, as Kelly becomes more and more defensive—prompting Modarressy-Tehrani to tell the scandal plagued Grammy winner that he can leave the studio at any time he wants.
Your Naked Selfies May NEVER Go Away
"If the next question is something negative out of your mouth, with all due respect, that's exactly what I'll wanna do," he snaps back in response.
In a thinly veiled attempt to change the subject, Modarressy-Tehrani then pretends to ask Kelly about his lyrics, but, come on now….
"So let's talk about your lyrics for one minute," she begins. "Would you say you have a healthy relationship with sex? Sex is mentioned frequently in your lyrics…. in many of the songs you talk about having sex with women, multiple women, would you say you have a healthy relationship with sex, and that that is reflected musically?"
Chick Sues Another Chick For Sexual Harassment
Oh dear, back to the sex scandals again.
"I did not come here to get interrogated," Kelly says. "This is a deposition … if you don't think you're disrespecting me, then that's the level of your intelligence."
The singer then turns the table on Caroline, and starts asking her a slew of random questions about if she drinks, if she gets drunk, if she's a sloppy drunk who falls over, in a bid to draw a parallel between her line of questioning and his belief that the subject is irrelevant.
Awkward much?!!
Child Stars Gone Bad! Family Friendly Celebs Who Went Wild—Very Wild
Modarressy-Tehrani tries to salvage the interview, telling Kelly that she has some video questions for him from fans, but no dice…
"You have no video questions for me, because this interview is over," Kelly states, getting up from his seat and exiting the interview.
Oh shit son.
R. Kelly may want to lay off the publicity circuit for a while, as it seems he has some issues when it comes to keeping it real during interviews.
Watch This Morning's Truly Tragic David Cassidy Drunk Bankruptcy Interview
As Popdust previously reported, last year, during an interview with WCGI, the father-of-3 took another long swim in the river denial, when the subject of his transgender son was raised.
Jay, who was born a biological female, announced last year, by way of an online video, that he has considered himself a boy since he was 7-years old—something Kelly is clearly struggling to accept.
"You don't really wanna open it up by saying that my daughter is becoming my son," he said. "Because if that were true… Don't even give the blogs that kind of credit. You know what I'm saying? Real talk. Always believe what you see with your own eyes that is. Always believe what you see. That is the best way to go about this business.
Daniel Craig Is NOT Going To Do His Bond Pout This Morning—So Just Stop Asking
"I've heard a lot of things about a lot of people and it was never true," he continued. "You gotta know there's a back story. There's a background. That's why you can't judge nobody."
Indeed. And I guess that's why we can't judge R.Kelly for his numerous alleged "transgressions" with underage girls.
Funny Or Shameful? Jessica Simpson Appears Drunk On Live TV
Those alleged "transgressions" include:
A $10 million lawsuit that was filed by 20-year-old Tiffany Hawkins, accusing the singer of having sexual relations with her when she was 15, and he was 24—which R. Kelly settled back in 1998, for $250,000.
An illegal secret marriage between the then 27-year-old singer and his 15-year-old protege Aaliyah, back in 1994—which both parties denied ever happening, but was annulled by a Michigan judge in February 1995 at the behest of teenager's family.
21 counts of child pornography leveled against Kelly in 2002 following the emergence of a video allegedly showing him having sex with, and urinating on, an underage girl—and the discovery of 12 photos of the singer allegedly having sex with an underage girl —he was ultimately acquitted of all charges following a jury trial in 2008.
For more entertainment, world, music and pop culture updates and news, follow Max Page on Twitter