When it was announced last year that The Raconteurs were re-uniting, fans all over the world rejoiced.
Jack White's first post-White Stripes project, and one of the few modern supergroups, this four-piece band composed of White, Brendan Benson, Patrick Keeler, and Jack Lawrence (as well as Dean Fertita on tour) has been touted as one of the few outfits keeping rock alive in the mainstream. Somewhere around the dawn of the social media age, music pivoted away from the heirs of Zeppelin, The Sex Pistols, and Nirvana, and new rock acts seemed to rarely last in the public consciousness. Even groups like The Darkness, Franz Ferdinand, and The Fratellis, who saw immediate success out of the gate, seemed to fade to more niche appeal.
However, Jack White's star has never faded, and by proxy, neither has that of his various projects. He has continuously made late-night appearances, maintained a regular album output, sold-out large venues and been a major draw at festivals. His dedication to music preservation, his development of Third Man Records, and his commitment to aesthetics have all contributed to his longevity. But of course, the greatest component of his staying power is the Jack White mythos. Here is a man who told the world that his ex-wife was his sister for roughly a decade, who outlaws phones at his concerts, and who once had to explain why a specific guacamole recipe was in his tour rider. In his public appearances, he ranges from gregarious goof to tempestuous force of nature. He's never made a secret of his life philosophy (plainly stating it on many occasions), and yet there always seems to be something hidden about him.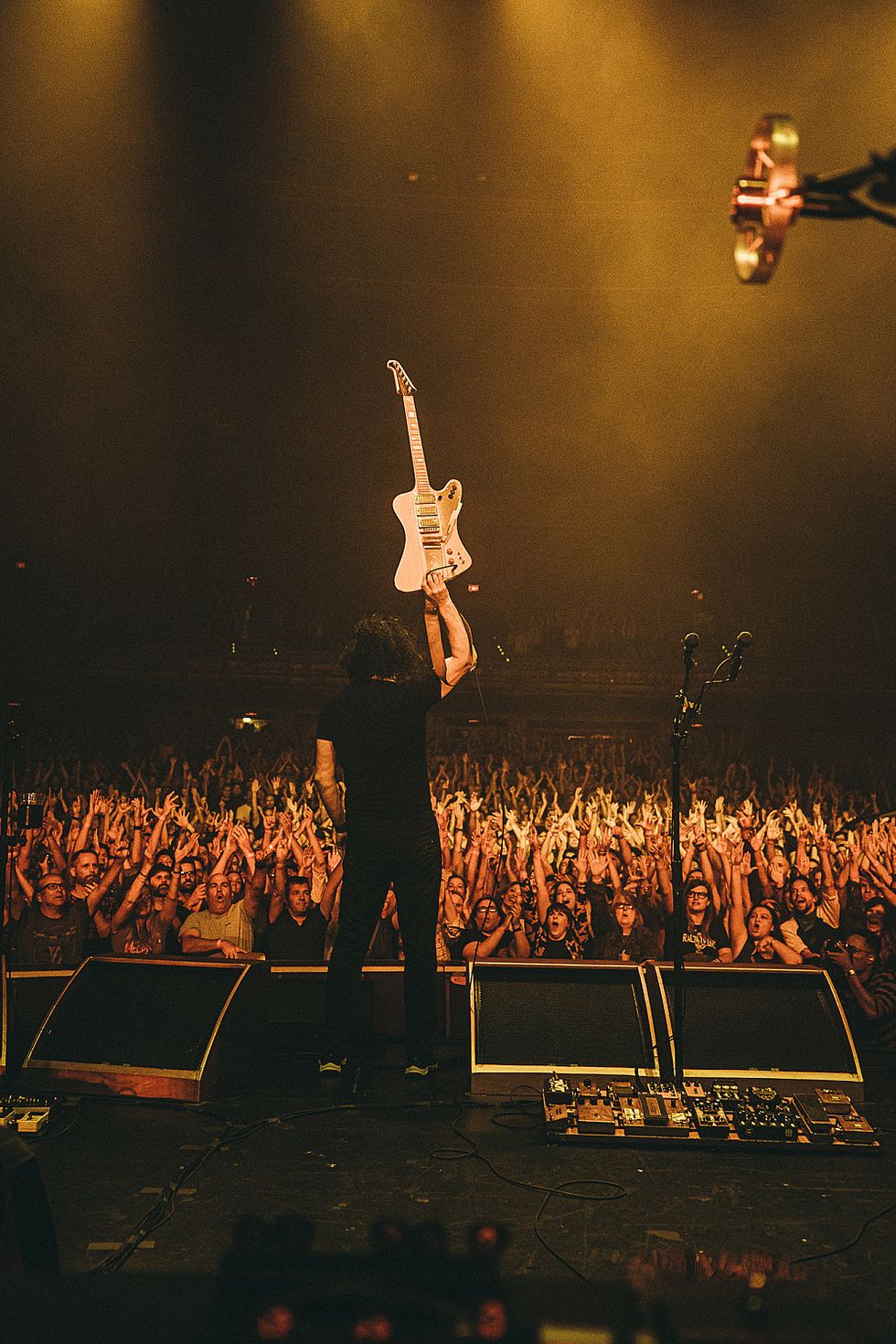 Jack White at Kings TheatreDavid James Swanson
But Jack White's music is also defined by the people around him. The White Stripes only sounded the way they did because of Meg White's caveman drumming style. The Dead Weather's expansive, heavy psychedelia wouldn't exist without Alison Mosshart's sharp vocals, Dean Fertita's crunch guitar, and Jack Lawrence's distorted blues bass. Even his solo work is a reflection of the session musicians he surrounded himself with (including collaborators like Fats Kaplin, who informed Lazaretto's blended classic/modern sound with his fiddle playing).

And this is why The Raconteurs are so special. The members of the band highlight some of Jack White's best qualities and then complement them with their own strengths. White has said many times that truthful storytelling is the essential element of the blues and of good music in general. Storytelling is literally in the name of this band, and this core tenet shows itself in every aspect of the group's output, both onstage and off. Benson and White make a formidable lyrical duo, able to produce songs as simple as Together, which would likely be a corny snooze if written by anyone else, or as intricate and mysterious as Blue Veins, which, when played live, is a transcendent experience.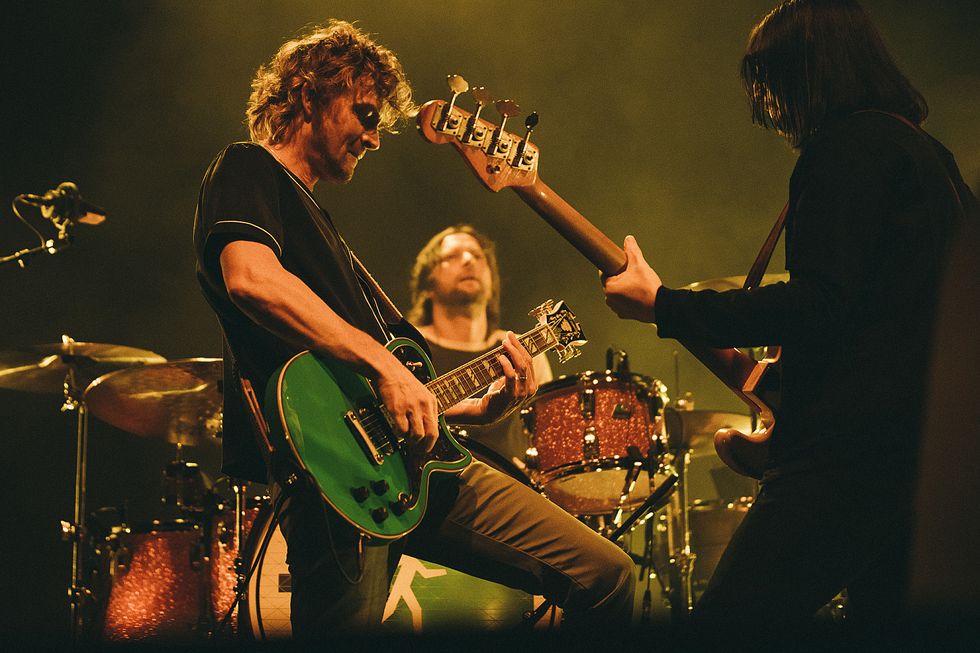 Benson, Keeler and Lawrence in Concert David James Swanson
Onstage—as I recently witnessed in Brooklyn at Kings Theatres—the two have a diabolical yin and yang effect. Benson acts as the anchor: calm and unflappable. White, on the other hand, is like a velociraptor, leaping about the stage maniacally and tearing into solo after solo. At times, he loses his balance and almost falls into Patrick Keeler's kit. He is theatrical and big but in a way he would not be able to sustain without Benson as his counterweight.

Then we look into the all-Greenhorne rhythm section: Patrick Keeler on drums and Jack Lawrence on bass. They're the real workmen in the band. Patrick Keeler's talents match those of almost any classic rock drummer, and Lawrence is as inventive a bassist as they come. Because of them and the tonal textures they provide, there are no two Raconteurs songs that sound 100% alike. Each song is its own story: a rare feat for any band.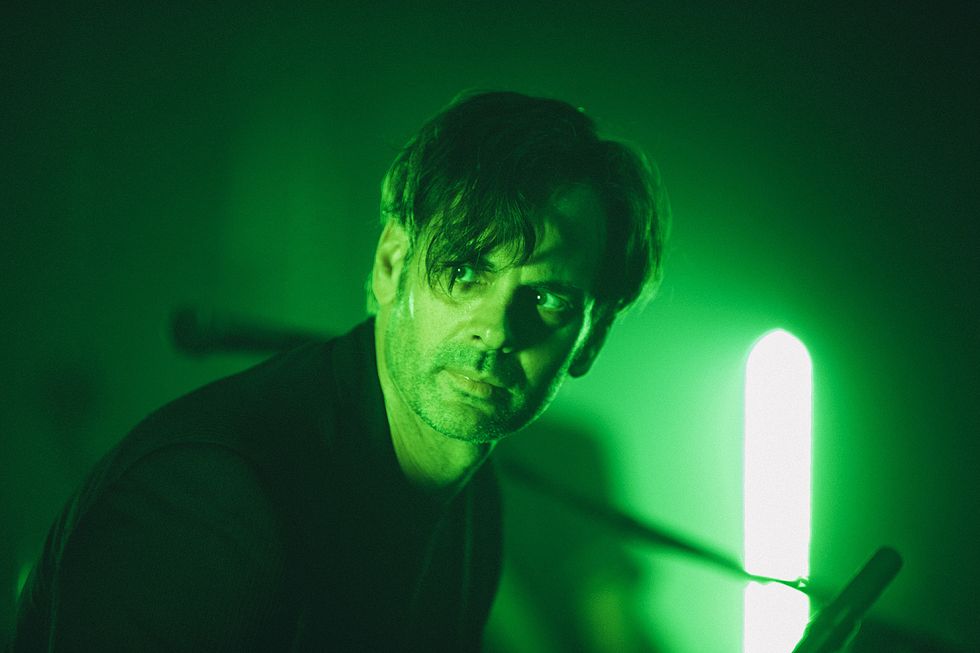 Dean Fertita on KeysDavid James Swanson
To see The Raconteurs on tour now feels like a religious experience. To see them at a venue like Brooklyn's Kings Theatre that feels like a place out of time. To take a train an hour into Brooklyn, to have to put your phone in a bag before you can enter the theatre, to have the lights come up on these figures appearing out of smoke, to be surrounded by 3,000 people, and yet somehow still feel like you're at an intimate, underground performance…there's something evangelical about that.

The Raconteurs are a band of exceptional musical storytellers that come together to form something unreal. They're a tempest of blinding light and ferocious sound. In a musical world that favors cleanly produced, hyper-choreographed, marketing-driven pop, a group like The Raconteurs is a rarity. If the industry keeps on its current trajectory, we'll likely see artists like these fade from the mainstream altogether. It'll be a poorer world. But to take words from their own songbook, the Raconteurs are here right now, and rock's not dead yet.