Music festivals are, unsurprisingly for totems in million-dollar industry, booked months in advance. This makes festivals bookings generally conservative, as the mighty fandoms of Radiohead and Beyoncé aren't going to go away. On a smaller level, this can mean that acts which were minor big deals six months ago become beloved party-chasing sensations by the time summer rolls around. And they're still booked at 3 in the afternoon.
Such was case awaiting post-viral duo Rae Sremmurd, the powerhouse behind last winter's mememaking and charttopping "Black Beatles." Known beforehand as one of the first acts Mike WiLL Made-It signed to his own EarDrummers label, they had a vital, if unseen, hand in the construction of last year's sound. As Will told John Seabrook at the New Yorker, Swae Lee, the most charismatically-dressed member of the duo, had freestyled the bar "O.K., ladies, now let's get in formation" and thought that could be made into "some woman-empowerment shit." Will sold it to Beyoncé a few years later and the rest is history. Their first two records had done reasonably well and were well liked by critics digging the whole trap thing but not very sure what to do with 21 Savage. (the band are from Tupelo, Mississippi but largely got attention in the Atlanta indie hip hop scene, so celebrated in Donald Glover's Atlanta.) Then, as if out of nowhere, millions of people around the world suddenly begun standing still in ridiculously put-on positons. That girl is a real crowd pleaser/small world, all her friends know me.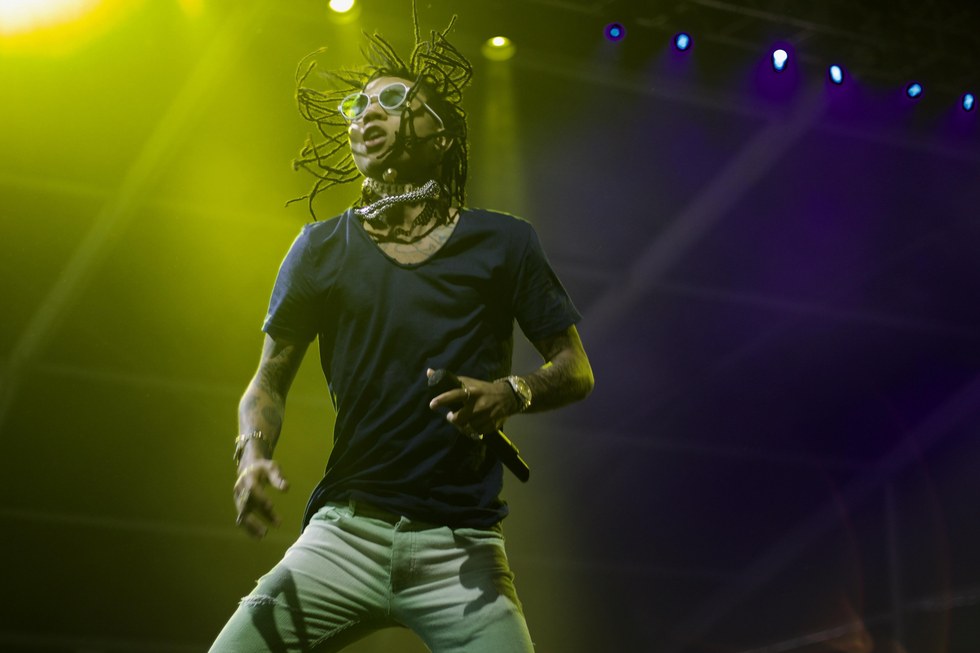 (Andrew Karpan)
But, cramped in the suddenly so minuscule festival tent, were we ready for Rae Sremmurd? The DJ presiding asked us this and I was unsure. Women were already surfing to the front of the stage and neither of duo could be seen. He jumped on a nearby stereo blaster and offered a fat blunt to a wailing man or woman dubiously able to breathe in the front row. The duo, kids of the '90s both, were late for their set, a not uncommon predicament for DJs, but each second built onto another until the air had become a tightly compressed throb. Who, oh, who would unlock the swag?
Like 21 Savage, Rae Sremmurd's biggest hit features a collaboration with Gucci Mane; long reigning trap king of an empire that stretches well into the warehouses of Brooklyn and coke-snorting clubs of Chinatown. But Rae Sremmurd is otherwise an entirety different thing, the territory that Lee and Slim Jxmmi are carving in American pop is, ditto, different from that of Migos, Future or even the glacial landscapes of Mr. Mane himself. This is pop music that is about the party not the drugs deals happening underneath, this is about the weekend as terrain that stretches for weeks, years ahead. A comparison could be made to the aesthetics underpinning an act like LMFAO, except, well, LMFAO was shit. This is "Rock Around the Clock" for the twenty-first century. Quavo may still be loyal to the same color T-shirt, Future gargles codeine and spits out pop hits. Lee and Jxmmi are loyal to the party.

The only people with serious clothes on was the comparatively bulking security who chased the pair as they leapt upon the stage, like the life of the party arriving in the high school movie. More joints were lit, more women flooded to the front, carried by the packed crowd. Within moment both Lee and Jxmmi had jumped on the rungs of the stage. This was pop, as interpreted by the cool kids, the people we wanted to be and the people we still do. Their arms moved like they had known the grind from birth; their bodies yelled of world traveled, of parties attended. This was the Beatles in Shea Stadium. Every hand reached out, even an hour later, even after "Black Beatles," wanting more.
You can catch Rae Sremmurd on tour over here.
---
Andrew Karpan is popin' too. If you want to get in on that action, follow him on Twitter.
Looking for more?
LIVE | Saying Goodbye to CHILDISH GAMBINO
LIVE | Are ROYAL BLOOD the future of Metal?