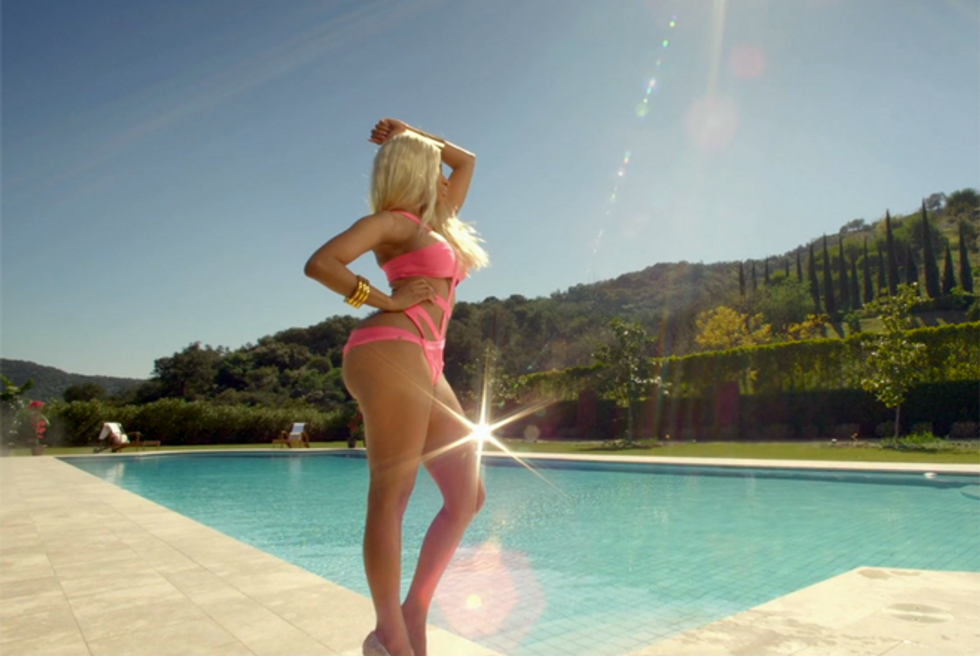 Nicki Minaj has only two requests of her music-video directors. 1) There must be lots of bright, candy-cane colors, and 2) there must be at least one scene of Nicki in a swimsuit. Through three years of music, Minaj has produced roughly 20 official music videos; by our count, she wears a bikini or some other form of swimwear in 13 of these.
In honor of Nicki's new video for "High School," which to no one's surprise features a scene where the rapper chills by a pool we're ranking every single one of Minaj's music-video bikinis, judged on aesthetics, practicality, and how well they represent Nicki's unique style.
BLACK TWO-PIECE, "POUND THE ALARM"
This is a very "Nicki" look, but it's sort of drab and come on, you can't swim in tights!
NEON BIKINI, "HIGH SCHOOL"
The neon is sort of bold, but in a setting this boring that's not going to cut it.
RED ONE-PIECE, "I LUV DEM STRIPPERS"
Again, this is just your bog-standard one-piece. It looks good, but there's nothing special about it.
TAN ONE-PIECE, "YU MAD"
Is this even a bathing suit? It's unclear.
TWO-PIECE, "RIGHT THRU ME"
This is a sad song, so it's got a boring swimsuit. Can't have any tassels distracting from the emotions.
WHITE ONE-PIECE, "VA VA VOOM"
Another outfit that we're not sure exactly if it's a swimsuit. Points in favor: It looks like a swimsuit, if you take away the weird choker-meets-belt thing. Points against: Nicki's wearing it in the middle of a magical forest. Not a lot of swimming going on down there, I don't think.
PINK BIKINI, "STARSHIPS"
This is practical—dig the sarong—and the bright pink goes nicely with one of Nicki's rare green-haired looks. But anyone could pull off a look like this. It's not "Nicki."
PINK BIKINI, "STARSHIPS"
Now we're getting somewhere. A fairly normal bikini, but the black light and glitter give it a certain je ne sais quoi.
PINK BIKINI, "STARSHIPS"
Even better, this one glows!
PINK BIKINI, "HIGH SCHOOL"
This is mostly the angle, but still...
PINK BIKINI, "THE BOYS"
Cars that shoot fire are this season's hottest (get it?) swimwear accessory.
GREY BIKINI, "MASSIVE ATTACK"
The strategic rips here not only look good, they also point toward the beginning of Nicki's influential sea monster period.
AQUA BIKINI, "BEEZ IN THE TRAP"
High on aesthetics, high on practicality, high on originality. The extras don't seem to be on the same page here, though.
FRILLED BIKINI, "STARSHIPS"
The blacklight paint splatters. The frills. The stankface (even though technically it's not part of the outfit). We love it.
 WHITE SWIMSUIT, "STARSHIPS"
Now things are getting weird. We're not sure if this "Fifth-Element"-inspired look is technically a one- or a two-piece, but we love the contrast either way.
AQUA ONE-PIECE, "SUPER BASS"
As we mentioned above, Nicki Minaj has always had something of the sea creature about her, and this look from the "Super Bass" video finally makes the reference explicit, with scales and a wig that looks like the world's most photogenic pile of seaweed. Five buff shirtless dudes can't be wrong: