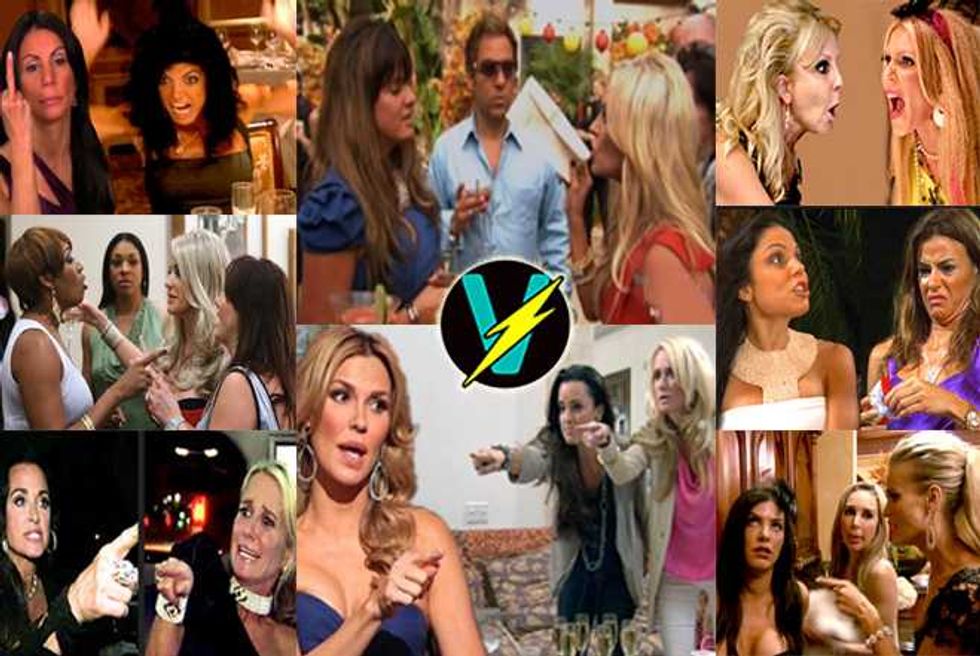 It wouldn't be an episode of The Real Housewives if there weren't tears, screaming, and some good ol' fashioned name-calling!
Here's Popdust's ranking of the top craziest fights, insane meltdowns and berserk brawls—with videos.
8. Brandi Glanville Vs. Kim and Kyle Richards—Real Housewives of Beverly Hills
Word to the wise: don't mess with the Richards sisters! The claws came out at game night when Brandi Glanville accused Kim Richards of using crystal meth. This bomb was dropped after Brandi watched Kim make several trips to the bathroom throughout the night. Prior to the drug usage claim, Kim and Kyle Richards lashed out at Brandi for her poor parenting skills after her son peed on Adrienne Maloof's lawn. Kyle screamed that Brandi was "trashy and classless" so Brandi fired back at her saying, "at least I don't do crystal meth in the bathroom all night". Ahhhh, meth accusations…. Classic comeback.
7. Tamra Barney Vs. Jeana Keough—Real Housewives of Orange County
Wives throwing wine! Here we have a showdown between veteran OC housewife Jeana Keough and the resident troublemaker Tamra Barney. While at Vicki Gunvalson's "end of the summer" bash, the two women got into a heated argument regarding comments that Jeana supposedly made about Tamra to the press. Tamra went as far as sending a cease and desist letter to Jeana. These housewives ain't playin! Jeana told Tamra she was going to "throw her ass in the pool", so Tamra threw a glass of wine all over Jeana. Orange County----the land of bleached hair, fake boobs, and women of pure class. Right……
6. Nene Leakes Vs. Kim Zolciak—Real Housewives of Atlanta
The former BFFs went AT IT during a trip to Miami with their fellow housewives. Kim Zolciak decided to bring her assistant, Sweetie, along for the vacay. Nene Leakes felt it was no longer a girls' weekend because Kim brought along people on her payroll. The two went at each other's necks after Nene infamously said Kim treated Sweetie as her slave. Nothing like a good bus brawl!
5. Kelly Bensimon Vs. The World—Real Housewives of New York City
In this infamous incident, Kelly Bensimon lost her mind on Bethenny Frankel. The two had an ongoing feud all of season three, but shit really hit the fan when the ladies were on vacation in the Virgin Islands. Kelly accused Alex McCord of "channeling the devil" and believed that Bethenny was trying to kill her. She made dozens of bizarre comments and referenced Al Sharpton so many times that we're still confused. Then, she pretended like everything was fine and ran around the house like an uncaged zoo animal offering jellybeans to the ladies. Moral of the story kids: don't do drugs.
4. Kim Richards Vs. Kyle Richards—Real Housewives of Beverly Hills
The Richards sisters famously had a screaming match in a limo during the first season. Kim accused Kyle of stealing her "goddamn house".  Kyle then screamed at Kim reminding her about all the help (aka money) her husband had lent to her. In addition, Kyle called her an alcoholic. It was an all out screaming match that ended with both women crying and visibly upset (even if their Botox-filled faces didn't move).
3. Vicki Gunvalson Vs. Gretchen Rossi—Real Housewives of Orange County
Vicki Gunvalson and Gretchen Rossi never really saw eye to eye, but they made do for the many seasons they spend alongside each other in the OC. Slade Smiley, Gretchen's deadbeat boyfriend, infamously called Vicki "ugly". He even went as far as to compare her to Miss Piggy. Naturally, Vicki ripped both Slade and Gretchen new assholes at a 80s themed party.
2. Adriana de Moura Vs. Joanna Krupa—Real Housewives of Miami
These two Miami beauties came to blows at a charity event (class acts, right?) over an argument about none other than Girls Gone Wild scumbag Joe Francis. Adriana de Moura was originally arguing with another housewife over comments she made to the media, so Joanna Krupa stepped in. Joe Francis claimed that he had slept with both Krupa and her sister. Joanna swore it never happened. Adriana said, "Joe Francis was right, they're just Polish immigrants trying to get a plate to eat food in." Joanna cornered Adrianna until she socked her in the face----because that's just how these Housewives roll.
1. Teresa Giudice Vs. Danielle Staub—Real Housewives of New Jersey
In quite possibly the most memorable moment in Housewives history, Teresa Giudice flipped the table in a fit of rage during an argument with Danielle Staub. The ladies went at it when Teresa revealed Danielle's secret book to the party. She famously called Danielle a "prostitution whore" and then proceeded to flip the entire dinner table. PAY ATTENTION, PUHHLEASE!