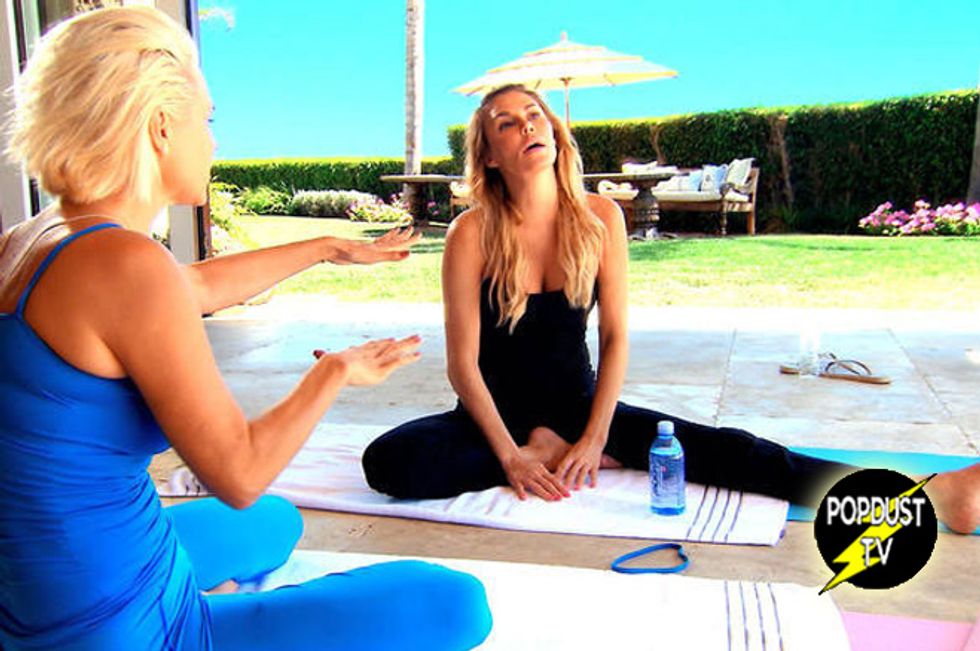 After last week's shit show, the new episode of The Real Housewives of Beverly Hills started with the aftermath of Kyle Richards' disastrous gay mixer.
It's no surprise that Kyle and her sister Kim Richards have a roller coaster relationship—Kim brought Brandi Glanville, who was completely uninvited might we add, to her party. Kyle rightfully had a bitch fit and all hell broke loose. While we don't want to accuse Kim of using drugs or alcohol again, she has seemed a bit off the past few episodes.
Shock Announcement? David And Yolanda Foster Divorce
Kyle and Kim got into a screaming match at the mixer because Kim consistently keeps defending Brandi. It is clear as day that Brandi is simply trying to drive a wedge between the two sisters, but no one can seem to figure out why.
Lisa Rinna is hell-bent that she cracked the code on why Kim is acting strange. She is determined to let the world know Kim is an addict and that it is the root of the problem between her and Kyle. While everyone with a few functioning brain cells could figure that out, she has decided to be a bit more vocal about it.
Meanwhile, Eileen Davidson invited some of the bitches to the Burbank Film Festival for the premiere of a film she did. I cannot. I just cannot. This festival could have been held in my back yard. Eileen walked the "red carpet"—and by red carpet I mean a small red bathroom rug. Mind you, Rinna, Lisa Vanderpump, and Kyle were eating hot dogs while this was going down. It was nothing short of a train wreck.
Yolanda Foster invited Brandi over to do yoga. Perhaps she thought this would mellow Brandi out or something. Xanax is always an option too, Mrs. Foster. After they perfected their downward dog and all that bullshit, Yolanda basically told Brandi that she is a drunk asshole. Spot on analysis, champ.
Naturally, Brandi swore she doesn't have a drinking problem, but did the classic "I'm a grown ass woman and I can drink if I want to" speech. True, but if you act like an uncaged zoo animal when you drink, perhaps you should refrain from doing so.
Yolanda tried to inform Brandi that the girls have been saying how aggressive and angry she is. As we saw a few episodes back, Yolanda's 17-year-old daughter, Bella, was arrested for a DUI. Brandi decided to say that people have been saying that she is also an alcoholic. I'm telling you peeps—this chick is fit for a strait jacket. Yolanda nearly shit herself. I would have tossed her ass right over that infinity pool into the good ol' Pacific. Brandi said she doesn't give a fuck if people start to not like her anymore. Well, baby doll, it's happening. And quickly.
As if Queen Vanderpump doesn't already have more money than God, she decided to venture into the alcohol business. She, along with daughter Pandora, have created a line of signature sangria and they were out promoting it. Lisa told Pandora that her son, Max, was interested in finding her biological parents. They both cried in the middle of a grocery store while holding roses and it was bizarre.
Eileen met up with Kim and Kyle for lunch, which should go super well, right? Eileen recently lost her sister, so she truly wanted to help them mend fences. Long story short, they yelled at one another the whole time. Kim truly is off her rocker and Brandi is, without a doubt, the problem.
Meanwhile, Lisa Rinna had coffee with Brandi. Lisa has been Inspector Gadget recently and feels she is cracking the code on all the bullshit antics going down in the 90210. She treads lightly while trying to tell Brandi that she may or may not be an alcoholic. Ballsy, Rinna. If I went to lunch with Brandi I would tape my mouth shut and wear a metal shield.
In a pretty ironic turn of events, Brandi suggested doing an intervention on Kim… I cannot. The great thing about this hot mess of a show is that each woman truly gets more insane than the next.
The Real Housewives of Beverly Hills airs every Tuesday at 9pm on Bravo!