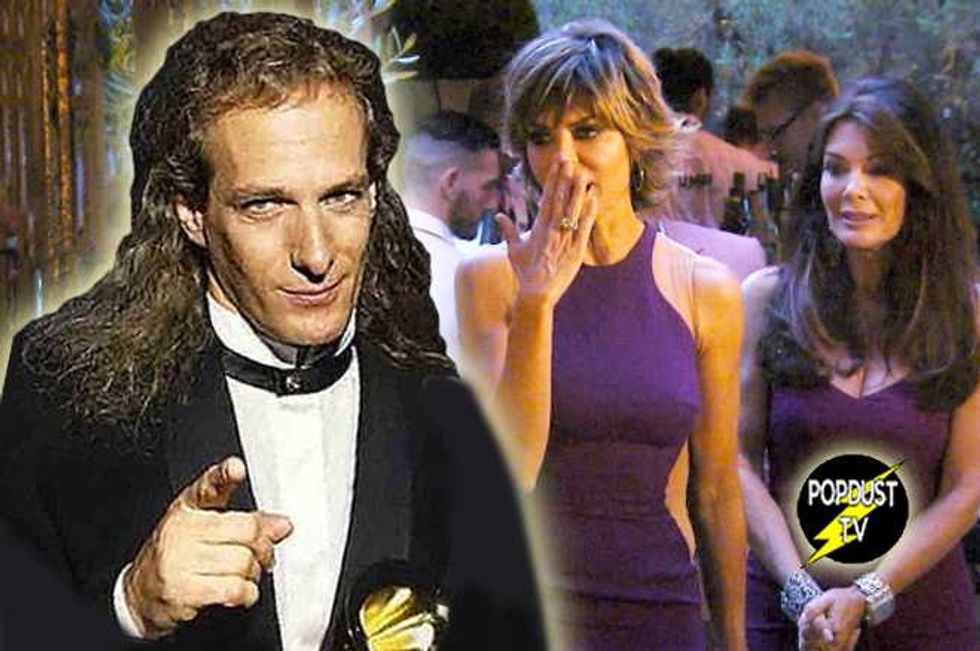 An all new Real Housewives of Beverly Hills!
It is Lisa Rinna's birthday and she's having dinner at Pump hosted by Lisa Vanderpump. She is turning 50-something, but looks hot as hell. Kyle Richards and her husband, Mauricio, joined in on the fun. Shockingly enough, the group laughed all night long without any drama!
They all talk about their marriages and where they met their significant other. Kyle reveals that she was engaged to someone else when she met Mauricio. He was 24 years older than her! She spotted Mauricio at a party, turned her engagement ring upside down, and the rest is history. A girl's gotta do what a girl's gotta do, honey.
Rinna talked about how she met her husband, Harry Hamlin. At the time, he was married to Nicolette Sheridan, but she was leaving him for Michael Bolton. Everything about that sentence is amazing. Anyways, Rinna got her man and they later had two children. She recalls an evening that she saw Michael Bolton while out to dinner and she thanked him for shacking up with Sheridan. Michael Bolton: singer and matchmaker extraordinaire.
Yolanda Foster was packing to leave to go home to Holland. In the mean time, her supermodel daughter, Gigi, arrived home from NYC. They talk about how great Gigi is for at least five minutes and I'm having troubling deciding who is more obsessed with Gigi: Gigi or Yolanda. Her other daughter, Bella, seems to be the rebel of the family. She has dark hair and a more edgy look than her sister. She and Yolanda have lunch in Malibu and talked about how different Bella is from Gigi. Bella is totally the Khloe of the Hadid clan, while Gigi is Kim and Yolanda is the Dutch Kris Jenner. It was really strange. If I were Bella, I would have knocked that bitch into the Pacific for a swim while ate my food alone.
Brandi Glanville is still in the process of settling into her new home. She opens up about the current legal situation with her douchebag ex-husband, Eddie Cibrian. It's clear that she doesn't give a fuck about him or his hot mess of a wife, Leann Rimes, but he's demanding money from Brandi.
Kyle and her husband took their youngest daughter, Portia, shopping for some new clothes. They are going on vacation to Spain, so naturally she needs to drop a few grand on a five year old's vacay wardrobe. Kyle constantly talks about how she wants all her children to know the value of a dollar and not be spoiled brats. Sorry, doll. Portia sees you carrying your Birkin. She ain't no fool.
Kim Richards finally seems stable and has her head in a good place. Her daughter, Brooke, is getting married and the entire family, including Kyle, was present to go dress shopping. Kathy Hilton came and shit on every dress she tried on. Let's just be thankful that Paris wasn't there to say, "that's hot". Kim revealed that her ex-husband and Brooke's father is severely sick with cancer. Kim really appears to be strong and handling this difficult situation well. Hats off to you, Kim.
We FINALLY met the newest housewife, Eileen Davidson. The blonde beauty is a soap star and friend of Lisa Rinna. They met for lunch and discussed how they've been friends since forever and a minute. To be honest, she seems fairly boring. Other than being an actress, home girl brought nothing to the table.
Kyle and Brandi went for a hike that lasted two minutes before they sat their asses down on a bench. Brandi has decided she is ready to be friends with Lisa again. She is having a housewarming party and called her to see if she got the invitation. Lisa answered the call, but it was clear she would have rather put her hand in a blender. Halfway through the call, Brandi's phone died. She called her back on Kyle's phone (genius idea, moron), which made the whole situation (from Lisa's end) seem even sketchier. They went back and forth for a few minutes basically blaming one another for not taking responsibility for their actions. Brandi said she isn't gonna kiss Lisa's ass forever.
The Real Housewives of Beverly Hills airs Tuesdays at 9pm on Bravo