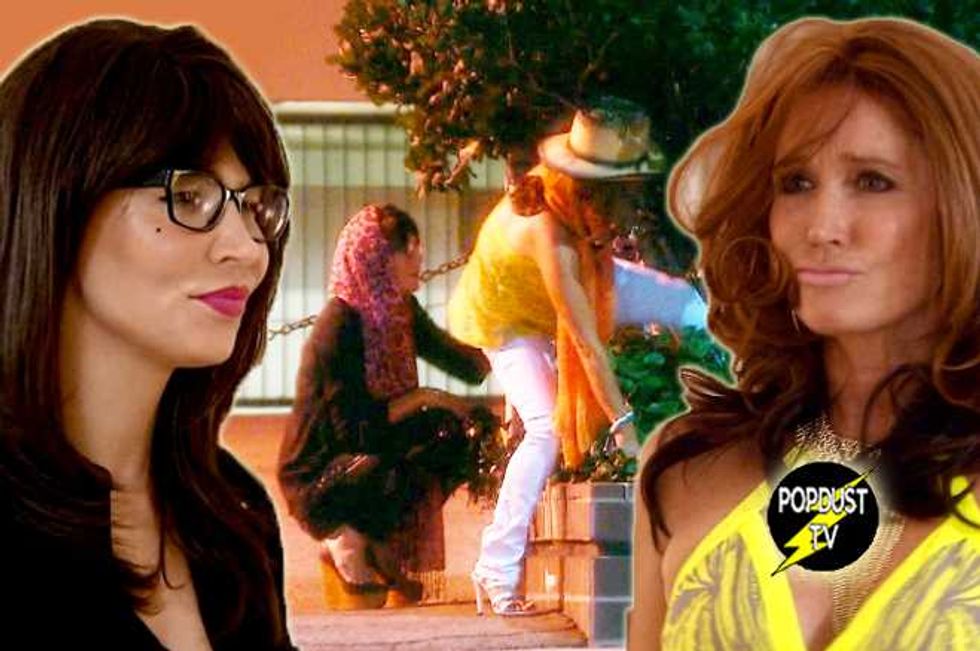 Last night's episode of Real Housewives of Beverly Hills gave us a glimpse into the world of Brandi Glanville and her never ending moving journey. She stalked her ex-boyfriend, slept with the kid that moved her furniture into her new house, and made amends with Adrienne Maloof. Another day in the life, folks.
Brandi moved into yet another home. It's her fifth move in five years! Kim Richards was there to help get her organized, as well as catch up on all the gossip from Kyle Richards' party last week. As we saw last week, Brandi separated herself from the group the entire night and was scared shitless to speak to any of the women for more than ten seconds. Brandi asked Adrienne to meet for coffee so they could clear the air from their massive blow up fight a few years back. She infamously proclaimed to the world that Adrienne did, in fact, have her children via surrogate. Brandi wanted to finally apologize for being a scumbag? Hell is freezing over. Anyways, Brandi had a squad of super young, hot guys come over to help move her furniture. Perhaps that's the real reason she moves every fifteen minutes!
Kyle and her husband were getting ready to take their family away to Lake Tahoe for vacation. Kyle talked about how her husband hates flying because of the busy airports and all the kids, so they fly private. She laughs about how when they first got married they didn't have any money and would make the kids pretend to be under two to get a free seat. THANK GOD they have their own plane now. The horror of an airport is just too much for the Richards' clan to endure.
The newest 90210 housewife, Lisa Rinna, met with her new agent to discuss potential projects. Rinna isn't shy about saying she'll do anything for a quick buck, including a Depends commercial back in 2012. She's just trying to make a dollar in these streets, ya'll.
Lisa Vanderpump, along with her friend Shiva, took a trip to Michael Beaudry's fabulous jewelry store in Beverly Hills. Shiva is the fiancée of Mohammed Hadid, Lisa's best friend and Yolanda Foster's ex-husband. Interesting, right? Lisa talked about how simple her friendship with Shiva is. They can laugh, joke, and be themselves without being questioned by anyone. This was obviously a dig at the other housewives, who all ganged up on her last season. Lisa was shopping for a birthday gift for herself from her husband, Ken. She ultimately decided to go with a $250,000 pink sapphire cocktail ring. I think last year I got a Starbuck's gift card and an ice cream cake.
Yolanda always talks about how important it is to keep the romance alive with your significant other. With that said, she decided to cook dinner for her husband, David Foster, in skimpy lingerie. The couple had dinner overlooking the ocean at their beach front Malibu estate. I suppose the Olive Garden just doesn't get the job done anymore. Endless breadsticks doesn't turn you on, Yolanda?
Brandi went to Kim's house to hang out and discuss the status of her relationship with her on/off boyfriend, J.R. She confessed that she hooked up with one of the hot movers from her house. While she said they didn't sleep together, she had quite a few hickies on her neck to prove they got down to business regardless. Her current relationship status with J.R. is up in the air. He cheated on her, but she'd consider taking him back. Kim feels that if Brandi sees him together with another girl that it will give her the push to end the relationship all together. They decide to dress up like assholes in wigs and cowboy hats to go hide in a bush. They go sit outside of a restaurant waiting for J.R., only to find him walking to his car—alone. Rule #1: don't ever listen to Kim Richards.
Yolanda invited Kim over to go horseback riding in Malibu. Yolanda claims she "had no idea" she would be a model because she only ever cared about horses growing up. Yeah, you're drop dead gorgeous and thought you would be a truck driver, right? Kim and Yolanda have certainly had a rocky relationship in the past, but Yolanda feels like a big sister to her. They discussed how all of their children are leaving the nest and heading for college. Yolanda is really feeling the struggle of having two stunning super models in college…
Brandi finally met with Adrienne for lunch. She was shitting herself with nerves the entire day. Adrienne, who has so much plastic surgery I CAN NOT EVEN, was actually really receptive to Brandi's apology. Personally, I'd light that bitch on fire for doing what she said, but, hey, maturity is a wild concept. Adrienne agrees to move on from their issues and be friendly with one another when they're in the same social circle. No hair pulling? No name calling? No drinking throwing? Good job, Brandi! You took your Xanax!
The Real Housewives of Beverly Hills airs Tuesdays at 9pm on Bravo.