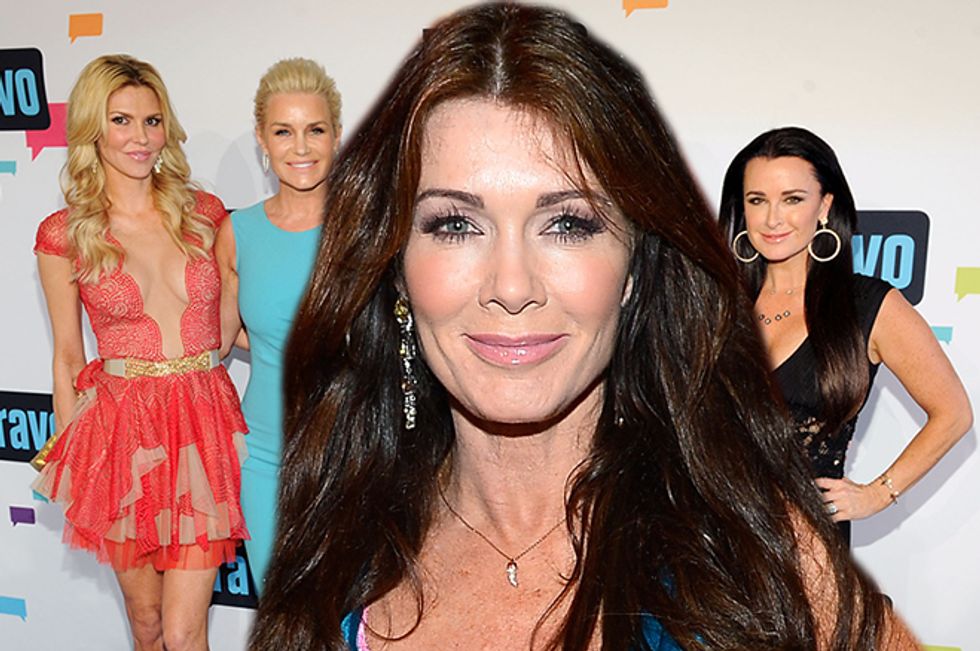 It was another action packed episode of The Real Housewives of Beverly Hills Monday night.
Carlton Gebbia and Yolanda Foster hit up a Wiccan store together to do a little candle shopping and, of course, gossip!
They discussed the current drama surrounding Carlton and Kyle Richards. While Yolanda defended Kyle's character and believes she just said something stupid and ignorant, she made it clear that the comment was uncalled for.
Meanwhile, Kyle and Joyce Giraud met for coffee. They, also, chatted about all the drama with Kyle and Carlton. They mutually decided to not invite Carlton to go to Puerto Rico with the rest of the group. That is definitely going to go over well with Carlton. NOTTTTTTTTT!
Watch out ladies, someone might cast a spell in return……..
Kim Richards and Brandi Glanville (new besties?!) went to get spray tans for the upcoming Puerto Rico trip. Brandi continued to talk about her budding feud with Lisa Vanderpump and divulges to Kim that she is concerned about Ken and Lisa joining them on vacation.
Ms. Glanville made it VERY clear that she isn't ready to be on Lisa's bad side. Hey Adrienne Maloof, care to comment?
Yolanda and ex-husband Mohamed Hadid prepped for daughter Gigi's graduation/going away extravaganza at Mohamed's insane Beverly Hills compound. He was busy cooking (lets use that word lightly) Arabic food for the shindig, while Yolanda walked around in a strange dress/sneakers ensemble.
Brandi arrived making it very clear that she was annoyed with Lisa, but wasn't going to engage in any sort of argument. Carlton had the same idea apparently. She let it be known that she hates Kyle's guts, however she would keep her mouth shut for Yolanda's family's sake.
Ugh, these women are so freakin' thoughtful.
Lisa commented that Brandi was being extra quiet, but for once, Brandi didn't start a war. Then, Kyle bizarrely asked Brandi to give Carlton the matching ring to the necklace she gave Carlton at her pool party. Lisa pointed out that the ring didn't actually match the necklace, which added more fuel to Brandi's fire.
In typical combative Carlton fashion, she said that she couldn't accept the gift. So much for a peace offering, right Kyle?
The following day, Lisa and Kyle went shopping at Kyle's Beverly Hills store for some new threads for their upcoming Puerto Rico trip.
Shockingly (not really), Lisa pretended that everything was fine between her and Kyle.
Kyle tried to discuss the tension between them, but Lisa quickly let her know that she never will have another friend like her.
Ahhhhh Lisa, such a humble soul.
The Real Housewives of Beverly Hills airs Mondays at 8pm on Bravo.