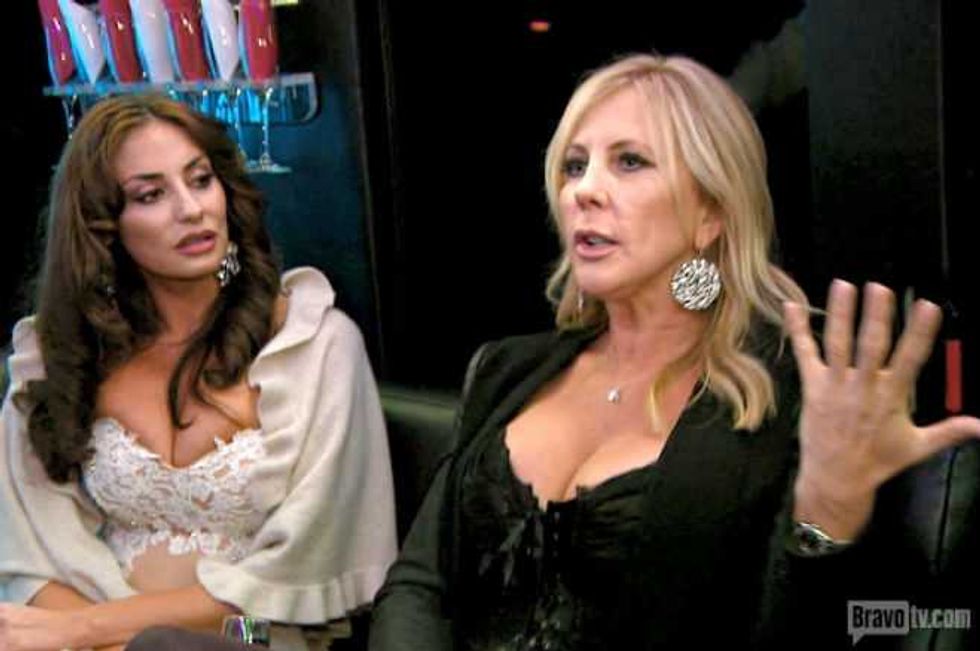 This week's episode of the The Real Housewives of Orange County picks up with the aftermath from the dinner party from hell. Lizzie Rovsek has a birthday party that no one comes to, Heather Dubrow throws a soiree where no one fought, and the ladies plan a getaway to Bali!
Vicki Gunvalson and her sometimes friend Tamra Barney met for a walk so they could chat about everything that has been going on recently. Of course, Tamra plays the "poor me" card and doesn't really own up to anything that went down with Shannon Beador at Lizzie's party last week. Vicki, who all the sudden is the voice of reason in this group of wackos, reminds Tamra that everyone has their moment. If I remember correctly, Tamra was in a bad marriage four years ago and throwing wine on people at parties. Hmm, sounds familiar. Vicki called Tamra out on her nonsense and rightfully so. It's clear that Shannon is going through a difficult time and needs the support of her "friends", not to be ridiculed.
It's Lizzie's 34th birthday and she planned for all the ladies to have a night out on the town in LA. Why these women want to hang out with one another is BEYOND me. However, she invited the whole gang. Shannon declined early on because she was sick. Heather couldn't attend because she was in Vegas. The night of the party arrived and Lizzie and her husband boarded the party bus that was going to pick up all the ladies - except they all bailed one by one. Tamra all of a sudden said she couldn't go because her daughter was sick. Sure, coming from the girl who gotten caught in more lies than she can count this season. But, who saved the day and arrived? Vicki and creepy Brooks Ayers.
Instead of being bummed about the lack of people at her party, Lizzie decided to make the best of it. The four went to dinner in LA, where they sat at an empty table set for eight. Vicki warned Lizzie about Tamra. Pretty interesting that Tamra's once upon a time best friend is warning Lizzie about her, huh? Vicki reminded the world for the 786th time that Tamra is the reason that Brooks and her daughter Brianna don't see eye to eye. Anyway, the group seemed to have a good time and spent the night laughing (and shit talking). Although Lizzie said it was her "worst birthday ever", she rolled with the punches.
Meanwhile, the resident "mean girls" of Orange County got together to discuss the idea of taking a trip together. Tamra whined that she still hasn't had a honeymoon; while Heather bitched that her husband Terry has no time to go on an anniversary trip with her. So, they decided it was the perfect opportunity to go on an all-girls trip to Bali. They called to inform Vicki of the plans and she immediately insisted that Shannon must be invited. In addition, Lizzie and that random chick Danielle will be going too.
Heather planned a Valentine's Day dinner party for all the ladies and their husbands. Shannon wasn't there, which is probably the biggest blessing in disguise. Our hearts can't handle another dinner party gone ghetto. After they played some sex games, it was clear that the women were actually have a good time and enjoying one another's company. Who knew all it takes is to talk about oral sex to get along?
They discussed the upcoming Bali trip with entire table and whether or not Shannon should be invited. Lizzie seemed to believe that Shannon might find peace on this trip because of its spiritual natural. Sorry, honey, ain't gonna happen! There is nothing spiritual, calm, or peaceful about 5 lunatic housewives in a foreign country.
After the party, Tamra, Heather, Vicki, and Shannon met for dinner. There was no screaming or fighting. Surprising? We know. Shannon agrees to go on the trip. How long til she regrets that one?
Real Housewives of Orange County airs Mondays on Bravo 9 pm ET/PT