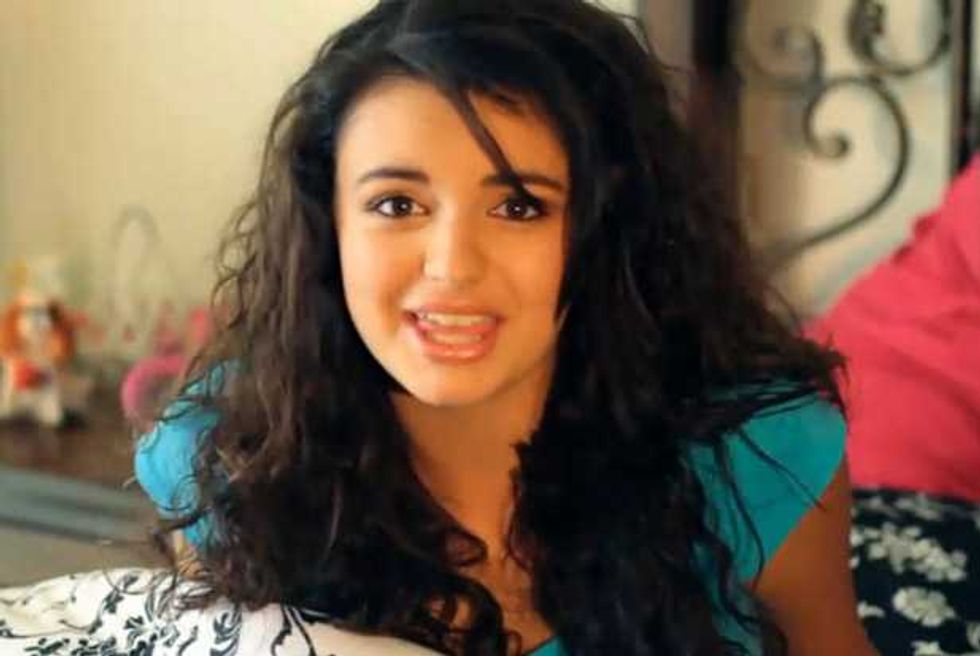 Every major sport has those kind of milestone numbers that once you reach, no matter what else happens in your career, you're already a Hall-of-Famer. Three-thousand hits in baseball. Twenty-thousand points in basketball. Five-hundred goals in hockey. And on the battlefield of the internet, it's 100 million views on YouTube that more or less assures you the same sort of immortality. Rebecca Black, unknown to the world just one month ago, is now less than three million views away from reaching the nonuple-digit club, currently exclusive to just 41 videos in the history of virality, with her sensational "Friday." Tweeted 'Becca in anticipation of the landmark:
[blackbirdpie url="http://twitter.com/#!/MsRebeccaBlack/status/57524120065277952"]
To give you all some perspective on the scope of Black's achievement, some of the YouTube classics who have yet to reach the 100-mil mark include "David After Dentist" (~87 million), "Bed Intruder Song" (~78 million) and "Chocolate Rain" (~65 million)—all of which, of course, have been around far longer than "Friday." And once Black does top the number, she'll soon be breezing by luminaries like "Jizz in My Pants" (~101 million) and "The Sneezing Baby Panda" (~101.5 million), and possibly taking down "The Gummy Bear Song" (~119 million) not long thereafter.
Clearly, Rebecca walks among the greats now. However, she still has an awful long way to go before matching her beloved Justin Bieber for all-time top honors, as his "Baby" video still stands as the all-time 'net champ with an unheard of 513,945,043 views, nearly 150 million more than his nearest competitor (Lady Gaga's "Bad Romance"). In fact, even The Bieb's fifth-most-popular video, "One Less Lonely Girl," still has about 20 million views on "Friday." Still, there's no doubt that Black, just a 13-year-old girl from Anaheim Hills with a song in her heart and a check from her parents in her back pocket, will be happy just to be mentioned in the discussion with such a legend. Not everyone gets to be Ty Cobb or Kareem Abdul-Jabbar.