MUSIC
Plus -- Mt. Joy, Anna Von Hauswolff, Henry Jamison, The Octopus Project, Ryan Vona, Belle Adair, MNDR x Le Youth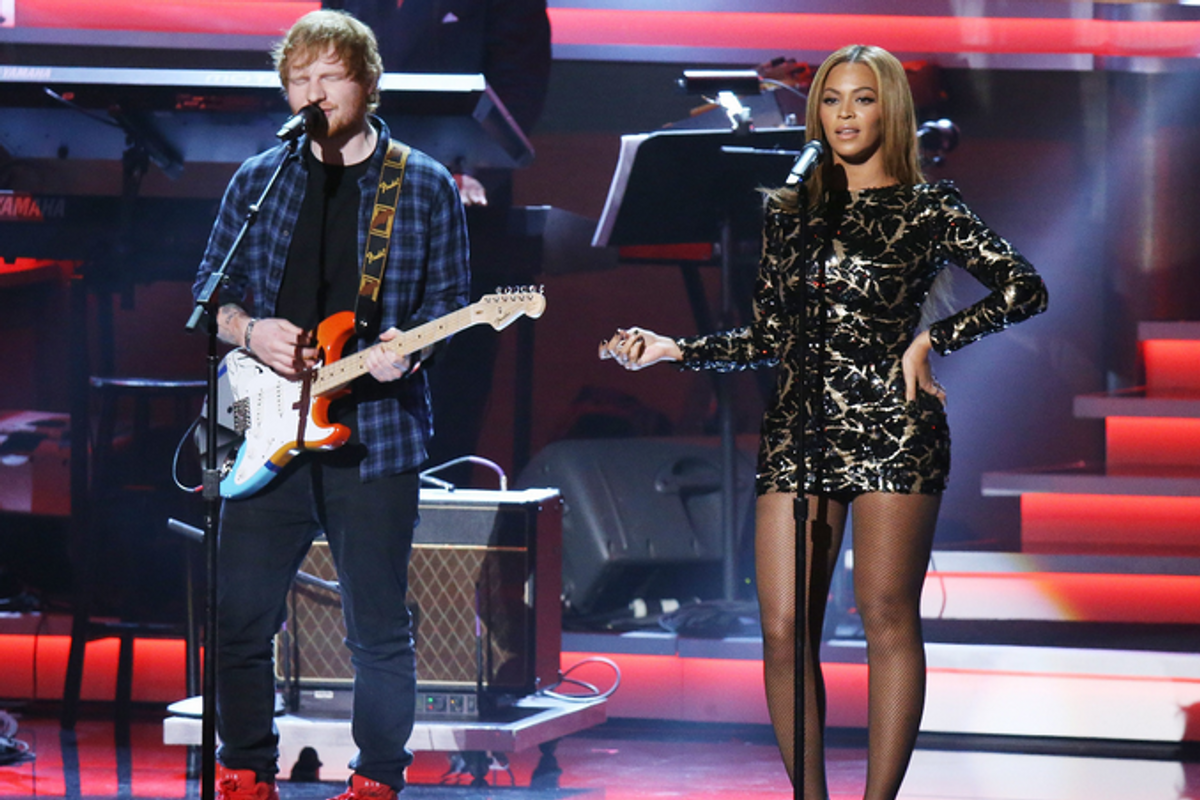 Queen Bey + Teddy = perfection... the internet is freaking out!
Ed Sheeran continues to ride the success of his Grammy nominated album Division this year as the focus shifts from the leading single "Shape of You" to what's bound to be the wedding song of 2018: "Perfect." The song gives me total goosebumps every time I listen to it. Who wouldn't want to hear their lover croon, "Well I found a woman, stronger than anyone I know. She shares my dreams, I hope that someday I'll share her home." The song is so honest and genuine and the duet with Queen Bey only heightens that. Other new releases this week include: Mt. Joy, Anna Von Hausswolff, Henry Jamison, The Octopus Project, Ryan Vona, Belle Adair, and MNDR x Le Youth.
Ed Sheeran x Beyoncé | "Perfect" Duet
This is hands down one of the prettiest songs I've heard. Between the tender acoustic guitar riff, the intoxicating lyrics, and Ed's stunning voice, it wins across the board in my eyes. The sweet music video just made me love the song even more. Everyone poked fun at Ed for appearing on Game of Thrones Season 8, but I thought his performance in his music video was sweet and truthful. Sheeran continues to ride the success of this amazing ballad as he collaborates with some of the world's favorite voices and puts a twist on the modern remix. Recently his collaboration with Andre Boccelli made headlines, but have you heard his collaboration with Beyonce? Having a female's perspective of the second verse of the song adds something really special to it, but don't take my word for it.
Listen to "Perfect" Duet here.
Best for: A romantic dance with your s/o
Perfect if you like: Ed Sheeran and Beyoncé
---
Mt. Joy | "Silver Lining"
If you fancy yourself a music guru, you'll want to know these guys going forward in 2018 because they're about to blow up. Their recent single "Silver Lining" has garnered attention from trendsetters in the music industry. Rolling Stone calls it one of their favorite songs right now gaining a place among songs from Charli XCX, Sufjan, and N.E.R.D. You'll see why when you listen. The song hosts so many difference sounds that dance together to create the feeling of an open road and a full tank of gas. Their full album drops 3/2.
Listen to "Silver Lining" here.

Best for: Riding along the open road
Perfect if you like: Tame Impala
---
Anna Von Hauswolff | "The Mysterious Vanishing of Electra"
Anna recently announced the forthcoming of her new album Dead Magic, but we have to wait until March 2nd. The dark pop artist is known for guesting on Wolves in the Throne Room's song "Mother Owl Father Ocean" earlier this year. Though technically within the pop realm, Von Hauswolff is anything but conventional. Her up and coming album is no exception. In Dead Magic Anna explores themes of anxiety, disorientation, fear of oblivion, and the age old practice of magic itself. Luckily, you don't have to wait till March to get a taste of it. The texture of this song is amazing. Anna recorded on the 20th century organ at one of Copenhagen's oldest churches "the marble church."
Listen to "The Mysterious Vanishing of Electra" here.
Best for: Just before bedtime-relaxation.
Perfect if you like: Bjork
---
Henry Jamison | "The Jacket"
Henry Jamison dropped The Wilds this year and people are obsessed, including the professionals behind Tidal Music. Tidal just named the album one of the most remarkable and endearing records of the year thanks to it's narrative-driven songs and the nuances in the music that allude to a lot of time and attention to detail put into the album. It's apparent from a single listen to Jamison's song "The Jacket" that this is 100% valid. The song gives you the vibe of the great outdoors all the while being a brilliant composition of electronic sounds.
Listen to "The Jacket" here.
Best for: Smores night.
Perfect if you like: Bon Iver
---
The Octopus Project | "Leg"
The Octopus Project is currently on fire. They recently released a previously unreleased song from one of their most successful albums Hello Avalanche. With this came the news of a reissue of the entire album which will be sonically remastered and issued on February 12th. "Leg," the leading single is cool, complex, and a total ear worm. Along with the album reissue, The Octopus Project is hitting the road with a winter tour and their film score for the Zellner Brother's recent Western 'Damsel' starring Robert Pattinson will be hitting Sundance in 2018. Here are their tour dates:
1/18 El Pasa, TX @ Lowbrow Palace
1/19 Santa Fe, NM @ Meow Wolf
1/22 Salt Lake City ,UT @ Urban Lounge
1/24 -Boise, ID @ The Olympic
1/26 - Seattle, WA @ Sunset Tavern
1/27 Portland, OR @ Bunk Bar
1/29 San Francisco, CA @ Cafe du Nord
1/30 Santa Cruz, CA @ TBA
1/31 Los Angeles, CA @ Bootleg
2/01 Las Vegas, NV @ Beauty Bar
2/02 Tucson, AZ @ 191 Toole
2/03 Phoenix, AZ @ Rebel Lounge
2/24 Austin, TX @ North Door

Listen to "Leg" here.
Best for: a winter train ride upstate
Perfect if you like: White Denim
---
Ryan Vona | "Au Revoir"
Actor and multi-instrumentalist Ryan Vona released his debut LP earlier this year entitled Somebody. The album boasts eleven amazing tracks. Something inherently noticeable about the LP is the rich instrumentation which is no surprise considering Vona himself plays many. In addition to the packed folk, alt rock instrumentation, Vona's rich voice both soars and grounds the album making it a truly dynamic piece. It's the kind of album that leaves you with a new favorite song every time you listen, but the track I currently have on repeat is "Au Revoir." Ironically, "Au Revoir" is the bittersweet opening to the album. While Vona may be saying goodbye to an old flame in the song, he's saying hello to the journey that he takes on the album. While the song is sad in ways, it is also hopeful. "Au Revior" s a brave first step in a new direction.
Listen to "Au Revoir" here.
Best for: The morning after a break up.
Perfect if you like: Michael Buble and Tom Petty
---
Belle Adair | "Rest Easy"
Belle Adair is amazing. Not only is she a stunning artist, but she's using her voice for good as well. An Alabama native, Belle Adair has always stayed true to her roots. She founded her own independent label in her home town of Muscle Shoals and with this hopes to spark change. She says, "The folks that stay here [in Muscle Shoals] choose to stick around and dig in their heels. There's hope in spreading kindness and love. We believe that. We're a label made up of those people and those kind of bands." Her song "Rest Easy" is no exception to her mission. The song's simple stripped down instrumentation contrasts with her silky voice. The quality of the recording is amazing and certainly has to do with Adair's merit as a recording artist and her collaboration with Tom Shick who has recorded artists like Wilco, Parquet Courts, and Real Estate.
Listen to "Rest Easy" here.
Best for: Restoring your faith in humanity (lol)
Perfect if you like: Lana Del Ray

---
MNDR x Le Youth | "I Could Always"
MDNR is on a roll. Her song with Ava Max "Clap Your Hands" was arguably the song of the summer. MNDR is no newcomer to the music scene though the acclaim for her solo project is somewhat new. Co-writing for artists like Chali XCX, Kylie Minogue, Rita Ora, and more, MNDR has claimed her spot among the greats. This follow up to "Clap Your Hands" is more subtle but just as hypnotizing. Collaborating with Le Youth on the song led to the perfect blend of electronic pop and powerful lyrics. We love the vibrant music video that comes with.
Listen to "I Could Always" here.
Best for: Your NYE party playlist
Perfect if you like: Charli XCX
---
Anie Delgado is a contributor to Popdust and is an actress and musician based in NYC. Follow her on Instagram | Facebook | Twitter and check out her music on Spotify. Press inquiries here.
---
POP⚡ DUST | Read More About Music...

RELEASE RADAR | Matoma and Noah Cyrus release a new banger
RELEASE RADAR | Legends Collective Soul and Pitbull and The Stereotypes both drop music this week
RELEASE RADAR | A Christmas-infused round up
---