Today, May 23rd is the eleventh anniversary of one of the most cringeworthy embarrassing celebrity moments EVER.
Back in 2005, Tom Cruise appeared on the Oprah Winfrey Show to talk about, among other things, his love for his then girlfriend Katie Holmes.
Usually the most private of private celebrities when it comes to his fiercely guarded personal life, Tom stunned Oprah and the rest of the world when he attempted to convince us all how happy and in love he was, by jumping on Oprah's couch.
The footage went viral and made a laughing stock of Cruise and changed the public's perception of him for ever. It was awkward, fake, creepy and embarrassing. The devout Scientologist's film career may have survived, but his public image shifted from beloved, good looking celebrity to creepy, intense weirdo.
You've gotta watch the whole glorious clip to fully appreciate just how nauseating this was...
But hey, Tom's not the only celebrity to embarrass themselves in front of the world.  Check out our top 5 cringeworthy embarrassing celebrity moments.
John Travolta mispronounces Idina Menzel
At the 2014 Oscars, John Travolta was introducing Idina Menzel, the Glee actress, for her performance of what turned out to be the aptly named Let It Go from Frozen. He mispronounced her name to everyone's open mouthed horror,  "Adele Dazeem",  producing an onslaught of parodies and memes.   It actually did Menzel a favor as it raised her profile considerably and gave her a spot on the stage the following year for a little follow up funny.
Travolta really is a gift that keeps on giving though, as the skit at the 2015 ceremony was equally as awkward when he held her very tightly and then grabbed/stroked her chin while proving he could pronounce her name after all. Ick.
Fergie wets herself onstage
Clearly they don't schedule in enough bathroom breaks during the Black Eyed Peas shows. During a 2005 gig, an embarrassingly obvious wet patch appeared in singer Fergie's crotch area.  She quickly doused herself with champagne to try to cover it up but was forced to admit that she had in fact, wet herself.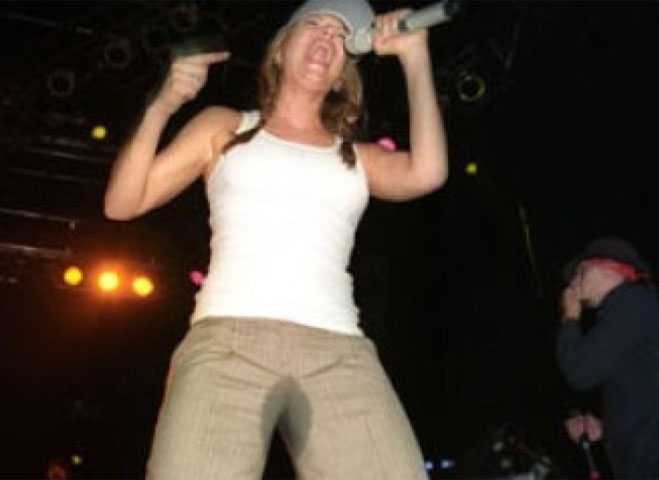 There really was no doubt whatsoever that Fergie had peed her pants.
Christina Aguilera's 'leak'
Every woman knows what it's like to get caught short at the wrong time of the month.  Or maybe Christina Aguilera is one of those 'free-bleeders'.  Who knows, but what we do know is that the red dribbles eeking down Xtina's legs during her performance at the funeral of Etta James was a horribly embarrassing experience for her.  The singer's team claimed it was some runny spray-on tan, bless them.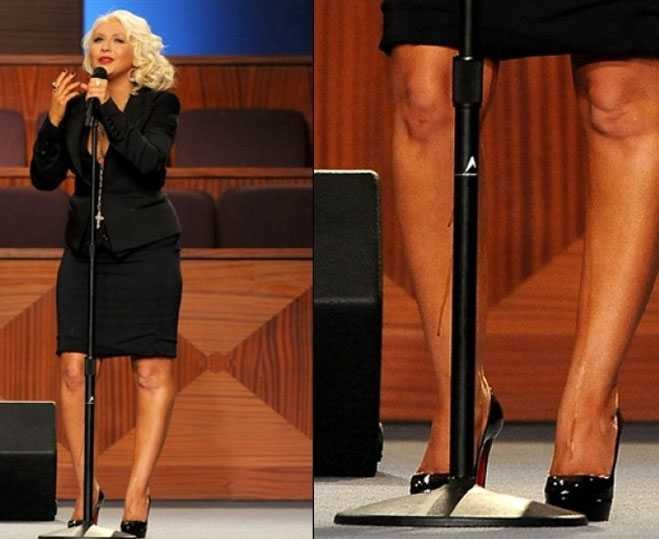 Christina pays tribute to Etta James—but was a little distracted by the dribble.
Justin Bieber hurls onstage
Biebs blamed it on too much milk and we so want to believe him!  Whatever the cause, during his Believe tour in 2012 some of the fast moving dance moves obviously got it all churning up inside Justin, as he had to stop and puke all over the stage.  He ran off and his back up dancers and singers had to finish the song, whilst trying to avoid slipping on the sick puddle he'd left. Mind you, the video does reveal that he was actually lip syncing anyway so he wasn't really needed.
50 Cent's first pitch
This is one you just wanna watch over and over again.  The bravado of Mr-Big-Shot-Rapper 50 Cent who was invited to throw the first pitch at a Mets v Pirates is extinguished as he crashes and burns. Fiddy is in great shape so you'd think he'd be able to throw a ball right?  Wrong!  It's priceless.
That's our top 5 embarrassing celebrity moments.  Just missing the cut were Katy Perry slipping on cake, Ashlee Simpson's epic lip-sync fail and the time Beyonce got her hair caught in a fan during a live show but heroically got through the song while she was being freed.
Which do you reckon was the MOST embarrassing?