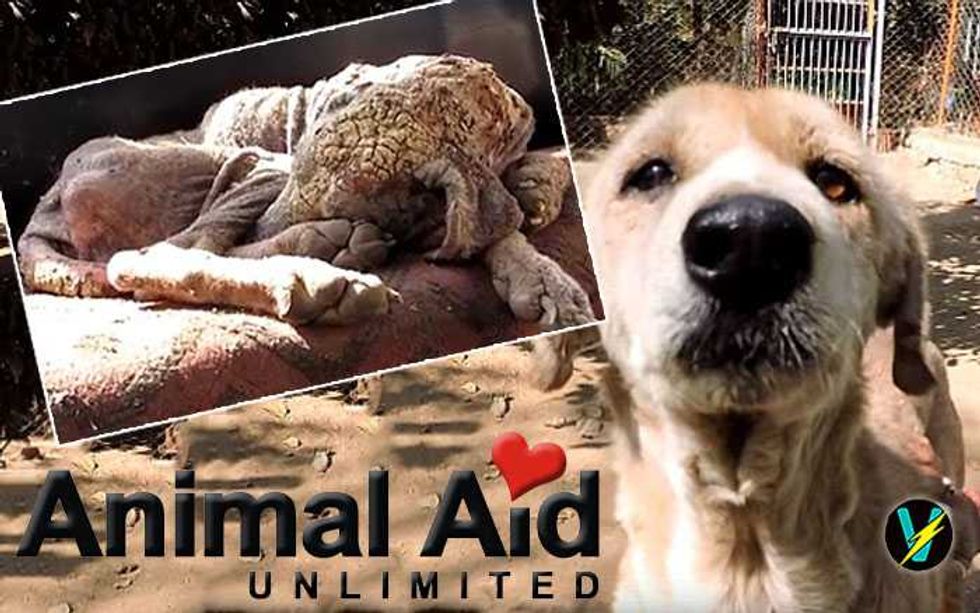 rescued dog look stone recovery
A street dog with such severe mange she looked like she was "made of stone," has been rescued just in time by an amazing group of dedicated animal lovers.
A heartwarming video has been released showing the desperate animal's miraculous recovery.  The poor neglected pooch was in a terrible state when she was found;
"It looked like she was made of stone," an Animal rescuer said of the first time she saw the sweet puppy abandoned and curled up on the dusty back seat of a gutted tuk-tuk truck.
TFIF! Now Watch An Adorable Orangutan Laugh His Ass Off At Magic Trick
Animal Aid Unlimited, a rescue group in India, got there just in time—it was clear the pup was at death's door. Her mange was so severe, her painful skin had turned "hard as stone. She looked like a barnacle, like a mummy discovered after a thousand years," the rescue group wrote.
Most stray dogs run when rescuers try to approach them, but Alice, whom she's come to be called, didn't even have the energy to look up. She was a pathetic heap of bones covered in diseased flesh, and she could barely summon the strength to flick away the flies feeding off her withered body.
"She seemed to be in a kind of delirium," the team said.
Rescuers Risk Their Lives To Save Animals —This Will Brighten Your Day
Finally, when the staff offered her a treat, she managed to lift her head, and a swarm of flies flew off her.
She was terrified, and when they tried to lift her, she growled in fear, but they were able to wrap her up in a blanket and bring her to her new life…
Once at the shelter, poor Alice was still unresponsive. She curled up in a ball and ignored everyone trying to help her, but they stayed by her side, gently applying medicated lotion to help heal her ravaged skin.
Happy National Dog Day—Celebrating Cute Canines And Mangy Mutts Everywhere!
With a little help, Alice was able to stand and let a worker bathe her and apply medicine to her back.
A few days later, Alice was still terrified, but she was starting to look like a dog again. Her skin was almost smooth, and she was gradually becoming receptive to her rescuers' care.
Watch This Amazing Video And Get Fourteen Fun Facts About Seals
Six weeks later, a miracle. Alice was a new dog—a sweet critter covered in golden baby fuzz, wagging her tail and playing with the rescue team.
Animal Aid Unlimited rescues hundreds of animals like Alice every year.  Many of them are street dogs who live happy, healthy lives outdoors unless they fall ill and need human intervention—and Animal Aid Unlimited is often their only hope.
Big, Burly, Badass Biker Saves Badly Burned Little Kitten
To help support the work of Animal Aid Unlimited, and give these animals a much-needed second chance, you can make a donation here.
Check out our gallery of Alice's recovery and watch the full video below.
Rescued Dog Looked Like Stone Makes Recovery

Rescued Dog Looked Like Stone Makes Recovery
Rescued Dog Looked Like Stone Makes Recovery