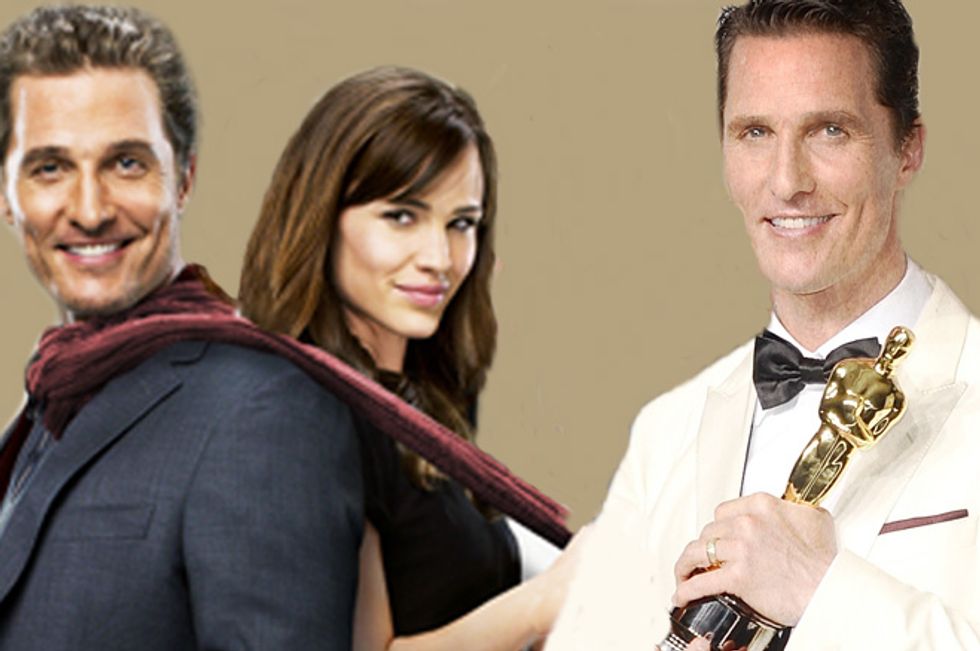 Once dubbed 'The McConaissance' by entertainment pundits desperate for something to toss into their pop culture headlines – Matthew McConaughey's ascension from requisite romantic comedy cornball to certified acting force reached its apex with his Best Actor Oscar win for Dallas Buyers Club, proves that it is indeed possible to recover from years of cinematic douchebaggery.
Mac has strung together many lauded performances of late, from bespectacled district attorney Danny Buck Davidson in the Linklater-directed – and criminally ignored—Bernie, to the tortured misanthrope Rust Cohle in HBO's True Detective, that is certain to earn him Emmy nods.
Not since Robert Downey Jr. relinquished his role as resident Hollywood Scumbag and focused on films as opposed to fixes have we seen such a swift and drastic career turnaround, proving that past work is not necessarily indicative of future performance.
Even if time is a flat circle....
McConaughey's spectacular career resurgence is an encouraging sign for the television and film industry as a whole, as it substantiates that players traditionally regarded as talent-deficient pretty-boys can turn-in top-flight performances when provided with the right material.
Actors can be afforded a mulligan or two for poor script-choice in light of massive paydays (I'm looking at you, Aaron Paul—I don't care how many hours I spent watching Breaking Bad, I refuse to see Need for Speed), but when an occasion becomes a routine, it can potentially tarnish a serviceable actor's reputation as a whole.
Somewhere between How to Lose a Guy in Ten Days and Ghosts of Girlfriends Past, McConaughey must have had some sort of revelation and thought to himself, "Alright, alright, alright, man – enough is enough."
He shed nearly 50 pounds and was on the verge of losing his eyesight for his portrayal of Ron Woodroof in Dallas Buyers Club—a performance that served as a veritable warning-shot toward the movie-going public—that the man from Texas was serious about his craft, and would no longer languish in the roles of shirtless, southern-drawled bonehead.
There will always be a place for romantic comedies in the filmmaking lexicon– but I'm willing to wager that if you privately polled actors in the movie business, the majority of them would rather not be a part of it.
McConaughey has demonstrated dedication and integrity in the face of a pigeonholed career; where he could have just as easily collected his checks and gone about his business—and television and film enthusiasts are the beneficiaries of it.
He's elevated his abilities, and shown what remarkable changes can be achieved if we simply "Just keep livin'."