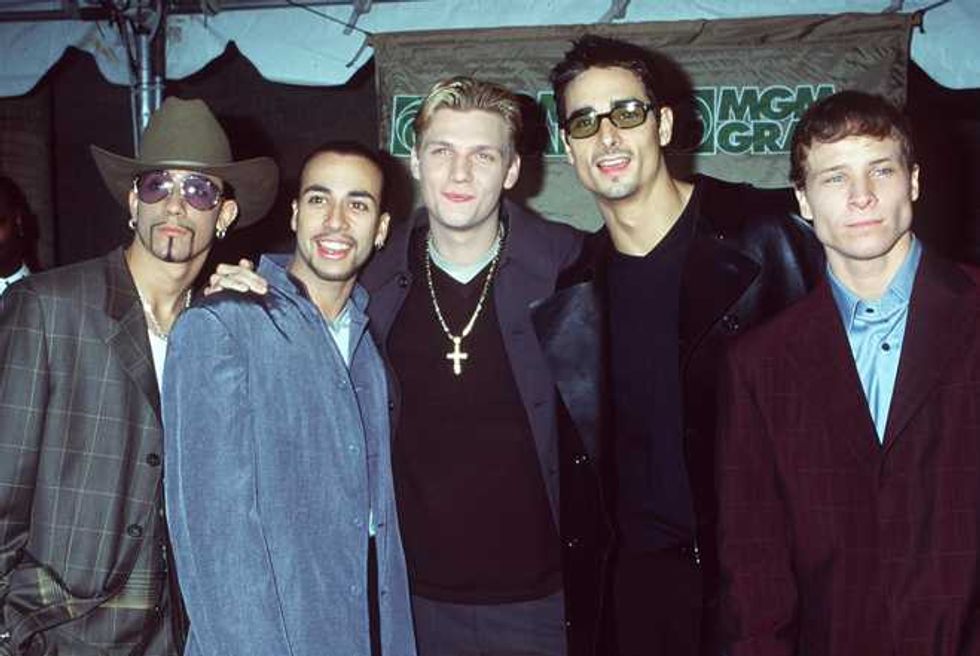 While A.J. McLean, Brian Littrell, Howie Dorough, and Nick Carter have spent the last few years touring with their heartthrob predecessors in the New Kids on the Block and hosting cruises for all who still think it's 1999, their steady work schedule has been without the dark and handsome Kevin Richardson, who left the group in 2006. Since his departure, the remaining four have suffered through their share of personal and professional hardships—Howie D.'s solo album failed to make waves, A.J. had a stint in rehab, Nick lost his younger sister Leslie—while trying their best to never make their catalog of pop perfect love songs ever leave the public consciousness. But even at their most triumphant, a BSB moment just isn't the same without five guys going through the motions, right?
The Backstreet Boys appeared on Good Morning America on Tuesday to announce plans for a new album and an upcoming performance on the show's Summer Concert Series in August. Together for the first time in recent memory, all five members of the band revealed that they're currently shacking up in London together and working with producer Martin Terefe on a still untitled release scheduled for next spring, to coincide with the band's 20th anniversary. "We wake up. We have breakfast together. We're not sick of each other at all," said Carter of the band's current set-up in the U.K. "It's awesome. It really is. The vibe is fantastic." So squash any and all theories of a rift between the band; they're having group tea time!
With Kevin Richardson's return to the group, the band's scheduled August 31 performance will be its first as a quintet since 2005, save for an occasional Richardson cameo at a NKOTBSB show. That, plus the fact that GMA concerts are free, should lead those long-suffering Kevin fans to move out of hiding, ready to brave the late summer temperatures and massive crowds of Central Park. Considering what Justin Bieber can draw to an early morning concert, you might want to camp out in Central Park right now, just in case. They are the best-selling boy band of all time, after all.