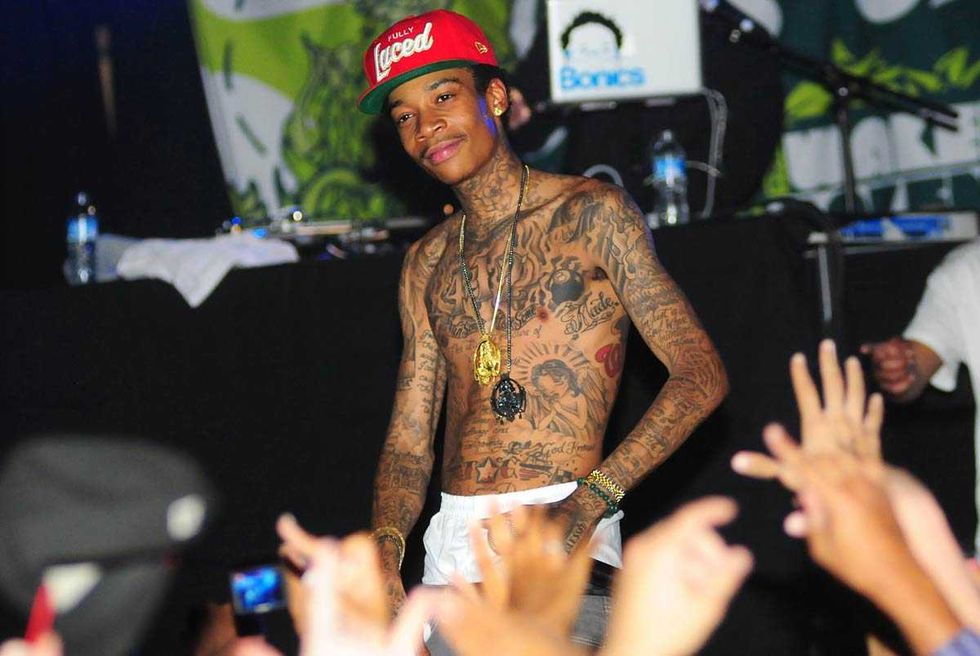 Rising hip-hop star and weed hypeman Wiz Khalifa took to Ustream last night to announce that his highly anticipated new album would be titled—wait for it—Rolling Papers. The album, his first for Atlantic Records, is slated for a March 29 release. Rolling Papers will be Wiz's first album since his beloved "Black and Yellow" single, adopted by his hometown Pittsburgh Steelers as the team's Terrible Towel-twirling jock jam, propelled him to the upper reaches of the singles charts.
Like any good stoner, Wiz tried to imbue a deeper significance to the title than it actually merits. "It's not just about the weed thing," he explained. "It's bigger than that. My career really took off when I started smoking papers... The second reason I called it Rolling Papers is when I left Warner Bros., I sort of got my 'rolling papers.' I got my contract, fucking rolled up and smoked." And finally: "I write notes down, but I don't write whole verses, so it was like saying goodbye to the paper. The paper's rolling out too. So everything is real natural." Dude, you are so stoned.
Popdust spoke to the Wiz yesterday, prior to his announcement, about "Black and Yellow"'s serendipitous playoff run, the most Pittsburgh movie ever made, and how best to describe his never-not-stoned way of life.
You going to the Steelers-Packers Super Bowl?
Nah, I gotta keep working. I want to make sure I get the album turned in on time.
You must be a hero in Pittsburgh these days. Has the mayor given you a key to the city yet?
No, not yet. [laughs] I really just need a key to the pharmacy.
Who arranged for you to play at halftime of the Steelers-Jets game on Sunday?
I don't know, actually. It was crazy, though. All I know is that I was asleep and somebody woke me up and said, "Yo, you're playing the AFC Championship Game."
How'd you manage to stay warm in that weather?
Three shirts, two pairs of pants, three pairs of socks, and a fur coat.
Do you party with any of the Steelers?
Lamar Woodley's the only guy I know. He's my man. He was in the "Black and White" video, and he shows a lot of support and comes to my shows. I've never met any of the other guys, though.
You haven't hit on college girls with Big Ben?
No. [Actually taken aback by the question.] No man, that's not even appropriate to say.
Well, he definitely hits on college girls, doesn't he?
Hey, I don't know that for sure.
You're a good fan, Wiz. Is it fair to assume that you were stoned when you performed at halftime?
Yes, pretty much. I'm one of those people who's all-day medicated. That's the best way to put it. It's my medicine.
Are you a big sports fan?
I'm not a sports head, but I've been playing sports since I was young. I stopped playing basketball when I was in 10th grade. I'm 6'4", so I'm basketball height, but I was taking my music way more serious than playing sports. Plus, you don't need a coach to rap. Having a guy blowing a whistle at me just wasn't my thing.
What's the most Pittsburgh thing about you?
Everything. The way I talk, the way I carry myself, the way I can see through other people's BS. I can see it a mile away because we ain't got no music industry here, so it's hard to impress us. It's hard to knock me off of my Pittsburgh shit.
Describe a Pittsburgh accent.
Most people would say we talk proper country. There's a bit of a drawl. There's a difference between neighborhoods, too. There's people here, we call them Yinzers. They're mostly the older cats, they say "Yinz" instead of "Y'all." They talk real, real Yinzer-ish.
Of the dozens that have come out recently, do you have a favorite "Black and Yellow" cover?
I like a lot of them, really. I just heard an acoustic version by a kid named Danny Vola, that's pretty tight. That Jersey Shore "Black and Guido" one was funny.
Why are black and yellow/gold the official colors of Pittsburgh sports?
You know, I have no idea. I probably should know, huh? I was just raised like that, to represent our town and colors. I know it goes way back, though, to the old Negro League baseball teams.
Have you ever seen the classic late-'70s hoops film, The Fish That Saved Pittsurgh?
Oh yeah. My aunt's actually in that. She was an extra. There are lots of movies filmed in Pittsburgh, but that's probably one of the most Pitsburgh movie ever made. They made in right in the hood.
Ladies and gentlemen: YOUR. PITTSBURGH. PIPERS!