On their debut album, Brooklyn band Big Thief delivered exactly what they called it: a Masterpiece.
Less than a year later, the group, led by the stunningly talented Adrianne Lenker, returns to give listeners more of the same. It continues to tell the kind of stories than only a person like Lenker can tell after having experienced a very unique first twenty-five years of life. She was born into a religious cult in Indianapolis before her parents moved her and her siblings around the Midwest starting at the age of four, then she eventually attended college and moved to New York City to begin Big Thief. Some of these stories are what we have heard on Masterpiece and continue to hear explored on Capacity.
However, for Lenker, the experience of releasing the albums is not as similar as listeners may believe. She told Stereogum, "A lot of those emotions were really raw when we were capturing them on Masterpiece, and I think on Capacity those emotions and experience are just settling in and now it's as if they've woven themselves into a bigger, deeper picture … I feel like Masterpiece was this beginning — like digging a shovel into the Earth and cracking the hardened topsoil."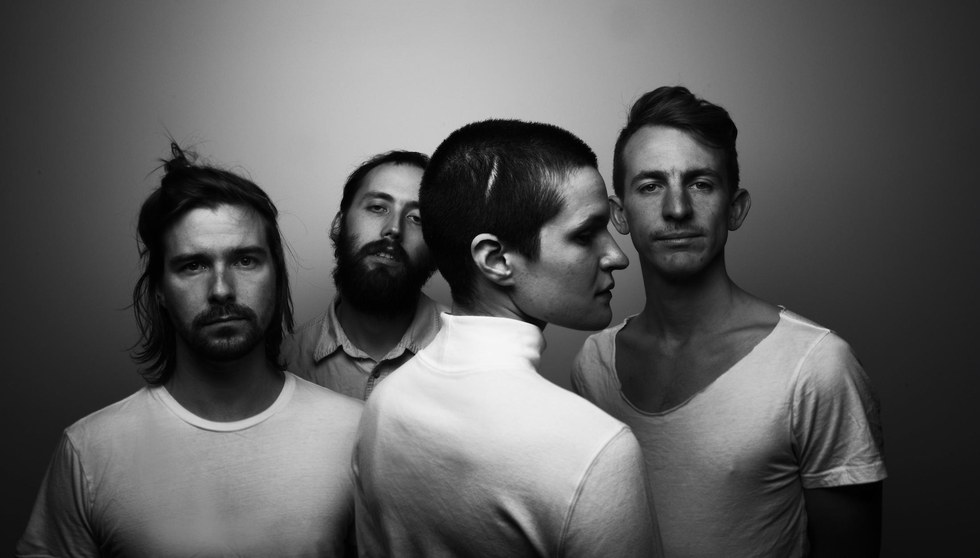 Shervin Lainez
Capacity does, indeed, deep-dive into the nitty gritty details of Lenker's life, giving the same sort of specificity. However, the material composing the sophomore release is also more diverse. While Masterpiece's title track enveloped us in a romance over a year, Capacity focuses more prominently on friendship, family, and even self love — arguably the more difficult aspects of life to capture.
Setting the heavy, analytical tone for the entire album is the opening track "Pretty Things," depicting the complicated understanding of a physical, sexual relationship. It introduces two of the recurring themes of the album: gender roles and fragility.
Lenker breaks whatever mold we might have thought to put Big Thief into, doing so in an untraditional format. Her voice is arguably even more vulnerable here than it ever approached on Masterpiece, cracking and cooing as plucked out guitar chords and external background noise fills the empty space. It's a brave place to start a sophomore body of work. It continues in this vein as the lyrics grow more intense and more questioning. Lenker sings: "There is an eating in my thighs / Wherein thunder and lighting / Men are baptized in their anger and fighting / Their deceit and lies." For a song that is all about everyone being a little bit woman and a little bit man, it makes the female presence not only known but powerful.

This continued question of gender carries out and even concludes the album. One of the first singles from the album, "Shark Smile," depicts a magical, all powerful woman named Evelyn who has the power to enchant us with a flash of the song's namesake smile. It's upbeat tempo and running narrative of being on a road trip in a cool car makes it worthy of an add to your summer playlist.
The concluding track, "Black Diamonds," similarly, discusses the ability to get lost in a person, this time their eyes being "like diamonds." It has Lenker pondering if she should allow herself to be made a woman, while seemingly wondering what this means in general if she is unable to leave the man she's painting a picture of, anyway. Could she make him a man, and what does that mean? Lenker doesn't seem too concerned that she hasn't figured this out yet. After all, how else could we have a third album?
These tracks are easier listening than some of the others, though they aren't without their dark elements ("Shark Smile" ends in a car accident while "Black Diamonds" has even more tears). They explore the happy side of emotion with as much seriousness as Big Thief is known for handling the darker times.
Less questioning and more declaratory narrative is the focus when Lenker opens up about her family on another single, "Mythological Beauty." It is a song about Lenker's mother, about whom she says, "There is a child inside you who's trying to raise a child in me," proving she has figured out the big secret all parents try to hide. Lenker also knows about her mother's other secrets, like the child she gave up for adoption. Giving us this information is why a song where Lenker experiences a near death accident herself remains about her mother — because it is about understanding exactly what the chorus proclaims, a message of trust: "You're all caught up inside / But you know the way."
While the title track on Capacity embodies the matured control and all-encompassing nature of the album (it takes on many, discombobulated, half-filled but somehow suspenseful sounds and wanders in themes in the way all of the songs do), "Mary" is the "Masterpiece" for Big Thief this time around.
The ballad is more than five-minutes long, something you will not realize when listening because of your investment in the friendship it depicts. Slowly, more of the band accompanies Lenker as she sings of being a child and remembering the impact of one of her first friends. We don't necessarily feel the same attachment to the objects and pictures Lenker names and grew up seeing, but we understand the importance of naming these things. On a larger scale, we understand the desire to want something simpler, to feel we're missing something even if we've left that something for something arguably bigger and better. The emptiness is reflected in the musical accompaniment (which we realize during the piano solo, with seagulls in the background) and it is equally brilliant and beautiful.
On their Bandcamp page, the band describes their sound:
"Listening to Big Thief is like the feeling of looking at a dog and suddenly marveling that it is like you but very not like you; when you are accustomed to looking at a dog and thinking 'dog', watching Big Thief is like forgetting the word 'dog' and looking at that naked animal and getting much closer to it and how different it is to you."
Nothing is more true of Capacity. It will make the listener question what it means to label anyone and anything in our lives, and why the thought of having to put people in these categories can often make us upset. At least Lenker's voice will be help soothe the streaming of our tears.
You can follow Big Thief on Facebook, Twitter, and Instagram. Capacity will be available everywhere, including Bandcamp and Spotify, June 9 via Saddle Creek.
---
Rachel A.G. Gilman is a writer, a radio producer, and probably the girl wearing the Kinks shirt. Follow her on Twitter.