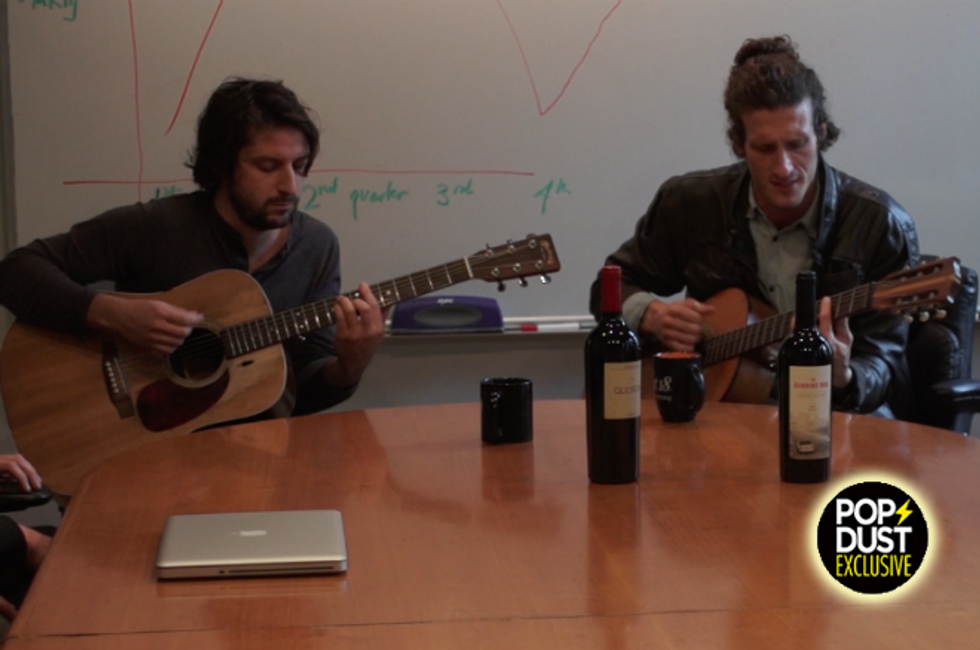 Enter the boardroom.
Hear the conference call cackles, keys clicking, and crunching numbers: a corporate crescendo, culminating beneath the powerful silence of PowerPoint… pointing.
But not today.
Sitting at the head of the table, two guitar-wielding hipster-types (that I'd seen before only on YouTube and music blogs) joke with the camera crew. And they're fucking funny. The 'hipsters' with guitars? David Shaw and Zack Feinberg, the frontman and lead guitarist of The Revivalists, a rock/soul band, which - I had been told by friends - are a big fucking deal. Oh, and turns out they're less Bedford Ave. than I pegged them for. A spontaneous groove possesses the two, and New Orleans spirit drips from every bluesy lick.
Okay, they're legit.
So what are these NOLA-transplants doing jamming in Popdust's New York HQ? Later, they're headlining at Irving Plaza; part of a massive, nationwide tour supporting their 3rd studio album, "Men Amongst Mountains," which debuted at #2 on the New Alternative Albums chart this past summer. My mission? Interview these guys, tape a live boardroom performance, and hopefully score some free drink tickets for the Irving show!
"That's really where we thrive is playing live… the spontaneity of it." David remarks during our interview, "We're all having fun together, which is important to us. It's one thing rock and roll is all about…  that live aspect. It's not about getting in a sterile environment and making sure every little minute thing is perfect." Fast-forward about 8 hours. Irving Plaza is PACKED. Sterile environment? No. This is the East Village, people.
But for a band that revels in the imperfections and rawness of live rock, these guys are TIGHT. I'm talking 7 (maybe more) musicians operating in lockstep, the rhythm section perfectly in sync, the guitar solos executed with precision, and the horns! Don't get me started on the horns. The set is bluesy, funky, classy (my compliments to the sax), and rocking. In most cases, attempting a blend that ambitious could be catastrophic. But here, we find balance, composed with the type of seasoned musicianship and chemistry that grows only from years of sweaty rehearsals, arduous road testing, and genuine camaraderie.
The audience is equally eclectic; I imagine an overcrowded L train just let off into the GA (probably because of train traffic ahead of us). From teens to seniors, hippies to bankers – everyone looks up at the stage, mesmerized. Perhaps it's David's long, bouncing hair, which, when let loose, makes me think he could pull off a mean Joey Ramone for Halloween. No, it's more likely the larger-than-life sax solos, guitar riffs that go from Johnny Cash to Guns N' Roses, and hooks so catchy they were Maroon 5 after 8 years straight of Mardi Gras. I get it now; there's something for everyone. Cool.
But let me be real. I'm out of my element here. These aren't the underground rappers (but maybe they should add a rapper? Eh?) or punks I'm used to watching-while-moshing. After a good 40 minutes into their set and a few 'mezcals on the rocks,' the songs are blending into each other. When the slower ballads come on, I'm trying hard not to check twitter. But then WHAM! Zack unleashes his inner-Hendrix, the force of which instantly banishes my iPhone back to its pockety dwelling. The percussion and horns stomp back with marching band fervor. Even Ed Williams, playing pedal-steel guitar - an instrument that requires sitting - is out of his seat, towering over the crowd like a righteous monarch of rock. I'm headbanging like I'm 13 at Ozzfest all over again.
Allow me to skip some corny pun about them reviving in me some love for good ol' American rock n roll and get to what I believe makes this band so special, so deserving of this packed house. They are commercially viable while bringing authenticity and soul to an industry dominated by bubble-gummy tween pop stars and "bands" that can't play instruments. In that kind of sonic landscape, The Revivalists are like… well… like Men Amongst Mountains (damn it, went with the pun anyway)!
But listen to the sea of New Yorkers cry for an encore. Watch the band as they pack a bus destined for Springsteen territory, playing another packed show the very next night. There is something real happening, and the momentum is building. If these guys don't end up becoming as huge as the mountains they face, I'm pretty sure they will at least be the dudes climbed to the top, jamming and joking the whole way up. Real talk.
Popdust would like to thank Anike Niemeyer for directing/editing The Revivalists live performance footage, and The Revivalists for letting us interview them and come to their show!