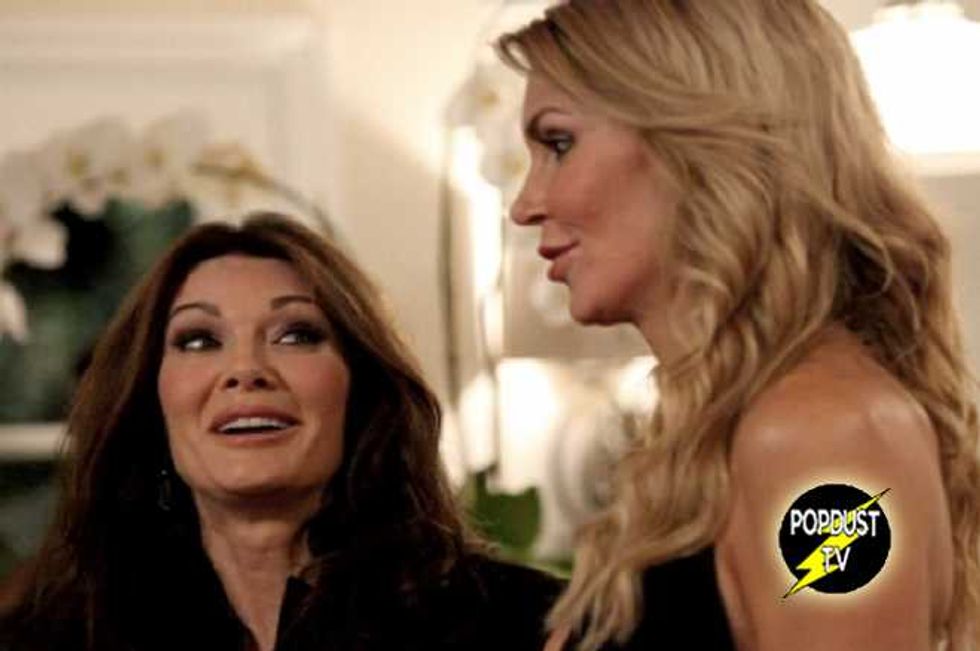 On last night's Real Housewives of Beverly Hills, everyone's very favorite 90210 resident bad girl, Brandi Glanville, was hosting a house warming party at her brand new pad—which I may add, is pretty damn sick.
Following years of turmoil and struggles after her scumbag then-husband, Eddie Cibrian, cheated on her with Leann Rimes, Brandi finally feels like this is the start of the rest of her life. We'll drink to that girlfriend!
Meanwhile, Kyle Richards was at her house getting ready for the shindig. Despite their past drama, Kyle seemed genuinely happy for Brandi. Someone who wasn't so happy for Brandi? Lisa Vanderpump….But more on that later.
Yolanda Foster and the newest bitch on the block, Eileen Davidson, made their way down from Malibu. Lisa Rinna and her incredible lips were also in attendance. She said she admires Brandi and can relate to her because she's a hustler. She understands that as a single mom she has to do whatever she can to provide for herself and her child.
As Popdust previously reported, last week, Brandi practically begged Queen Vanderpump to come to her party while at Kyle's backyard BBQ. Surprisingly, the British beauty deigned to grace the party goers with her regal presence and Brandi looked like she shit herself. Queen V, who looked as enthused as a dying cow to be there, said that it was easier for her to pretend and play nice, than stir the pot and feed into the drama. Meanwhile, Adrienne Maloof and her ratchet extensions also came out to play for the evening, as well as Leeza Gibbons…. 'Twas a truly motley crew, ya'll.
Lisa V walked over and greeted Brandi's parents—they began to talk about Brandi's crazy temper and Lisa said she blamed them. Oh, how sweet! Thankfully, they appeared to know she's certified for a straight jacket, so they took her for what she is and just rolled with her insanity.
Talking of insanity, later in the evening, Kim Richards decided to toast to Brandi and her success. While it was nice for like 5 seconds, it turned corny pretty damn fast. All the women stood up and gave a speech, saying how amazing Brandi is….like they were giving the eulogy at her funeral. Side note—remember when Brandi called Kim a meth addict? Their friendship warms my blackened little heart.
Later, Kyle sat down with Brandi to recap the night. They immediately brought up Lisa V…While Brandi said she was thrilled that Lisa actually came to the party, she admitted she felt that she was now in a much better place than when they were friends. However, she still wants to sit down with her to talk things out.
Lisa Rinna was guest-hosting Access Hollywood. She talked about the need to stay relevant in Tinsel Town, so any job that comes her way is exciting. Truth be told, she's the coolest chick of them all. She's shameless and she owns it…plus, she just seems to be a really good sort, and a girls' girl… gotta love that.
Meanwhile, Eileen went paddle boarding in Malibu. She spoke about how vital it is to stay in shape in the entertainment business, so she tries to keep her workouts fun and exciting. Honey, there is absolutely nothing fun or exciting about the gym.
Kyle was at home with her family and they all praised Portia for making a sandwich like she literally just found a miraculous solution to the problem of world hunger. Kyle said that Mauricio had never made a sandwich in his life and that none of her kids know how to do laundry. Really? I am SHOCKED.
Lisa V invited all the ladies to a charity function she was hosting at PUMP. The event was supporting young foster girls, so she asked everyone to bring old dresses and accessories from their closets. Lisa R, Eileen and Yolanda all arrived with their clothes in hand. Yolanda made a snarky comment to Lisa about how she didn't invite her to the PUMP opening. Lisa couldn't have given two shits. Brandi arrived shortly after. Despite things being "fine" between them, you could still cut the tension with a knife from PUMP's kitchen. Brandi admits that Lisa makes her nervous and she's not even sure why. Kim showed up and turned down the booze for some coffee.
Brandi was happily kissing Lisa's ass the entire event. In an attempt to break the ice, she ripped a branch off Lisa's tree. Let's just say the queen wasn't too pleased. Brandi tried to make it better by asking her if she wanted her to lick her pussy.
Yep. Really. You read that correctly.
The conversation at the table then took a quick turn to discussing the term "cunnilingus". Yolanda had no fucking clue what it means. She thought it was the name of a Chinese vegetable or a cigarette. Lisa said she needed to leave to go to SUR, so the ladies relocated to a different restaurant for another glass of wine.
While Brandi was casually asking to eat Lisa's pussy, she also asked her to go to lunch. Lisa would rather stick her hand in a blender, but told her she'd "think about it".
The Real Housewives of Beverly Hills airs every Tuesday on Bravo at 9pm.