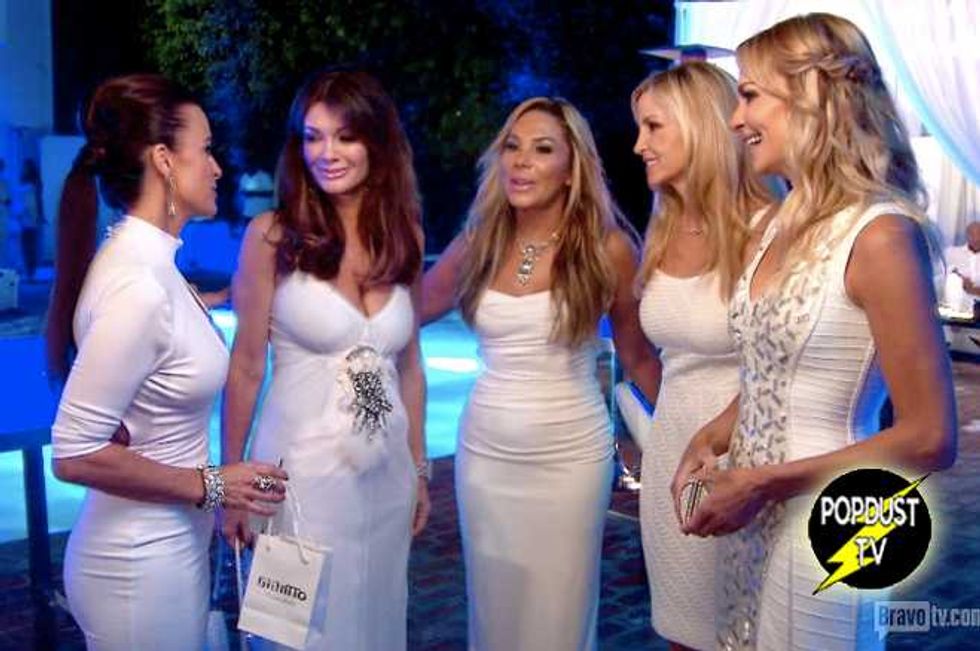 The Real Housewives of Beverly Hills are back and better than ever!
Having had a pretty rough season last year with many of the group's friendships ending, it seemed like it couldn't get much worse. Two new cast members have joined the gang to shake things up like only the housewives of Beverly Hills know how to do!
Kyle Richards is in the midst of planning her annual "White Party". The bash, which once was a backyard party at Kyle's home, has turned into a huge event that every shameless reality star in Hollywood fights to attend. In their defense, that Fatburger truck outside her house is enough to make me fight a few bitches for a spot on that guest list, too.
Beverly Hills' resident shit starter Brandi Glanville is back and seeming slightly subdued. After last season, Brandi managed to ruin most of her friendships with the other housewives, including her former bestie Lisa Vanderpump. Brandi decided to go visit Yolanda Foster in Malibu at her home that is the size of a small country. The two took a walk on the beach and discussed the ins and outs of each other's lives. Yolanda talks about her ever changing family, as her two daughters are taking over the modeling world and going to school in New York. Brandi, who seems to never keep a home for more than a month, says that everything is fine and dandy in her life - we're not buying it. Last season she turned everyone against Lisa and now she's still trying to get back in her good graces. Bye Felicia.
Lisa and Kyle met for lunch to talk about the status of their friendship. It's no secret that they have had a roller coaster relationship since the show began, but last season really took a toll after Lisa revealed rumors of Kyle's husband, Mauricio and his infidelity. They hashed it out over a few glasses of wine because being drunk around this crew is the only way to survive. Kyle feels that Lisa can never take accountability for her actions, but they agree to bury the hatchet and move forward. They'll be screaming at each other by episode 3.
Lisa Rinna has joined the cast and her 5 five minutes of screen time have confirmed that she is batshit crazy and perfect for this hot mess of a television show. She lives in Beverly Hills with her husband, Harry Hamlin, who she creepily calls "the king", as well as their two teenage daughters. She's a self-proclaimed family woman and says she'll do anything for a dollar----the main ingredients of a lunatic Real Housewife. We're sold, Rinna!
The day of the White Party has arrived and all the women are expected to be in attendance. Lisa's husband, Ken, would rather play in oncoming traffic than go to the party and his former friend, Brandi, feels the same way. She is rummaging around her shady condo (seriously thought why does this chick have a new house every five minutes?) in a robe talking about how nervous she is to see the other women. After last season and the shit you caused, we'd be buggin' out a little bit too.
The original bitches of 90210 returned to the scene! Camille Grammer arrived looking gorgeous and healthy after her battle with cancer last year. Adrienne Maloof brought along her 20-something year old new boyfriend, as well as a new face that cannot move. Taylor Armstrong and her new husband made their first appearance since tying the knot earlier this year. Lisa arrived with pink streaks in her hair.
"My dog is pink so why shouldn't my pussy be?" was a statement from Vanderpump's mouth that made us throw up in our mouths a bit. Brandi stood in the corner for most of the evening looking like she could shit her pants at any given second. Hmmmm, dare we say karma? Anyway, she asked if she could pull Adrienne aside to speak with her. Brandi and Adrienne infamously had a falling out when Brandi revealed that Adrienne had her children via a surrogate. Adrienne agreed to meet for coffee, but something tells us the claws are gonna come out………or the little anorexic barking Chihuahua.
The Real Housewives of Beverly Hills airs Tuesdays at 9pm on Bravo!