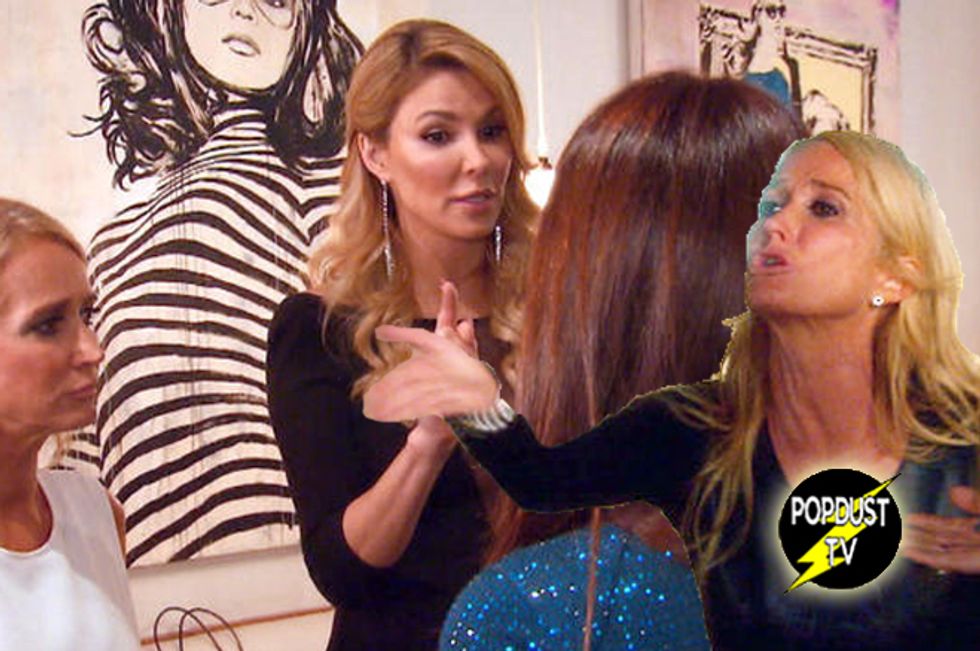 This week's Real Housewives of Beverly Hills was almost uncomfortable to watch - there really is such a thing as TOO much drama!
Kyle Richards was at her Beverly Hills boutique trying on designer duds and planning her upcoming party. She's throwing a mixer for all her gay friends. Her goal of the party: get the gays off Grindr! Matthew, one of the gay party planners, informed Kyle that there is a lack of tops in West Hollywood. LOL. She told them that if she were gay, she would definitely be a top. LOL again. This party should be an absolute joke, yet kind of amazing.
Yolanda Foster was getting ready to go to Europe on a trip with her husband David Foster and Andrea Bocelli. Same, girl. She talked about having packing down to a science. She was also still whining about her daughter moving to New York. For the 100th time, she's in college… not prison. The only child left in her house is her teenage son, who she told to not go to the beach with his friends because there "will be a lot of alcohol". LOL for the third time.
Brandi Glanville visited Kim Richards at her home. After last week's shit show, Brandi was checking in on her current state. Many thought Kim was under the influence at the party, however she claimed she was simply on pain medicine for the pain she was experiencing from a fractured rib and a hernia. Kim mentioned that she had talked to Kyle since the party. Brandi talked a bunch of shit about Kyle about how she doesn't trust her or think she has Kim's best intentions at heart. Brandi told Kim that she is better off being around her than with Kyle. Holy balls, Batman. LOL for the fourth time!
Over at Lisa Vanderpump's, she was spending time with her husband, Ken, and their son, Max. Lisa recently promoted Max at one of her restaurant, so he told her how he's happy to be making more money. Last week, Max expressed his interest in finding his birth parents. Lisa and Max talked about taking a swab test, which could help identify more about his origins. He asked what his real last name was and she told him hell no. She's one boss ass bitch. He started questioning Ken and Lisa about their heritage. Ken told him that he was from Japan and Lisa was from Nigeria….
It's the night of Kyle's party and all the ladies were getting ready… including Brandi, who was not invited. Has that ever stopped her before? Hell no. The icing on the cake is that KIM was bringing her! Well, that should totally end well. Kim and Brandi walked into the party - and if looks could kill, Brandi would have been dead as a doornail. Lisa Rinna greeted Brandi nicely, but she was pretty much the only one. Brandi has pissed off Kyle, Lisa, and Eileen Davidson this season, so no one was running to give her a hug. Kyle said she made it clear to Kim about how she felt about Kim and feels betrayed by her bringing Brandi behind her back. Kim felt that Kyle and Brandi were both being awkward about what happened, so by bringing Brandi she felt she was breaking the ice.
Lisa V asked Brandi if she was on her best behavior. Yeah, right. Kyle came over an apologized for grabbing Brandi's arm at the party, but felt she shouldn't have been involved in Kim and Kyle's argument. Brandi, who is all the sudden Mother Teresa, said you should never touch someone like that. Yeah, coming from the chick that tossed wine on someone because they pissed her off.
Then the war begins: First, Brandi called Kyle a whore and a bad sister. Kim told Kyle she came over to start a fight. Kyle called Brandi a "fucking liar". Brandi got in her face and Kyle went ape shit. Kyle told her to leave and that she "wasn't wanted here", to which Brandi replied, "neither are you - ask your husband". Brandi is as dirty as they come.
These bitches are cray.
The Real Housewives of Beverly Hills airs every Tuesday at 9pm on Bravo!