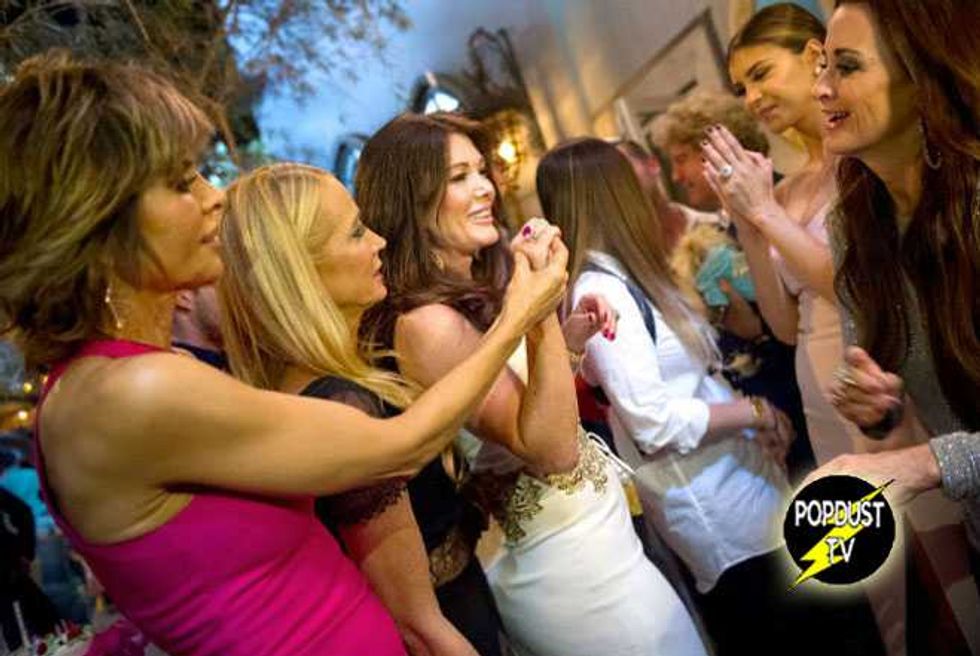 We're back with the Real Housewives of Beverly Hills and the drama rages on!
We are thrown back into the very redundant storyline of Kim Richards maybe, or maybe not, being sober anymore. She's a hot a mess whether she's back on the booze or not, and these woman are taking every opportunity to let her know that.
Brandi Glanville took a trip to Yolanda Foster's house in Malibu. Just an FYI—when I die, bury me in this amazeballs house.
Anyhoo, I was quite confused by this visit because, as Popdust previously reported, last episode Brandi accused Yolanda's 17-year-old daughter of being an alcoholic, which was so strange and super aggressive. Brandi is your typical coward. She gets backed in a corner, gets afraid, and spits fire. Yolanda should have slapped the bitch last week and sent her ass walking down Pacific Coast Highway.
Regardless, it seemed she forgot about it, or just knows that Brandi is batshit crazy. Yolanda asked Brandi to go on a 21 day cleanse, which means no alcohol. Brandi's calling card is being a drunk lunatic. This cleanse will last for 12 hours max, peeps.
Kyle Richards and Lisa Vanderpump discussed the current situation with Kim. The ladies sipped tea and both agreed that Brandi plays a big role in Kim's current situation—whatever it may be. Lisa still hates Brandi, so she happily takes any opportunity to blame something on her. In Brandi's defense, she truly is all these bitches talk about. If Brandi didn't get hammered and act a fool I'm afraid the show would be a bunch of middle aged woman discussing their latest trip to Bed Bath and Beyond.
Eileen Davidson was having dinner with her husband, Eddie. These two have been married for like 100 years, but they're still pretty awkward. I definitely took a walk to the kitchen during this snooze fest scene. Eddie wrote a screenplay and wanted all of Eileen's actress friends to come do a table read. Actress is a very loose term in LA…
Lisa Rinna and Queen Vanderpump rode together to Eileen's house for the table read. Rinna is still hell bent that Kim is back on the booze train. She thinks it might be a good idea to stage an intervention. It's honestly cute that these loonies think their interventions ever A) go well and B) come from a good place.
Despite her slight obsession with Kim's past addict ways, I do genuinely think Lisa Rinna is concerned for her. Vanderpump wants no parts in said intervention however—and I can't blame her. These bitches are cray cray.
Brandi was at the beach with her gorgeous BFF, Jennifer Gimenez. She is a recovering addict and has been sober for many years, so she was the perfect person to discuss Kim's current situation with. Ironically enough, Ken called Brandi to invite her to Lisa's upcoming birthday party. He seemed SO thrilled about it. If he had the choice between willingly spending an evening with Brandi or playing in oncoming traffic, homeboy would be front and center on Sunset Blvd.
Cut to Eileen's house for the table read. All the ladies are there, minus Brandi and Yolanda. Yolanda was at home taking her 65 vitamins and planning a scavenger hunt. Another day in the life. Back at the table read and it's a beautiful fucking train wreck. These women truly believe that they are all Oscar winning actresses. Kim was playing with a puppet. God bless her.
Brandi and Kim were en route to Lisa's birthday party. They brought along Paris Hilton's mom, Kathy, who looked like she would have rather spent her evening in an electric chair. The party looked pretty odd because other than Mohammed, Queen Vanderpump's bestie, there were only Real Housewives in attendance. Ken and Lisa were on their way to the party. Lisa thought they were headed to Chateau Marmont, but Ken insisted there was an issue at Pump that they needed to deal with before. Much to her surprise, she walked into a surprise party full of Botoxed plastic surgeried psychopaths.
Lisa gave a speech thanking everyone but Brandi for coming—but, when she got back from the ladies room, Lisa asked her to sing a song because she knows she hates doing so. Brandi sang and it sounded like a dying animal. Then, the rest of the women got up for a stab at a potential American Idol audition. Now all of the women were singing and I wanted to hurt myself. Brandi called them the "Menopause Mamas". Spot fucking on.
Next week - looks like more Kim drama!
Don't miss The Real Housewives of Beverly Hills Tuesdays at 9pm on Bravo.