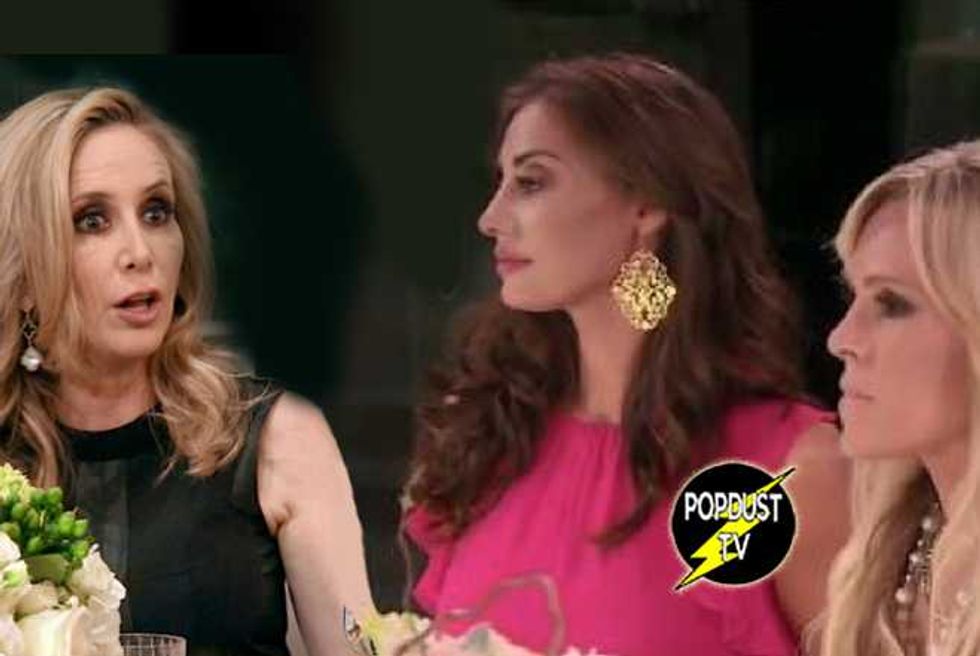 We're back at the dinner party from hell!
This week's Real Housewives of Orange County highlighted Shannon Beador's meltdown at Lizzie Rovsek's beachfront dinner party.
Shannon screamed like a wild animal, but rightfully so. Tamra Judge and her Heather Dubrow have appointed themselves as the bitchiest girls in the OC this season. Tamra, who lied to Shannon from the get-go about how Heather found out about her marriage, claims she never told Shannon that Terry Dubrow had plans to "take the Beador's down".
Shannon excused herself from the party and Vicki Gunvalson quickly followed. Shannon was visibly distraught and explained that she cannot handle it when people accuse her of something she didn't do. Vicki made it extremely clear that she was on Team Shannon.
Then, Heather asked her doctor hubby if they should call an ambulance for Shannon. Yes, you read that correctly. Heather believed she was having a psychotic break. What a moron. Heather, do us all a favor and get off your high horse for just a few minutes. Tamra and Heather are nothing more than mean girls who got caught red handed in a pool of lies.
Meanwhile, as the plastic surgeried wives ran around screaming at one another, Lizzie's husband desperately wanted some Fireball shots. Smart, smart man. He put the breaks on the idiotic ambulance idea.
The next day, Heather, Tamra, and random chick Danielle met for lunch. Tamra revealed that she was wasted for half the night so she didn't really remember much. Classic. However, she still swore she never said that Terry told her he was going to "take the Beador's down". She then went on to say that Shannon drinks vodka straight a lot. Keep in mind that statement came from a 40-something-year-old woman who blacked out at a dinner party.
Vicki had lunch with the super creepy Brooks Ayers. They discussed the idea of moving in together, however Vicki claimed to be very concerned how her daughter Briana would take the news. So, she decided to have a therapy session with her. Briana is a smart girl and knows whats up. She's aware that as soon as she moves to Oklahoma Brooks will be swooping in on Vicki's home. Briana cried and discussed how she could never make her own decisions and Vicki makes everything about herself. Well, that sounds about right….
Meanwhile, Tamra's son Ryan stopped by her house to inform her that he would be moving to Northern California with some chick that he met on Instagram. Oh, and this chick also has three children. Naturally, Tamra had a fit and was not happy with the news. She asked if she could meet her, so Ryan brought her over for dinner.
The chick, Sarah, is a dead ringer for Tamra. Yeah, that's not creepy… AT ALL…Tamra even said she felt she was being replaced because the similarities were so striking. Basically, the dinner was a hot mess. Then, Ryan and Sarah dropped the bomb that they were getting married and already set a date. Tamra wailed like a dying animal. The best line of the entire night was by Eddie when, instead of being sympathetic, he just told her to "go to bed".
Karma is a beautiful thing, Mrs. Judge.
The Real Housewives of Orange County airs Mondays at 9pm on Bravo.