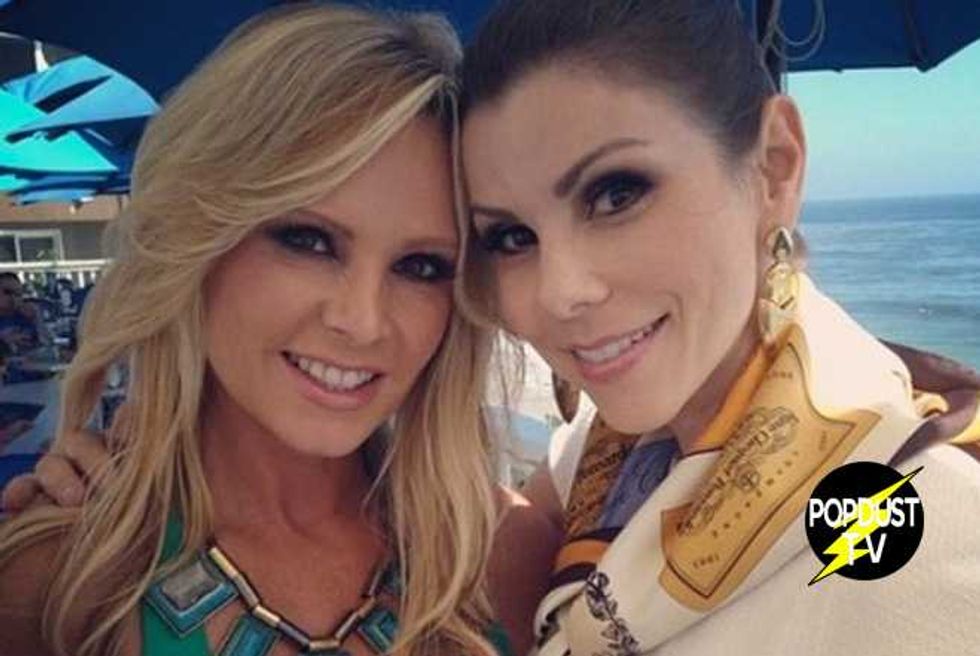 The Real Housewives of Orange County are back after the holidays—and Tamra Judge and Heather Dubrow have kissed and made up—for now!
Time has passed since Shannon Beador's explosive Christmas bash.
As Popdust previously reported, Tamra and Heather went at it over Heather's appearance on Good Day LA. Heather offered Tamra a guest spot to promote her fitness studio. Instead of graciously accepting, she brought up an incident six months prior of when Heather guest hosted when a competing fitness studio was on the show. Naturally, it started a war.
Vicki Gunvalson met with Heather to discuss the drama from Shannon's party. Vicki made it very clear that she did not agree with Tamra and was happily siding with Heather on this one. Vicki said she was used to being on the other side of Tamra's sometimes-wicked tongue, so she sympathized with Heather.
Regardless of their argument, Tamra and Eddie Judge agreed to appear on Good Day LA. The day arrived and things between Tamra and Heather couldn't have been more awkward. Heather introduced Tamra and Eddie as "her friends from the OC" (yikes…..). The segment was uncomfortable from start to finish. Heather seemed like she would have rather lit herself on fire or spent the time chewing glass.
A few days later, Tamra finally called Heather to sit down and talk about their argument. While Tamra still believes Heather was in the wrong for the Good Day LA nonsense, she revealed the true issue behind her recent feelings toward her. Tamra was deeply hurt that Heather repeated a conversation she had with her regarding her desire to have a child with Eddie. Heather seemed truly sorry and offered what seemed to be a really genuine apology. The ladies kissed and made up like adults (shocking, right?!) and got right back on the friendship track.
Meanwhile, it has been no secret all season that Shannon and her husband David were having marital problems. Shannon broke down and revealed that things were worse than ever. Because the couple has trouble communicating, they often write their feelings down about one another. David revealed in an email (red flag #1, honey!) that he would like to move out. Naturally, Shannon was devastated. She turned to Tamra as a shoulder to cry on because Tamra is no stranger to divorce. Things aren't looking so hot in the OC……
The Real Housewives of Orange County airs Mondays at 9pm on Bravo.