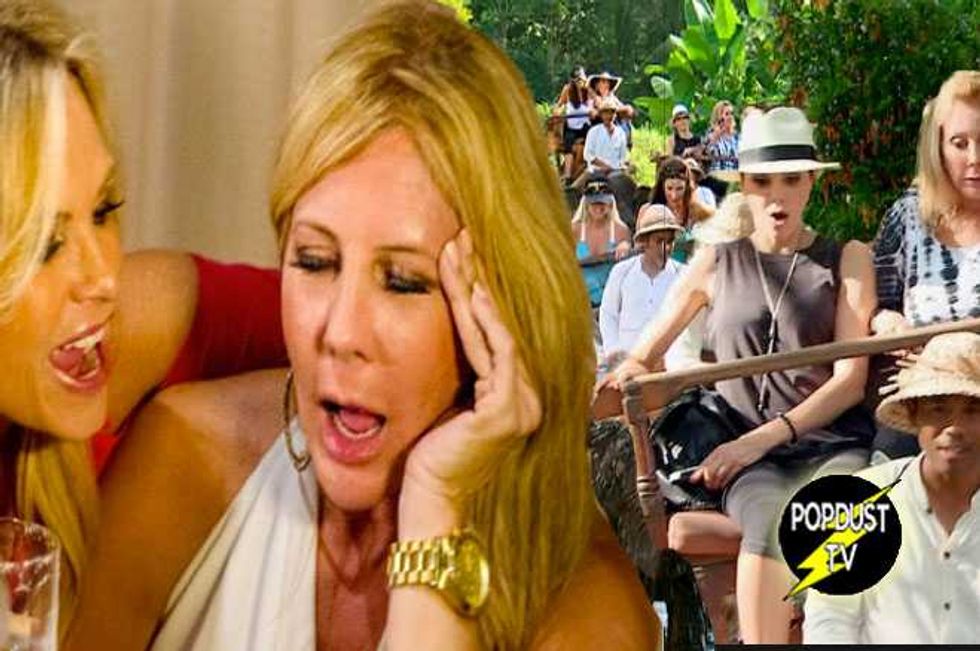 The crazy old broads of Real Housewives of Orange County are still in Bali!
No matter how calm and peaceful Bali is, rest assured these ladies will make it anything but that.
Last week, Lizzie Rovsek decided to keep the drama about her pathetic birthday party going. She confronted Tamra Judge about not attending the shindig, in addition to making fun of her outfit the next day. Lizzie also informed Shannon Beador of all the BS that Tamra has said behind her back. Naturally, Shannon was pissed (what else is new?) and told the ladies to be prepared for a war.
The following morning, Tamra made it very clear that she was pissed at Heather Dubrow from the night before. During last week's episode, Tamra denied that she made fun of Lizzie's outfit. Yes, this is really what these women are fighting about. Heather confirmed that she did, in fact, make a sly remark about Lizzie's ensemble. Of course, Tamra didn't like it. Heather asked her why she was being standoffish the next morning, to which she replied that Heather was "stirring shit". Kettle, meet pot.
Tamra, all of the sudden, is furious at Lizzie because of a comment she made at Heather's Valentines Day dinner. According to Tamra, Lizzie turned to her after a game of "Shag, Marry, Kill" and said "you're just mad because your husband wants to fuck me". Lizzie claims she never said that.
Regardless of the nonsense drama, the ladies continued to explore Bali together. They visited a famous temple, which flew right over Tamra and Vicki Gunvalson's heads. Spirituality and peace clearly is not made for the Housewives of Orange County.
Shannon and Vicki decided to have a spa day, while the rest of the ladies hung by the pool or went bike riding. Shannon spilled the dirt on her conversation with Lizzie about Tamra not being a good friend to everyone. Lizzie and Danielle (the random chick that keeps popping up all over) joined in on the conversation to tell Vicki about all the stuff she has been saying about her boyfriend, Creepy Brooks.
Vicki truly believed that Tamra was in support of her relationship with Creepy Brooks. She seemed blindsided by the news and, of course, the tears came flying. She thinks that Tamra is a dark person that just can't seem to find peace. You are hitting the nail on the head, Vicki G. The girls continued to fuel Vicki's fire by telling her how shitty of a friend Tamra is. Meanwhile, Heather and Tamra went for a bike ride through the fields of Bali. These two seemed carefree and had no clue what was going on back at the hotel. To give you an idea of how carefree they were, the two idiots tried to help a local woman pick rice.
Later, the ladies joined up for dinner.
HAVE THEY NOT LEARNED THAT DINNER TOGETHER NEVER ENDS WELL? EAT ALONE.
Shannon and Lizzie both planned to confront Tamra in front of everyone, while Vicki was choosing to go the silent route. Tamra noticed very quickly that Vicki was acting odd. In a strange turn of events, Shannon thanked Heather for inviting her on the trip. In return, Heather apologized for publicly discussing Shannon and David's marriage. Is hell freezing over? Nope. Right after the apology, Heather brings it right back to her by saying that her husband is pissed at David for making a crude comment 9000 years ago about "spreading her legs". Dear God, these women need hobbies. Shannon apologized on behalf of David.
Tamra excused herself to go to the restroom, so Vicki divulged to Heather what happened earlier in the day. She told her how upset she is that Tamra has been talking poorly about Brooks. Shannon confronted Tamra about all the stuff that she has said about her to Lizzie. Tamra, of course, tried to spin it on to Lizzie by saying that she was just trying to take the heat off of herself. They are still fighting about the dumb comment made at the Valentines Day dinner. Lizzie denies it and Tamra swears it was said. You decide.
Shannon continued to give it to Tamra. She said that she believes Tamra made up that the Dubrows said they wanted to take the Beadors down. She thinks that she was just stirring the pot. Uhhhh, ya think?! Tamra then flies away from the table and does the most dramatic run down the hotel lobby screaming, "you will never see my face again". Gosh, if we were only so lucky.
Shannon told Heather that Tamra said she does not consider her a true friend and that having her in her wedding was just for show. Lizzie added that she called her "anorexic". Thank you, beauty queen. Heather seemed upset, but went to Tamra's room to speak to her. Heather asked her about what was said at dinner, but Tamra swears their friendship is genuine and that she never said that.
So, we can recap this episode in one sentence: Everyone hates Tamra.