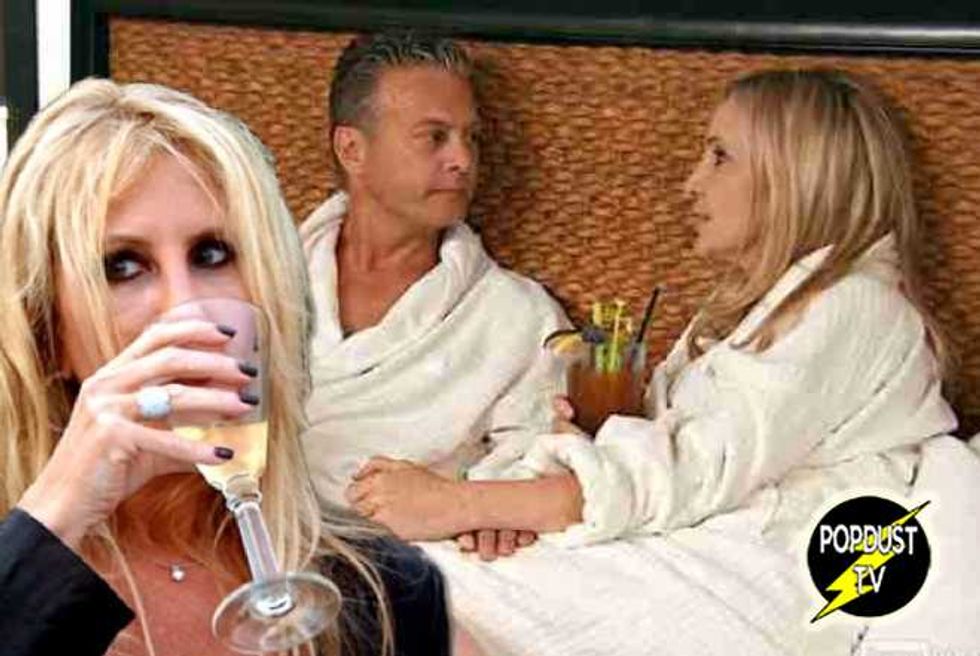 Let's flash back to last week's episode of Real Housewives of Orange County, when Shannon Beador and husband David were fighting at the dinner table about tequila, yet telling the world that their marriage was peaches and cream. The two decided to convince themselves that they are, in fact, in a healthy marriage and went out to bar with Vicki Gunvalson and creepy Brooks Ayers. Perhaps they fought about a different type of liquor later that evening? In addition, Shannon and Vicki both got on top of the bar. Yes, you read that correctly.
Tamra Judge and husband Eddie still had their annoying as hell robot baby to take care of. Eddie made it very clear that he does not want a child and Tamra ultimately admitted that she may no longer have the energy to raise a newborn. Meanwhile, the couple was busy planning the one-year anniversary party for their workout studio, CUT Fitness. Tamra's son, Ryan, suggested they redo the floors throughout the studio. Eddie, who looked like he wanted to drill something through Ryan's skull, didn't seem too thrilled about the $30,000 mistake.
Back in Mexico, Vicki, Shannon, and their husbands went horseback riding. Vicki was trying her hardest to be Puerto Vallarta's resident marriage counselor—which, let's face it, is akin to booking Hannibal Lector as keynote speaker at a vegan convention. Anyway, Dr. Gunvalson subsequently informed the group that after horseback riding Shannon and David would be having lunch by themselves…..
Shannon and David sat down for lunch and basically said what the world already knows—their marriage is in the shitter. Shannon admits she hasn't been feeling secure in their relationship for quite a while.
It is clear that the email David sent Shannon suggesting they get divorced fueled her fire. David doesn't like how controlling Shannon is. Shannon also suggested that he has been drinking too much. Hey, if we had to listen to Shannon complain 24/7, we'd be boozin' pretty hard too! Essentially, Shannon feels like David does not love her. David feels like Shannon just isn't content with herself. However, although they both admit that they aren't happy, divorce isn't in the cards….yet.
Later that evening, Shannon, David, Vicki, and creepy Brooks met for an oceanfront dinner. Creepy Brooks decided to bring up the subject of Tamra. GREAT IDEA YOU CREEPY MORON. He says he hasn't felt the same about her since the infamous screaming match between Vicki and Tamra last season. Shannon and David aren't her biggest fans either considering Newport Beach (and the whole world) now know that their marriage is pretty much up in flames.
Next week's episode looks like pure reality TV gold. Shannon and Heather get into it yet again, and the preview shows Shannon screaming like an uncaged zoo animal.
The Real Housewives of Orange County airs every Monday on Bravo.