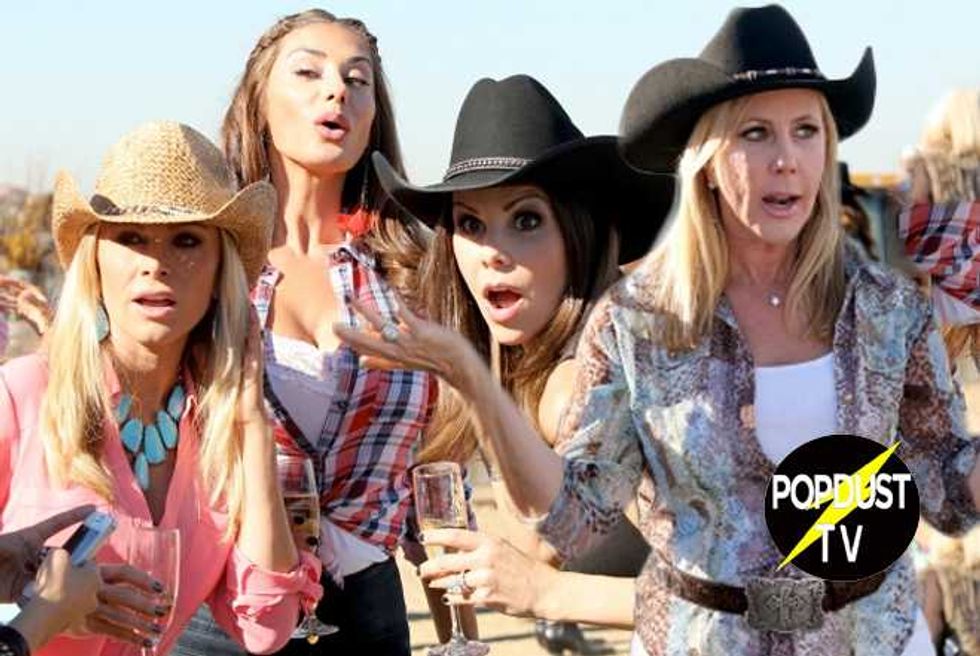 This week's episode of the Real Housewives of Orange County was all about the hoe down…..and a little throw down.
Heather Dubrow, who is building a massive new home in Newport Beach, decided to celebrate breaking ground for the new mansion by hosting a hoe down themed bash.
In preparation, Vicki Gunvalson and Shannon Beador met to pick out some country attire. While shopping, the ladies discussed last week's eventful dinner where Vicki called the new girl "Izzie", Heather called Shanon "scary angry", and they fought over the seating arrangement all night.
Despite their prior tiff, Shannon said she was excited to be neighbors.
Meanwhile, Vicki's daughter Briana stopped by Vicki's office to ask her to help pick out a house…..in Oklahoma. Of course, Vicki nearly had heart failure. Briana is moving with her husband and son because of his military obligations.
The day of the hoe down arrived and it was an afternoon full of Champs, onion rings, and drama! Shannon arrived late to the shindig, which really pissed Queen Dubrow off. Naturally, she confronted Shannon asking why she was late. She then told her to be more respectful next time and let her know ahead of time if she wasn't going to arrive on time.
Note to self: don't EVER be late or steal Heather Dubrow's chair!
Tamra Judge had a chat with Lizzie Rovsek about Vicki. She was trying to warn the former beauty queen that Vicki basically has no filter. She told Lizzie to stand her ground with Vicki because typically no one does. Naturally, Lizzie was confused as to why Tamra was telling her all this and trying to help her out.
Meanwhile, Heather was asking party guests to write well wishes for her family to put in a jar and lay in the foundation of the new home. Tamra beautifully and eloquently wrote: 'I'm so happy that you're rich, and you're building a big goddamn house.' Ooh, lucky you."
Tamra, Vicki, and Heather sit down for a chat and to discuss the events of the day. Vicki pretended to snore during Heather's rehashing of her and Shannon's unresolved issues. Heather got up in a fit and ran to Terry. Meanwhile, Tamra scolded Vicki like her 4 year old child telling her she needs to stop doing that. Vicki was not the least bit concerned and said that Heather just needs to get over it.
Then, the ladies tried to lighten the mood with none other than a mechanical bull. Each housewife took a stab at riding it. However, after Heather got of the bull she told them to pump up the volume when Tamra got on it. Tamra flew off the bull and almost broke her hand.
So, all in all, terrific party, right? Drama, name-calling, and broken bones. Typical day in the world of the Real Housewives of Orange County.
The Real Housewives of Orange County airs Mondays at 9pm on Bravo.