WHAT'S TRENDING
It's like Nazi-punching-meme-Christmas! Best memes of Richard Spencer getting punched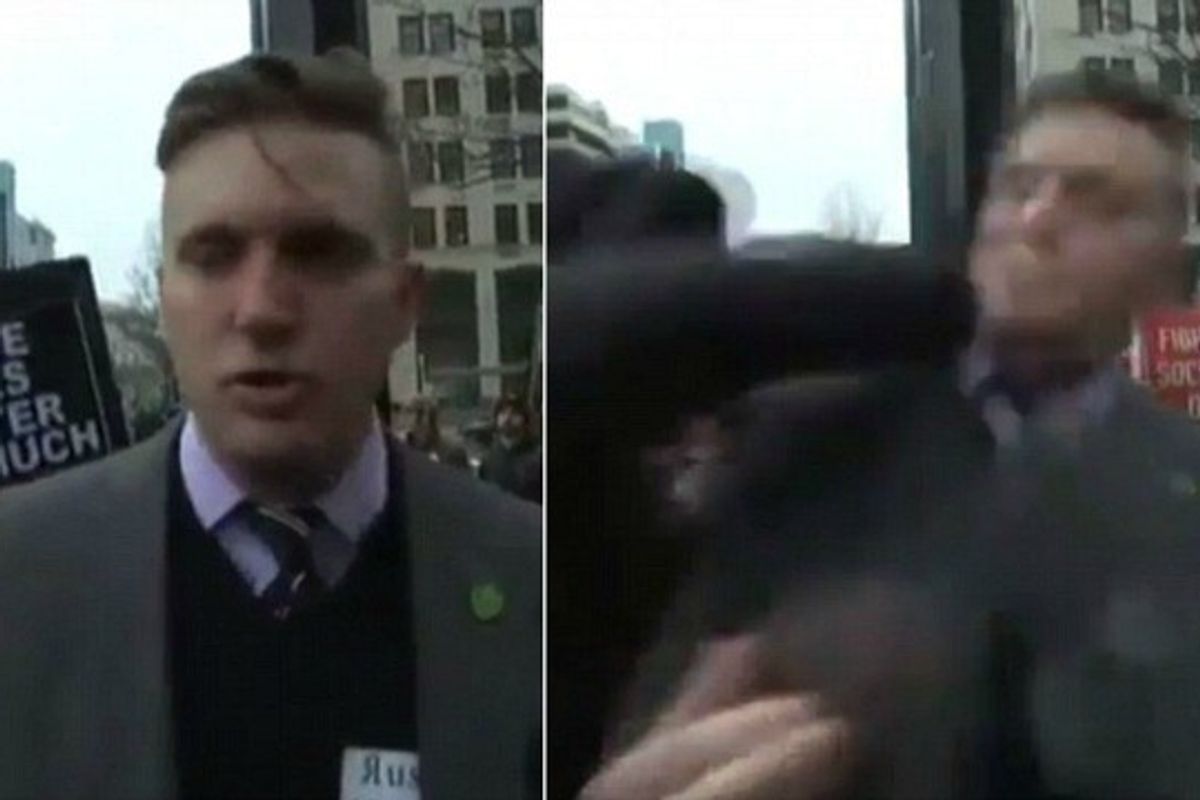 Three days after the inauguration of Donald Trump, the infamous video of Richard Spencer getting punched during an interview with the Australian Broadcasting Corporation has been meme'd many times over.
We're not here to debate whether or not it's okay to punch a Nazi (because the New York Times has already done a really good job with that), or if Richard Spencer is a Nazi or not. Richard Spencer has spoken for himself.
We're here to bring you the best video edits of Richard Spencer getting punched in the face, because it may just be the "meme to end all memes." The meme of your meme dreams. It's like Nazi-punching-meme-Christmas (if you celebrate Christmas)!
1

.

"Born in the USA"
this is as patriotic as I've felt in a long time https://t.co/yiVxd8semM

— . (@.) 1484963068.0
8:49PM, Friday night, PESTERING PUPPETS tweeted: "watch this you idiots." 5 viral hours and 17,000 retweets later, they tweeted "okay please stop PLEASE STOP." An instant classic.
2

.

The "Hamilton" Remix
Literal Nazi Richard Spencer punched in the face, #Hamilton remix https://t.co/zx3ntPUTRY

— Nate Coraor (@Nate Coraor) 1484972229.0
This video is set to "Right Hand Man" from the hit Broadway Musical Hamilton.
3

.

"Nazi Punks Fuck Off"
Usage of Dead Kennedys' "Nazi Punks Fuck Off" is... apt.
4

.

Smash Mouth
Lol get it... he got punched in the mouth. They literally smashed his mouth. The person who made this video is an all-star.
5

.

Indiana Jones
I edited the Indiana Jones punch sound effect into the Richard Spencer video YOU'RE WELCOME https://t.co/hN31k7j7lH

— Ryan Bradford (@Ryan Bradford) 1485065656.0
The triumphant, heroic Indiana Jones theme, complemented by a punching sound-effect, plays in this video. It's excellent.
6

.

The Celine Dion treatment
Did you think the #CelineAScene meme of editing "My Heart Will Go On" into other media couldn't get any better after it was edited into Aaron Rodgers NFC playoff game-winning throw to Jared Cook? Think again.
7

.

Public Service Announcement
Setting the video to Jay Z's "Public Service Announcement" is apropos – I really dig the juxtaposition of the word "snowflakes," a word which right-wingers co-opted as their main insult against the left, even though snowflake isn't really insulting.
What was your favorite Richard Spencer getting punched meme?