MUSIC
EDM's newest 'It' couple talk touring as husband and wife, awesome band names, and the biggest troll they ever pulled.
Rising EDM stars Ricky Eat Acid (alias Sam Ray of Teen Suicide) and Kitty (who rose to prominence as a rapper circa 2012) got married in May, and we're OBSESSED.
Why do pop outlets spend so much time talking about who Taylor Swift is dating when everybody should be focusing on the 'rap game Taylor Swift' and her new husband? The pair got married on May 25th, and we wanted to get the lowdown on what it's like being on tour with your SO.
We caught up with Sam and
Kitty
before they absolutely killed the first show on their tour at
Baby's All Right
in Brooklyn, NY. Here's what they had to say:
---
Ricky Eat Acid: Can you give me a minute? I want to grab an umbrella out of the car.
Popdust: Sure thing, you do what you gotta do. You're the talent.
REA: She's the talent, I'm just here carrying things.

Kitty blushes as Sam goes to retrieve the umbrella.

PD: So you guys are like a new hot couple, and this is your first tour together since getting married. Had you played shows together before?
Kitty: We've never played shows together before – when we got married, Sam was on another tour with Say Anything and his other band (Teen Suicide).
REA: Which still exists, but we changed the name to King Salmon Fish God. The members are always changing – we can all share this umbrella by the way – over the years we've gone through so many lineup changes and name changes before, so now it's just another iteration of the same project.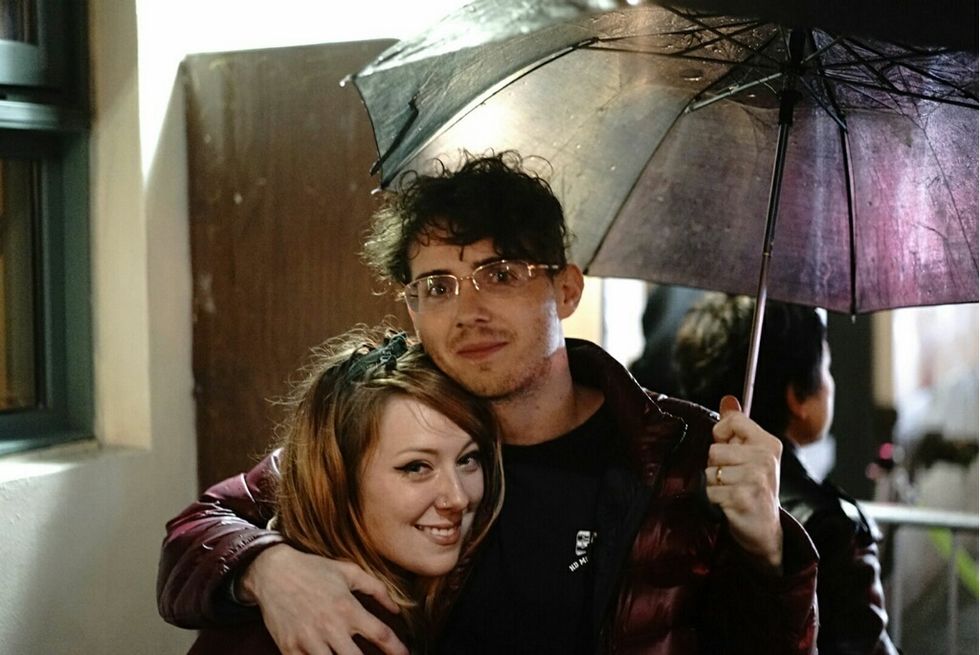 PD: As long as we're talking about band names, where did the name "Ricky Eat Acid" come from?

REA: My friend Ricky (from high school), the summer after we graduated, did a bunch of acid for the first time. We were at a party and it sucked, and he was like 'My friend has a bunch of acid he's gonna give me for free, do you wanna drive my car around all night?' So we got some random people to come with us who were equally bored and we went to my house to drop my car off, and we left my mom a note – Ricky was all trippin' out and he wrote my mom a note, he was like 'Your mom is cool with everything,' my mom is cool with everything, almost. So he wrote her a note that said 'Ricky Eat Acid' and we clowned him for it the next day because it sounded like Jimmy Eat World, and then I needed a band name. King Salmon is the way better name story that I did not remember and Kitty told me the other day. I wanted everybody to call me something like 'Big Tuna' like Jim from The Office but it had to be different.

Kitty: It had to be better than 'Big Tuna,' it had to be 'King Tuna' but then you were like 'I can't be King Tuna' so you became King Salmon.

REA: Right, and then 'Fish God' got tacked on there. It's like King-Crimson-Captain-Beefheart. So that's how that all unravelled.
Kitty: I would like to announce that I am now a member of King Salmon Fish God – I am the DJ, like in Linkin Park. It's a collective, it's King Salmon Fish God Collective, like Odd Future Golf Wang.
PD: Kitty, you were originally called Kitty Pryde, but I assume there were legal issues. Did you get a cease and desist from the X-Men or something?

Kitty: No, that didn't even happen. It was literally that my lawyer was like 'There is a possibility that you could get sued' and then after a while it would get embarrassing. I would Google 'Kitty Pryde' to find something I did, and all of the X-Men fans were tired of me so they would just shit on me. I found an X-Men fanfic once of the hero Kitty Pryde killing me, like dismembering me. It was really awesome. And now that name is symbolic of garbage music to me – Kitty Pryde was my name when I was a stupid ass teenager.

REA: And there's like a symbolism to changing your name, like Jay Z and dropping the hyphen. But cooler.

Kitty: And my name is Kitty. So when people are like 'What's your real name?' and I'm like 'It's Kitty, I got receipts.'

REA: Speaking of cease and desists, I tried to get sued by doing an album under the name Sonic Youth, and I sold out of them, and I never got sued. So like, I kind of dodged a bullet, but I'm kind of mad about it.

PD: Do you guys ever feel like you're competing for audience at shows or is it just like a super supportive husband/wife thing?

Kitty: Not at all – Sam worked on my album and we have been best friends for a really long time. Now we're working on a new project together – a hard ass EDM project that nobody wants to talk about, they just want to talk about our records.

PD: I would like to hear about your awesome ass EDM project!

REA: It's always been the kind of music I liked, but didn't know a lot about making; she kills it and people don't even know. People know, but she kills it way harder than me with a computer and producing. It's just a good team thing.

[Editor's note: They weren't lying; during each other's sets, Kitty & Sam sat onstage in a giant inflatable flamingo to cheer each other on. SO FREAKIN ADORABLE.]
RelationShip goals @Rickyeatacid x @kittaveli https://t.co/hqyGZKfh4c

— Charli's Cheese Shop (@Charli's Cheese Shop) 1477624101.0
PD: And Sam, you have a new album coming out tomorrow (actually today, October 28th), called Talk To You Soon, tell us a little about that?

REA: Yeah I've been working on it for the last couple years, more or less. It's something that developed real slow, not in the background, but alongside everything else I was doing. A lot of stuff I do is very fast-paced, so this record was kind of behind it all getting more and more thought out. And I'd show it to her – and she'd tell me it was good. She'd have to pull me back from working one song to death, until it gets terrible. I never know what to say about it. I'm so happy it's coming out after all this time. It's such a relief to be finished and have people hear it finally. Even if ten people hear it, I'll be excited.

PD: You guys announced your marriage on Twitter – it was kind of a big secret, like nobody knew, right?

Kitty: Well, it was mostly that – so I got really drunk at Chili's, in the middle of the night, we were at Chili's. They were doing 2-for-1 margaritas or something. I drank like 8 margaritas, and I was like 'Sam can I tweet that we got married?' and Sam was like 'I don't care.'

REA: That's not what happened, you were like 'If I pretend we got married, will you go along with it?'

Kitty: Right, this is the super abridged version. So we did that, and everybody got excited who knew we were friends. And the next morning we woke up, and our manager, Dexter, sent us very supportive, wonderful texts about how happy he was for us, and how we're perfect for each other. And I was like 'Wait. This is a mean lie.' It was the first time I'd ever done like a huge troll and felt bad, so I was like 'Should we just get married?' so we went to the courthouse and got married.

REA: We're still doing a big wedding, we're gonna do everything right.

PD: So whose fans were more upset when you guys announced the marriage?

Kitty: Mine.

REA: Were they? Your fans love love, my fans want me to be depressed.

Kitty: That's true, your fans are going to be upset that you're not going to write depressing shit anymore.

REA: They were already mad about that.

Kitty: All of my weird, creepy, old guy fans were mad.

PD: One last question. Kitty, who would you rather party with, Danny Brown or Riff Raff?

Kitty: Honestly, I don't know. I feel like neither of them party the same way I do – I'm too loud for both of them. I'm way too obnoxious. Danny is way better at dealing with it. Also, now I have evidence that Riff Raff does not remember who I am. I went to one of his shows like two years ago and my friends were playing with him so I was in the green room, and I saw him after he played and I was like 'Hey, what's up' and he was like 'Whatup, Yellow Jacket Girl' because I was wearing a yellow jacket. So I guess I'd rather party with Danny, final answer, because he knows who I am and knows my name. Actually never mind, I'd rather party with Riff Raff, because then any horrible thing I do, he's not gonna care or remember.

Sam made sure to plug Kitty's upcoming album – MIAMI GARDEN CLUB – which will be out 'when I finish it,' according to Kitty. Their hard-ass new EDM project is called 56 Colors, and will also be released when they finish it!
Check out Ricky Eat Acid's new album, Talk To You Soon, out today!