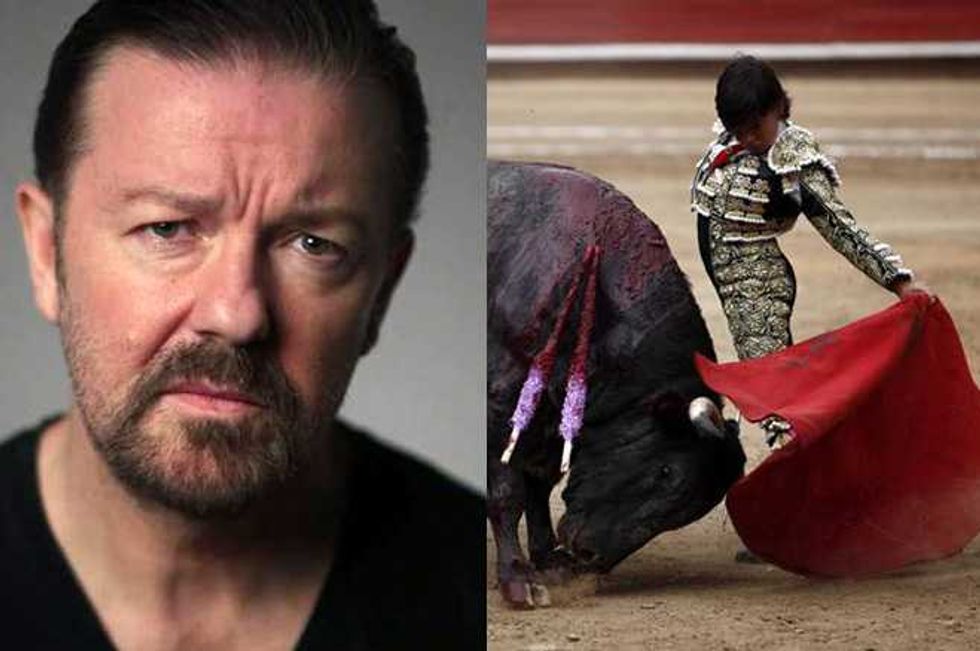 ricky gervias calls teen bullfighter Ricky Gervais Calls Teen Bullfighter A Little Cunt
Ricky Gervais calls teen bullfighter a little cunt and immediately causes a ruckus on Twitter.
It all kicked off after Gervais posted a link about a young Mexican matador known as the Justin Bieber of bullfighting, along with the words 'little cunt.'
RTT David Bowie Serenaded 'Pathetic Little Fat Man' Ricky Gervais
Michael Lagravere Peniche, now 18, has killed 300 bulls in his career, starting at the age of six. He once attempted a World Record of slaying six young bulls in a single fight.
What a cunt.
Freaked Out Ricky Gervais Brands David Blaine A 'Maniac' After Super Sick Trick
When followers chastised Gervais for his language, reminding him that Peniche was still a boy and only doing what he was brought up to do, Gervais shot straight back.
Tweeting:
That's why I used the word little. His parents are massive cunts.
Now let's be clear. The kid is a cunt, without a doubt.
As Gervais noted in a following tweet:
Neither I, nor any bull wants you to fight it for entertainment. But if you insist, I hope it wins. Self defence is no offence.
Gervais has been a vocal critic of bullfighting for many years, promoting a petition in 2010 to have bull fighting banned by the Catalonian Parliament.
ElChapo 'Never Heard' Of SeanPenn—Eager To Meet The Hot Actress Though
In the current Twitter dust-up, he was asked, @RickyGervais aren't his parents just a product of the culture they're from?
And replied:
Yes. That's why everyone from that culture tortures animals. Oh no, wait..they don't, some people are just cunts.
As a staunch animal rights activist, Gervais joined the efforts of Humane Society International to put an end to the Yulin Dog Meat Festival in China.
Sean Penn El Chapo Interview—Best Literary Laughs
He has been a consistent voice against the 'sport' of hunting.
In 2014, Gervais stated on his Facebook page:
Animals don't have a voice. But I do. A loud one. I'm a fucking big mouth. My voice is for them. And I'll never shut up while they suffer.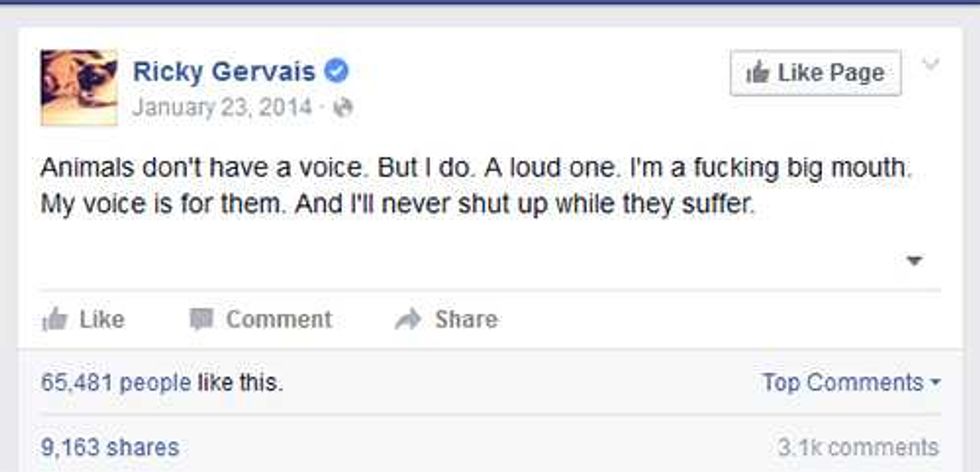 As for Peniche, I would only add the word 'complete' to 'little cunt' because I think it has a nicer alliterative ring to it.
Your thoughts, Popdust readers?