Humor
The Tonight Show becomes much more fun when Jimmy loses all control of his guest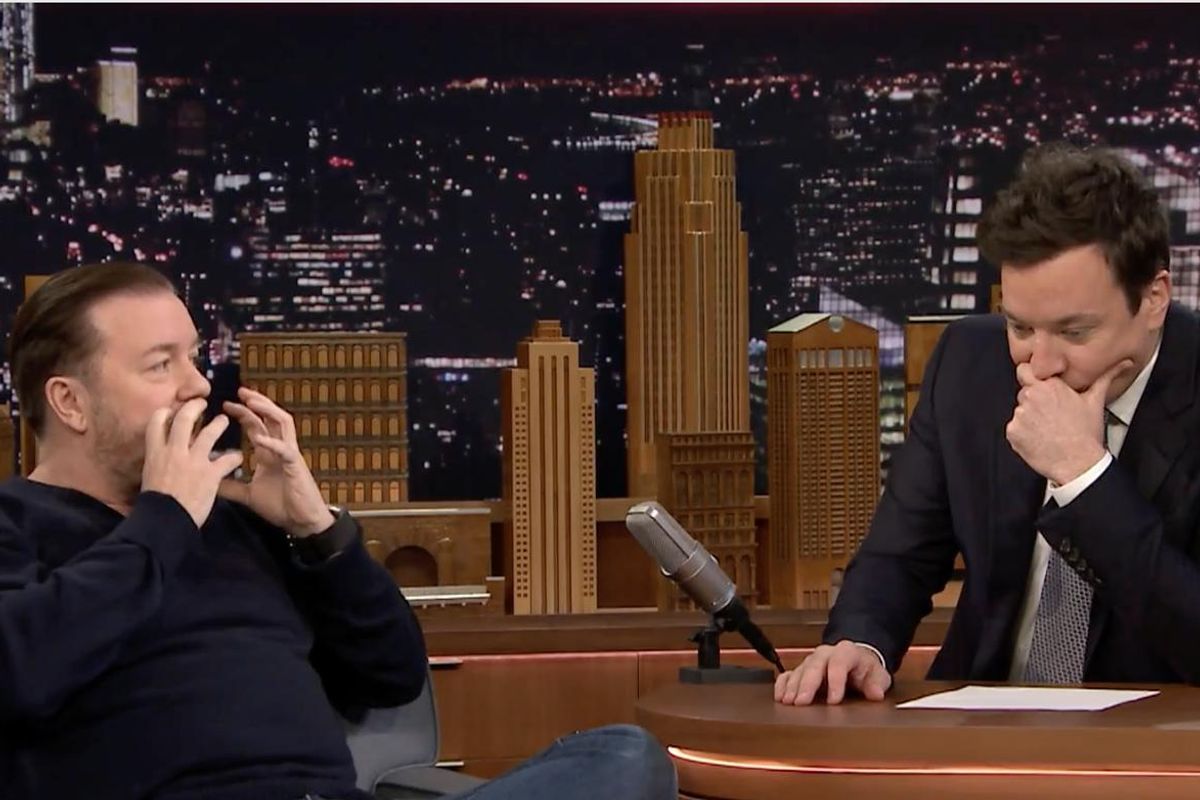 Comedian and actor Ricky Gervais stopped into The Tonight Show Starring Jimmy Fallon last night to promote his newest movie, David Brent: Life on the Road. The film resurrects Gervais's character from The Office, boss David Brent, who finally decides to pursue his dream of touring with a rock band. Besides the February 10th release date, you won't learn much more about the movie from Jimmy Fallon's interview with Gervais. That's because 1) Gervais is a master at awkward comedy and 2) Jimmy Fallon's strength isn't interviewing guests. The second reason can't hurt his show—viewers are tuning in for the skits and music—but the first reason, combined with the second, make this interview a classic example of Gervais's genius.
In less than eight minutes Gervais turns this one of his many promotion stops into a stand-up routine.
"You look great, by the way," Fallon says about two sentences into the interview. And from there, Gervais takes over. "I look great? Is that sarcasm?" He jokes about seeing through the fake compliments a talk show host is required to give the guest. "You see, this is the thing with you, innit, it's a talk show, 'Oh, you look great,' even though—look at me!" The crowd, too, is immediately on his side, laughing over Fallon's pretend attempts to recenter the conversation.
To be clear, Fallon's encouraging all this. He's interviewed Ricky Gervais many times and all talk-show hosts know what to expect. He's not genuinely trying to recapture his interview. In a way, he's still in control by the way he subtly eggs Gervais on. But Gervais, in his signature way, moves closer and closer to the inappropriate (for late-night TV) and offensive.
The other part of Gervais's style is that he performs as if he's genuinely passionate about what he's saying, when all the passion is leading directly to a punch line: "You see those guys on documentaries, and they're, like, 700 pounds, and I'm thinking, when they got to 300 pounds, didn't they go, 'Oh, this is a bit… much,' d'you know what I mean?" The crowd erupts but he continues because he's going even farther than anyone thinks.
That's when Fallon starts to look genuinely lost, as if the producer is starting to sound urgent in his ear: "Okay, get back to the movie, now." And Gervais knows what's happening; he can probably see the guy behind the cameras waving his hands and pointing to the cue cards. That's exactly what he wants, because it creates a feeling of unpredictability and hilarious tension, even on a show that viewers know has been taped and edited. So he starts another story, "So there's this woman in England, right?" And Fallon sits back in his chair to prepare himself.
In the second clip, the interview moves, for a few seconds, to the movie. The posters for his movie and Sausage Party line up a whole series of body part jokes that have Fallon cringing over and over. Gervais, clearly enjoying the tension he's built, makes an expert move at the 1:30 mark, by flipping the joke around on Jimmy, who simply cannot decide how to react. Finally, Gervais is the one to pull the conversation back to his movie and let Fallon introduce the clip. The whole segment is an incredible class on cringe-comedy by one of the experts. What else would you expect from David Brent?