In a new interview with Vanity Fair, notorious party-girl Rihanna reveals that she isn't dating, and is prepared to wait forever to meet a real man.
Despite all the rumors of hook-ups and romances, Rihanna confesses that sex without love is a hollow enterprise she has no interest in.
If I wanted to I would completely do that [just have sex for fun.] I am going to do what makes me feel happy, what I feel like doing. But that would be empty for me; that to me is a hollow move. I would wake up the next day feeling like shit.
She described her frustration with men who think they'll look weak if they act like gentlemen.
You want them to feel good being a man, but now men are afraid to be men. They think being a real man is actually being a pussy, that if you take a chair out for a lady, or you're nice or even affectionate to your girl in front of your boys, you're less of a man. It's so sick. They won't be a gentleman because that makes them appear soft. That's what we're dealing with now.
Rihanna won't have any of that, preferring celibacy to waking up with Mr. Wrong and feeling guilty.
I will wait forever if I have to … but that's O.K. You have to be screwed over enough times to know, but now I'm hoping for more than these guys can actually give.
As much as she hopes to find real love with a partner she can respect, she is content to be alone for now and to concentrate on work.
I'm fine being with myself. I've got too much on my plate, and I'm not even worried about it.
But she knows who she's waiting for.
A very extraordinary gentleman, with a lot of patience, will come along when I least expect it.
Is she waiting for a fairy tale prince to scoop her up, then? She answers like the bad girl we know and love:
Not on a white horse. Probably on a black motorcycle.
Meanwhile, those of us who can't qualify as Rihanna's soulmate will have to be content with ogling her in Vanity Fair's stunning new photos by Annie Leibovitz. Behold her here, waiting for her man.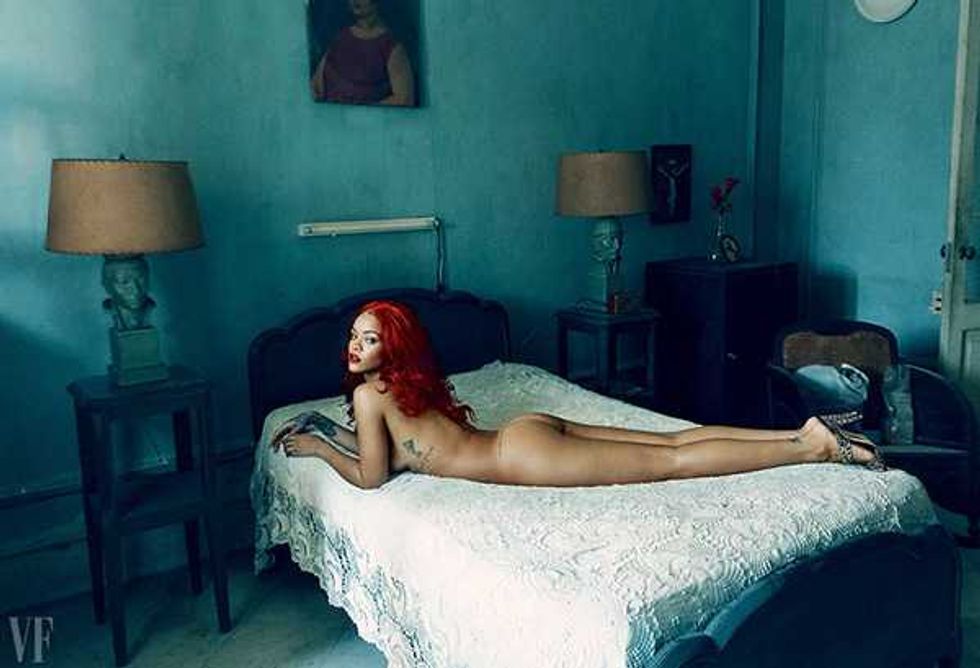 You can pick up your copy of the magazine on newsstands, on October 13.